You are here
Avalanche Forecast for 2021-01-22 06:37
EXPIRED ON January 23, 2021 @ 6:37 am

Published on January 22, 2021 @ 6:37 am
Issued by Nick Meyers - Shasta-Trinity National Forest
Avalanche activity remains unlikely. Widespread firm and icy conditions present hazards for backcountry users like long, sliding falls. A trace amount of new snow fell overnight and snow showers linger this morning. Low avalanche danger exists for all elevations and aspects. Travel using normal caution. Be willing to step back into safer terrain if conditions warrant.
Avalanche Problem 1: Normal Caution
Certain

Very Likely

Likely

Possible

Unlikely

Historic

Very Large

Large

Small
One will encounter exposed ground, rocks and icy slopes while on Mount Shasta. Other locations within the forecast area host barely usable snowpacks. While avalanche activity remains very unlikely, the firm conditions present hazards like uncontrollable, long, sliding falls. Slips and falls in these conditions never turns out well. Take it seriously. Watch for rockfall on the upper mountain and wear a helmet. Proper ice axe and crampon use is mandatory for climbers. The mountain looks as it usually does in late fall, when climbing conditions are the worst.
Forecast Discussion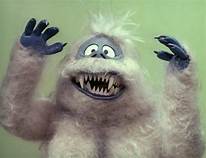 The Abominable Snowman says, "Grrr...get on over to the VIRTUAL SNOWBALL SITE!" 
Recent Observations
A quiet day on the mountain yesterday, for good reason. Snow surfaces struggled to soften, if at all. High clouds, cooling temperatures and light to moderate winds out of the W/NW was the soup de jour.  As of this morning, a trace of new snow fell overnight (0.02 SWE). Existing snow surfaces are firm and icy on all aspects and elevations. We have not found any signs of instability. Check out the recent Casaval Ridge/upper mountain observation and photos HERE.
Weather and Current Conditions
Weather Summary
A low pressure center is moving south off the coast and will not progress any further inland. Cold air aloft will remain over the area today creating conditions conducive for convection. Shower activity will linger over higher terrain, diminishing this evening. Accumulation will be minimal. Snow levels will rise to 3,500 to 4,000 feet. A stronger front will move onshore Sunday brining lower snow levels and a couple inches of snow. A short break in the weather will ensue for the first part of next week. Beginning sometime Tuesday is when a real storm looks to arrive.
24 Hour Weather Station Data @ 5:00 AM
Two Day Mountain Weather Forecast
Produced in partnership with the Medford NWS
For 7000 ft to 9000 ft
Friday
(4 a.m. to 10 p.m.)
Friday Night
(10 p.m. to 4 a.m.)
Saturday
(4 a.m. to 10 p.m.)
Weather
Mostly cloudy with a 30% chance of snow showers. Snow level near 3 to 4,000 feet.
Mostly cloudy with a slight chance of snow in the evening, becoming partly cloudy. Snow level near 3 to 4,000 feet.
Partly cloudy in the morning, becoming sunny.
Temperature (°F)
29
22
33
Wind (mi/hr)
North/Northwest 0-10
North 0-10
North 0-10
Precipitation SWE / Snowfall (in)
0.08 / 1-1
0.00 / 0-1
0.00 / 0
For 9000 ft to 11000 ft
Friday
Friday Night
Saturday
Weather
Mostly cloudy, chance of snow showers
Mostly cloudy, windy.
Sunny
Temperature (°F)
11
10
17
Wind (mi/hr)
Northwest 5-15
North 20-30
Northeast 5-15
Precipitation SWE / Snowfall (in)
0.08 / 1-2
0.00 / 0-0.50
0.00 / 0
Season Precipitation for Mount Shasta City
Period
Measured (in)
Normal (in)
Percent of Normal (%)
From Oct 1, 2022 (the wet season)
5.75
20.13
29
Month to Date (since Jun 1, 2023)
2.17
4.92
44
Year to Date (since Jan 1, 2023)
2.17
4.92
44
Disclaimer
This forecast does not apply to Ski Areas or Highways and is for the Mt. Shasta, Castle Lake and Mt. Eddy backcountry. Use this information for guidance only. You may find different conditions in the backcountry and should travel accordingly. This forecast expires 24 hours after the posted time unless otherwise noted.