You are here
Avalanche Forecast for 2021-03-04 06:05
EXPIRED ON March 5, 2021 @ 6:05 am

Published on March 4, 2021 @ 6:05 am
Issued by Nick Meyers - Shasta-Trinity National Forest
A windy one today and cooler temperatures. The avalanche danger is low and challenging conditions exist for climbers and skiers. Be prepared for firm, icy conditions above treeline. Look out for falling rock. Tomorrow evening, winter returns with an unsettled weather pattern extending into next week.
Avalanche Problem 1: Normal Caution
Certain

Very Likely

Likely

Possible

Unlikely

Historic

Very Large

Large

Small
Today is going to be very windy. Avalanche danger is low. Challenging conditions exist for climbers and skiers. Be prepared for firm, icy conditions above treeline. Look out for falling rock.
We've received more inquiries than normal about climbing the mountain recently. We never want to discourage anyone from getting out and enjoying the great outdoors. With that said, your safety is important to us and accidents on the mountain boil down to a few common denominators. One of those is poor climbing conditions such as we have currently. A shallow snowpack, exposed rock and slick, icy surfaces mean rockfall and long slips and falls are possible. The ante is up right now and consequences are higher for mistakes made. Please, be careful and make good decisions. The mountain will always be there.
Recent Observations
Little change in the past 24 hours. There is 67 inches of snow at 7,600 ft on Mount Shasta. In the last 24 hours, near treeline temperatures have averaged 34 ºF and peaked at 45. Measured winds have been moderate out of the west/northwest.
There is plenty of dirt and exposed and fallen rock above treeline. Climbing routes do not hold much snow. Skiers will find inconsistent snow surface conditions - soft to firm, sastrugis, crusts, and wind affected chalk.
Castle Lake still has a usable snowpack, though manzanita is beginning to poke through on Right Peak. Snow depth is 61 inches. Temperatures peaked there yesterday at 53.5 ºF. The lake is frozen and supportable.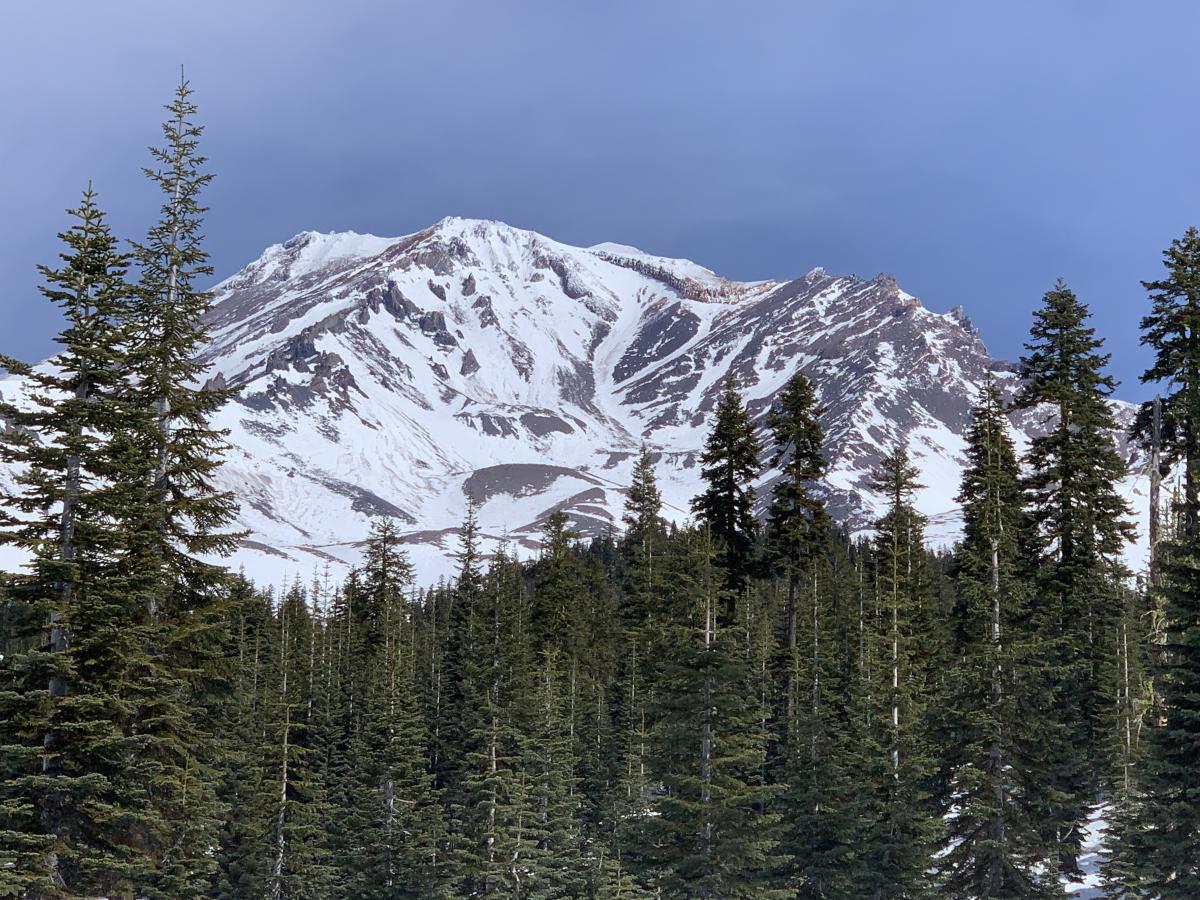 The classic south side view of Mt. Shasta from Bunny Flat. Photo taken on 3.3.21. The mountain doesn't look any better on other aspects. We are 45% of normal for our wet season precipitation. Cry us a tsunami of winter storms for March, please!
Weather and Current Conditions
Weather Summary
The most notable weather for the next 24 hours will be strong winds. A well-defined cold front approaches the coast later this evening bringing very strong wind gusts. As the cold front moves inland, wind will spread to the east. Moving into Friday, the front will nudge its way onshore, and we'll see a strong atmospheric river arrive for roughly 12 - 18 hours starting Friday evening. Most of the precipitation will fall north and west of us. None-the-less, winter is back and the area should observe 6-8 inches of snow above 5,000 feet, all beginning Friday evening. Longer term, confidence is high that an active pattern of unsettled weather will continue into next week.
24 Hour Weather Station Data @ 4:00 AM
Two Day Mountain Weather Forecast
Produced in partnership with the Medford NWS
For 7000 ft to 9000 ft
Thursday
(4 a.m. to 10 p.m.)
Thursday Night
(10 p.m. to 4 a.m.)
Friday
(4 a.m. to 10 p.m.)
Weather
Mostly sunny and windy.
Increasing clouds, partly cloudy.
Increasing clouds, chance of snow mainly after 4pm, windy. Snow level 4,600 feet.
Temperature (°F)
35
28
30
Wind (mi/hr)
South 15-25
South 20-30
South 20-30
Precipitation SWE / Snowfall (in)
0.00 / 0
0.00 / 0
0.04 / 1-3
For 9000 ft to 11000 ft
Thursday
Thursday Night
Friday
Weather
Mostly sunny, windy.
Partly cloudy, windy.
Increasing clouds, chance of snow, windy.
Temperature (°F)
23
22
23
Wind (mi/hr)
Southwest 55-65
South 60-70
South 60-70
Precipitation SWE / Snowfall (in)
0.00 / 0
0.00 / 0
0.04 / 1-3
Season Precipitation for Mount Shasta City
Period
Measured (in)
Normal (in)
Percent of Normal (%)
From Oct 1, 2022 (the wet season)
13.58
30.28
45
Month to Date (since Jun 1, 2023)
0.00
0.78
0
Year to Date (since Jan 1, 2023)
10.00
15.07
66
Disclaimer
This forecast does not apply to Ski Areas or Highways and is for the Mt. Shasta, Castle Lake and Mt. Eddy backcountry. Use this information for guidance only. You may find different conditions in the backcountry and should travel accordingly. This forecast expires 24 hours after the posted time unless otherwise noted.