You are here
Avalanche Advisory for 2018-01-12 06:32:14
EXPIRED ON January 13, 2018 @ 6:32 am

Published on January 12, 2018 @ 6:32 am
Issued by Nick Meyers - Shasta-Trinity National Forest
LOW avalanche danger exists at all elevations. Isolated wind slabs may exist above 9000 ft on N-NE-E-SE-S aspects. Be aware of falling rime ice. Wear a helmet. Smooth, firm snow surfaces exist on some slopes. A long slide is possible without immediate self arrest. Know how to use your ice axe and crampons.
Avalanche Problem 1: Wind Slab
Certain

Very Likely

Likely

Possible

Unlikely

Historic

Very Large

Large

Small
The wind slab hazard today is low. Remember, LOW avalanche danger does not mean NO avalanche danger. Monitor changing conditions if ascending above 9000 ft. Look for cornice formation and shooting cracks in drifted snow as evidence of the wind slab problem. Look at connected terrain and consider the consequences of being carried down hill by a small avalanche. Ridgelines, rocky outcrops and near the tops of bowls will be the most likely places for wind loading to occur. 
Advisory Discussion
The wind slab problem is a fading concern and finding and triggering a slab today will be difficult and very unlikely. The warm and sunny weather this weekend might lure climbers and skiers onto the upper mountain. RIME ICE is our biggest concern. The rime ice plastered on the crags along Casaval Ridge, the Trinity Chutes, Redbanks and Sargents Ridge will be a hazard. Warming temperatures this weekend will cause the ice to dislodge and plummet down upon skiers and climbers. Wear a helmet, pay attention, consider staying away from these slopes completely. Chunks of rime ice can function just like a rock. For real. Further, be cautious of firm snow surfaces. A slip and fall on a steep slope could be fatal without quick self arrest.

Mt Shasta is the only zone within the forecast area that holds a usable snowpack for winter recreation at this time. Castle Lake and The Eddy Mountains as well as much of the areas east of Mt Shasta are snow free or very thin.
Recent Observations
No recent avalanches or signs of instability in Avalanche Gulch, 1.11.18
Cloud cover fluctuated; misty fog; poor visibility
Softish snow surfaces  <8200 ft; firm to glazed above >8200 ft
Very windy near and above treeline, west/southwest
Thin snowpack with many hazards below treeline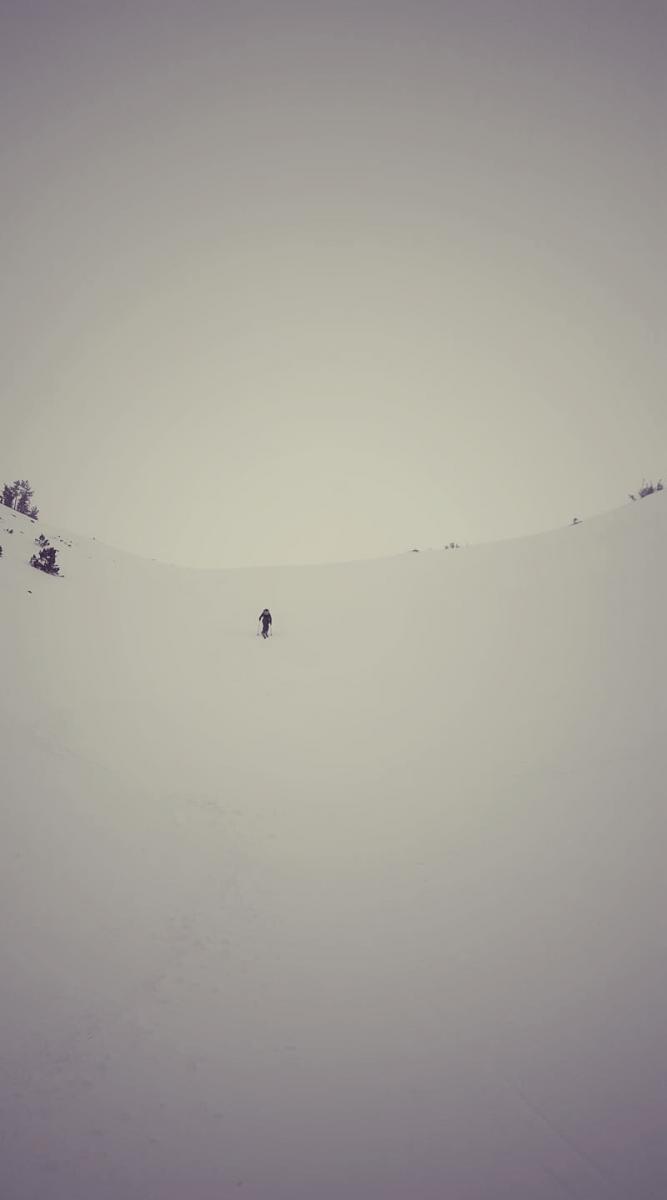 Firm conditions, windy and poor visibility on Spring Hill, Avalanche Gulch, 1.11.18 / Photo: Travis
Weather and Current Conditions
Weather Summary
Precipitation and clouds will taper off today. High pressure strengthens and a weak warm front begins to take seat. By this afternoon, mostly sunny skies should prevail. Above treeline, windy conditions will be present again today. This weekend, expect daytime highs to rise upwards of 10 degrees F and winds to die off. Low fog, clouds and inversions are likely in the valleys.

Next week, models continue to show high certainty for several rounds of storms: Monday afternoon/night, Wednesday and Friday. Snow levels are expected to begin at the 6000 to 7500 ft level for the beginning of the week and lower down to 4000 ft by the end of the week. Naturally, more on this later!
-------------------------

THIS SEASON PRECIPITATION for MT SHASTA CITY: Since October 1st (the wet season), we have received 7.81 inches of water, normal is 17.85 inches, putting us at 43% of normal. For the month of January and 2018, we have received 1.98 inches of water, normal is 2.64 inches, which is 75% of normal. 
Always check the weather before you attempt to climb Mount Shasta. Further, monitor the weather as you climb. Becoming caught on the mountain in any type of weather can compromise life and limb. Be prepared.
24 Hour Weather Station Data @ 4:00 AM
Two Day Mountain Weather Forecast
Produced in partnership with the Medford NWS
For 7000 ft to 9000 ft
Friday
Friday Night
Saturday
Weather
Mostly cloudy this morning, clearing, partly cloudy this afternoon
Partly cloudy becoming mostly clear
Sunny, not as cool, warming
Temperature (°F)
43
34
51
Wind Direction
Southwest
North
East
Wind Speed (mi/hr)
5-10 mph
5-10 mph
5-10 mph
Expected Snowfall (in)
0
0
0
For 9000 ft to 11000 ft
Friday
Friday Night
Saturday
Weather
Slight chance of showers this morning, mostly cloudy, clearing, partly cloudy this afternoon, windy.
Mostly clear, blustery
Sunny
Temperature (°F)
31
31
36
Wind Direction
West
North
Northeast
Wind Speed (mi/hr)
30-40 mph
20-30 mph, decreasing
5-15 mph
Expected Snowfall (in)
0
0
0
Disclaimer
This advisory does not apply to Ski Areas or Highways and is for the Mount Shasta, Castle Lake and Mount Eddy backcountry. Use this information for guidance only. You may find different conditions in the backcountry and should travel accordingly. This advisory expires on midnight of the date it was posted unless otherwise noted.