You are here
Avalanche Forecast for 2019-01-11 06:48
EXPIRED ON January 12, 2019 @ 6:48 am

Published on January 11, 2019 @ 6:48 am
Issued by Nick Meyers - Shasta-Trinity National Forest
The several feet of new snow over the past week continues to settle out. Natural and human triggered avalanches are becoming increasingly unlikely. The avalanche danger is LOW below treeline and MODERATE near and above treeline. It will be important to continue to pay attention out there as the current avalanche risk is one of those low probability, high consequence situations. Identify features of concern and move cautiously around them.
Avalanche Problem 1: Normal Caution
Certain

Very Likely

Likely

Possible

Unlikely

Historic

Very Large

Large

Small
Yesterday, we saw both moderately stable and unstable observations from varied terrain across the forecast area. Be your own detective. Spacial variability is often a common theme in the backcountry and the buck stops at you to make good decisions. Dig a pit, poke around, keep your antenna up. The old adage always holds true, "If the snow is in question, terrain is the answer." When in doubt, stick to slopes less that 30 degrees.
Remember, LOW danger does not mean NO danger. While the force required to trigger an avalanche will be difficult, avalanches are not impossible today.  Normal caution means to minimize consequences of the isolated avalanche event. Create a travel plan, stick to your travel plan, carry companion rescue gear, actively look for evidence of instability while on the snow, communicate well within your group, and expose only one person at a time to avalanche terrain.
Forecast Discussion
Continue to use caution out there, especially on steeper slopes and/or extreme terrain. Have a great day!
This weekend, Saturday, January 12th, the MSAC will host it's annual Snowmobile Avalanche Awareness clinic. Click here for more information. The event is free of charge and does not require registration. Show up at 9am at the US Forest Service ranger station in Mount Shasta, California.
Recent Observations
Despite the Everitt Memorial Highway being closed yesterday, a handful of snowmobilers made it up onto the mountain and also out on the east side (Ash Creek Butte area). A few skiers also tromped around Gray Butte via the Mount Shasta Ski Park. We are happy to report that no skier or rider avalanches were triggered yesterday, though several observations came into the center.
Out on a near treeline, north/northwest facing aspect of Ash Creek Butte, a D3 avalanche was observed by a MSAC snowmobile ambassador. The crown was 150 to 200 feet wide, about 18 inches deep with a quarter mile runout. The deposition zone was deep and the slide took out many 4 inch round trees. The observer noted a "definite weak layer elsewhere, down at the same layer of the avalanche". The avalanche likely occurred on January 8th or 9th.
On a southeast aspect of Gray Butte (near treeline/7,800 feet), a local skier dug a pit and observed several clean, planar fractures across an entire extended column test, and were easily reproduced. The weak layer/bed surface indicated was just above the prominent ice layer that sits anywhere from 2 to 3 feet down from the top of the snowpack.
Above treeline on the mountain, observations were less notable. Riders were actively testing small slopes as well as bigger ones without incident. Wind affect from the recent days was surprisingly minimal. Light surface texture was noticeable above 10,000 feet.  Locally gusty winds were visible along Green Butte ridge, but calm in the gullies. A test pit dug at 9,800 feet / southeast facing revealed a right side up snowpack with moderate to hard, resistant planar ECTN tests that did not propagate across the column. A density change about 1 foot from the surface was our weakest layer observed. The prominent ice layer mentioned from the Gray Butte pit was 33 inches down from the top.
Glide cracks from heavy rain on snow were observed in the Castle Lake area from afar. No pictures or futher details were provided.
Overall, 3 to 6 feet of snow since last weekend has been observed sitting on top of the bombproof, Dec 13 rain crust.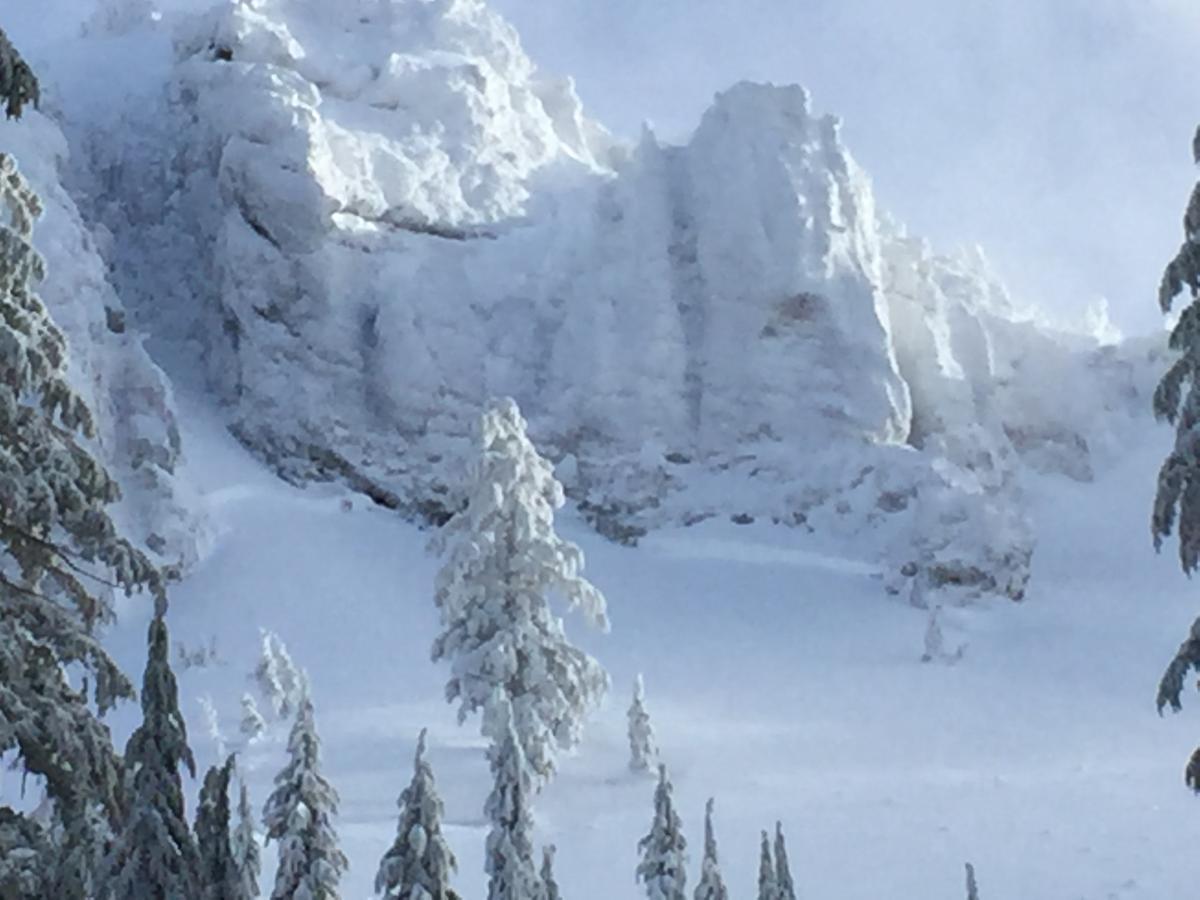 Ash Creek Crater avalanche crown / Photo: A. Thompkins
Weather and Current Conditions
Weather Summary
High clouds will begin to increase today as well as the wind, becoming breezy to locally windy through this evening. Low pressure will split offshore as it moves into the West Coast tonight, one piece heading to BC and the other stronger southern portion into Central and Southern California. Most of the precipitation will remain to our south, but it will likely bring light accumulations of rain and high elevation snow into western and southern portions of Siskiyou County. Snow levels remain around 5,500 to 6,000 feet. Temperature trends will cool over the next couple days and southerly winds will increase, primarily over exposed terrain, near and above treeline.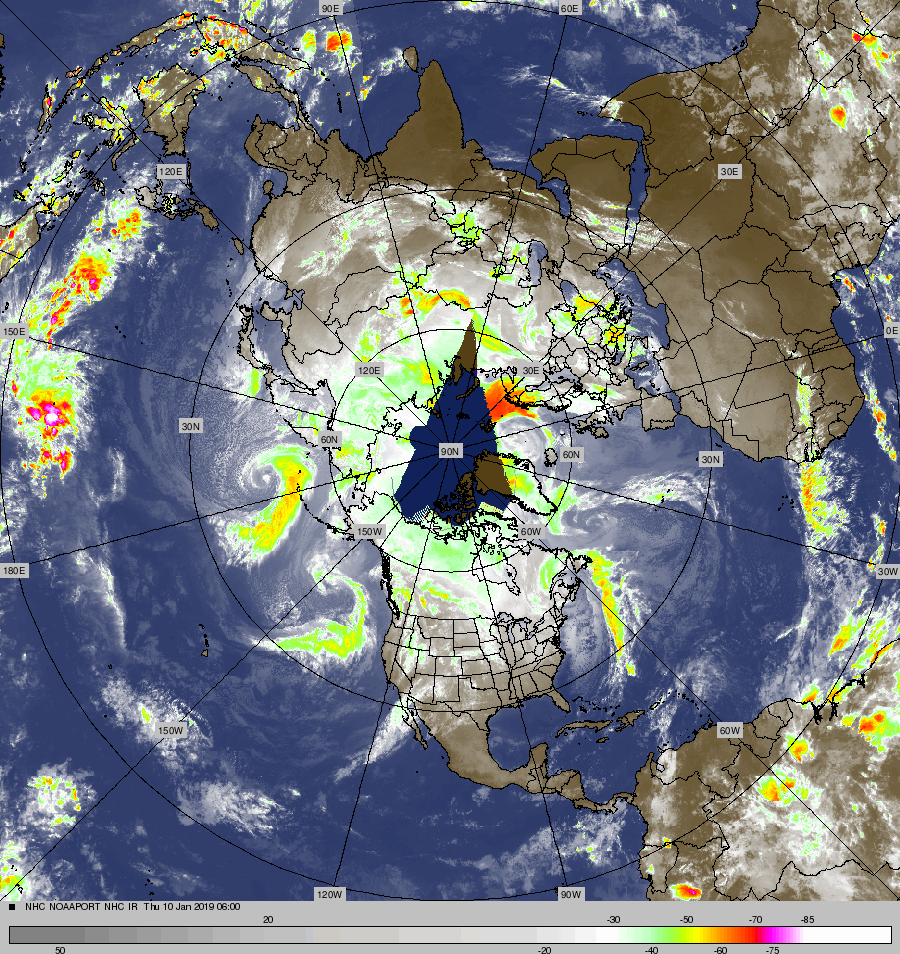 24 Hour Weather Station Data @ 3:00 AM
Two Day Mountain Weather Forecast
Produced in partnership with the Medford NWS
For 7000 ft to 9000 ft
Friday
(5 a.m to 11 p.m.)
Friday Night
(11 p.m. to 5 a.m.)
Saturday
(5 a.m to 11 p.m.)
Weather
A 30% chance of snow after 4pm, partly sunny this morning, then becoming mostly cloudy, windy. Snow level 4,900 feet
Snow likely, mainly after 10pm, mostly cloudy and breezy. Snow level 5,100 feet
A 40% chance of showers, mostly cloudy. Snow level 5,400 feet.
Temperature (°F)
38
27
36
Wind (mi/hr)
Southeast 20-25
Southeast 15-20
Southeast 10-15
Precipitation SWE / Snowfall (in)
/ 0 - .5
/ 1-2
/ .5-1
For 9000 ft to 11000 ft
Friday
Friday Night
Saturday
Weather
A 30% chance of snow after 4pm. Partly sunny, windy.
Snow likely, mainly after 10pm. Mostly cloudy, windy. Chance of precipitation is 60%.
A 40% chance of snow showers. Partly cloudy, windy.
Temperature (°F)
26
24
25
Wind (mi/hr)
South 45-50
South 0 - .5
Southeast 20-25
Precipitation SWE / Snowfall (in)
/ 0 - .5
/ 1-3
/ 1-2
Season Precipitation for Mount Shasta City
Period
Measured (in)
Normal (in)
Percent of Normal (%)
From Oct 1, 2019 (the wet season)
13.42
17.60
76
Month to Date (since Apr 1, 2020)
5.01
2.39
210
Year to Date (since Jan 1, 2020)
5.01
2.39
210
Disclaimer
This forecast does not apply to Ski Areas or Highways and is for the Mt. Shasta, Castle Lake and Mt. Eddy backcountry. Use this information for guidance only. You may find different conditions in the backcountry and should travel accordingly. This forecast expires on midnight of the date it was posted unless otherwise noted.