You are here
Avalanche Forecast for 2019-01-18 06:40
EXPIRED ON January 19, 2019 @ 6:40 am

Published on January 18, 2019 @ 6:40 am
Issued by Nick Meyers - Shasta-Trinity National Forest
Unstable wind slabs and weak cornices near and above treeline are likely to be triggered by sliders and riders over the next 24 hours. Snow and rain on snow will impact the forecast area today and tonight, adding additional weight to an already fragile snow structure. Travel in or below steep avalanche terrain is not recommended. Carry rescue gear, know how to use it, ski and ride one at a time in avalanche terrain, don't regroup in run out zones.
Avalanche Problem 1: Wind Slab
Certain

Very Likely

Likely

Possible

Unlikely

Historic

Very Large

Large

Small
Potentially fragile wind slabs have formed on wind loaded slopes, primarily NE-E-SE facing, near and above treeline. Large avalanches are possible and could propagate wide distances. Additional weight of new snow and/or rain on snow may cause further instability. Classic starting zones for wind slabs include Sun Bowl, Powder Bowl, the east facing aspect of Casaval Ridge and Green Butte Ridge. Wind slabs will continue to become larger and more widespread during this storm, especially above treeline. Cautions route finding will be imperative today.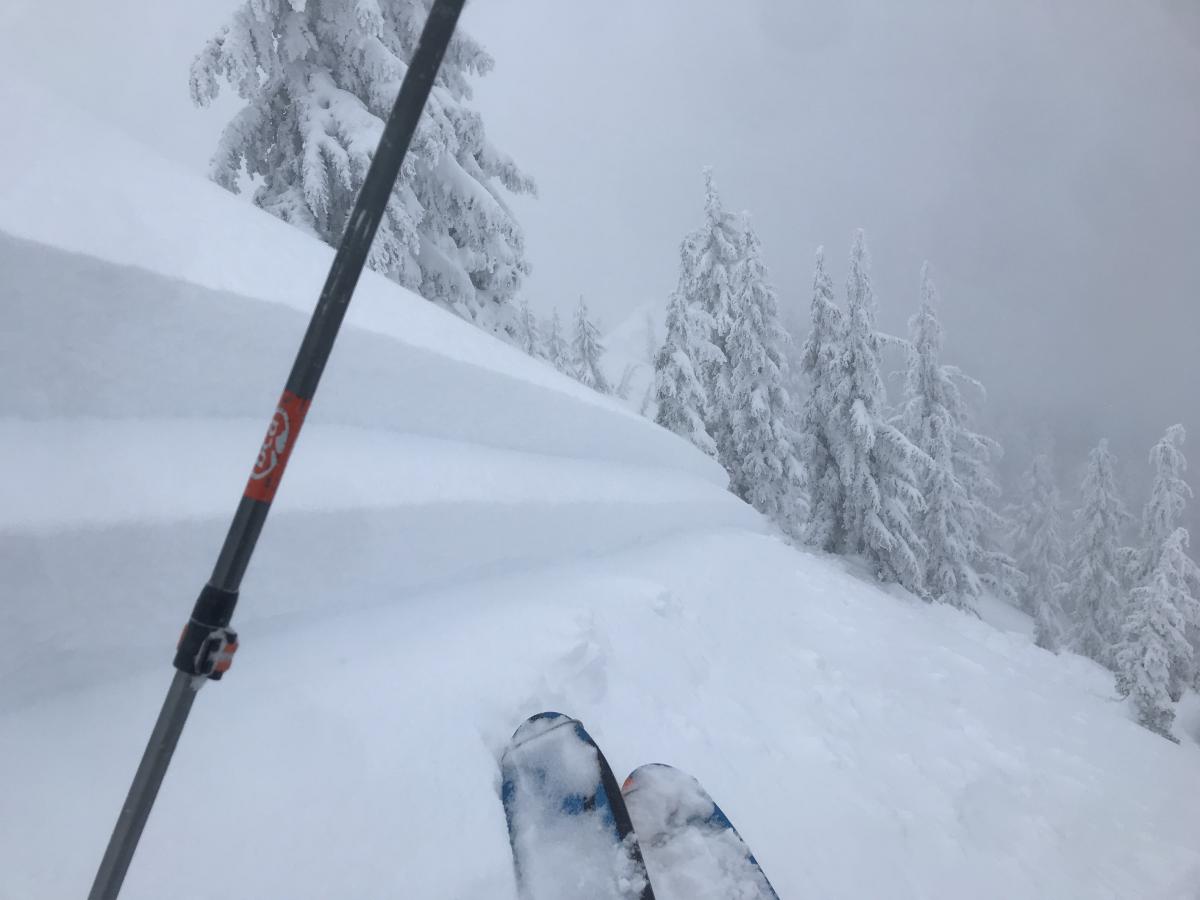 From yesterday on Gray Butte. Observation posted below. Photo: Meyers
Avalanche Problem 2: Cornice
Certain

Very Likely

Likely

Possible

Unlikely

Historic

Very Large

Large

Small
Cornices along ridgelines were small to large and very easy to trigger yesterday. Additional weight of a skier, rider, new snow and/or rain on snow will not aid the situation. Identify terra firm by looking for trees, rock(s) or other features that signify stable ground. Large cornices can sometime break back much further than expected. Give them a wide berth.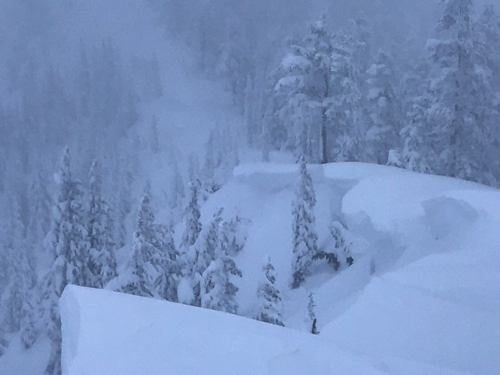 Cornices along northeast facing ridgeline yesterday. Photo: Meyers
Avalanche Problem 3: Storm Slab
Certain

Very Likely

Likely

Possible

Unlikely

Historic

Very Large

Large

Small
New snow continues to settle. Chances of a storm slab avalanche are low this morning. Wet, heavy snow and rain on snow expected over the next 24-48 hours may wake up weaknesses within recent snow layers, creating an upside-down snowpack. Continue to be mindful of storm slab avalanches below and near treeline on slopes steeper than 35 degrees as our atmospheric river impacts the area later today and tonight.
Forecast Discussion
New storm snow below treeline continues to settle out and signs of unstable snow have been few. Conditions change dramatically however, once you gain elevation and enter near and above treeline terrain. For elevations above 7,500 feet, continue to use extra caution. Additional weight of rain on snow will cause further avalanche concerns today and tomorrow.
Recent Observations
For the storm period of January 15th through January 17th, terrain above 7,000 feet received 5.66 inches of water. New snow totals observed have ranged from 32 to 38 inches with drifts up to 60 inches.
Winds have been light to moderate, averaging 14 mph with average gusts near 26 mph, primarily blowing out of the south with periods of southeast and southwest.
An intentional cornice drop triggered a D2 avalanche off the E/NE side of Gray Butte yesterday afternoon (see observation)
Cornices have formed on leeward NE-E-SE ridgelines and were very easy to trigger
Observers have experienced continued shooting cracks and have found upside down snowpack layering near treeline. Above treeline visibility has been very poor resulting in no observations from ATL terrain.
Below treeline, the snowpack continues to settle with few signs of instability.

Gray Butte avalanche profile, 01.17.19.
Weather and Current Conditions
Weather Summary
Current radar observations are showing showers over the coastal range of Oregon and wesern Siskiyou Country in California. A short-lived break this morning will be washed away by the next storm system. A Pineapple Express, atmospheric river, whatever you want to call it...a lot of water is coming with this system whose moisture is originating near Hawaii. Due to the tropical origination of the storm, snow levels are going to rise to above 7,000 feet. All this is poised to bring significant rainfall and gusty winds to the area. Rain rates of half an inch an hour are possible for western portions of the county.  The front is expected to stall over the area, hence the significant rainfall amounts. Another round of heavy rain is expected on Saturday. Sunday, conditions begin to calm down and things clear out.



24 Hour Weather Station Data @ 5:00 AM
Two Day Mountain Weather Forecast
Produced in partnership with the Medford NWS
For 7000 ft to 9000 ft
Friday
(5 a.m to 11 p.m.)
Friday Night
(11 p.m. to 5 a.m.)
Saturday
(5 a.m to 11 p.m.)
Weather
Windy, snow this morning, then rain and snow this afternoon. Snow level near 4,500 feet, rising to 6,800 feet tonight.
Windy, rain and snow likely. Snow level 6,800 feet.
Breezy, rain. Snow level 7,500 feet.
Temperature (°F)
33
32
38
Wind (mi/hr)
South 15
South 20
South 15
Precipitation SWE / Snowfall (in)
/ 3-6
/ 0-1
/ 1-4
For 9000 ft to 11000 ft
Friday
Friday Night
Saturday
Weather
Snow, windy.
Snow, windy.
Snow, windy.
Temperature (°F)
27
24
26
Wind (mi/hr)
West 40-50
Southwest 4-8
Southwest 40-50
Precipitation SWE / Snowfall (in)
/ 4-8
/ 2-4
/ 2-4
Season Precipitation for Mount Shasta City
Period
Measured (in)
Normal (in)
Percent of Normal (%)
From Oct 1, 2019 (the wet season)
13.93
19.26
72
Month to Date (since Apr 1, 2020)
5.52
4.05
136
Year to Date (since Jan 1, 2020)
5.52
4.05
136
Disclaimer
This forecast does not apply to Ski Areas or Highways and is for the Mt. Shasta, Castle Lake and Mt. Eddy backcountry. Use this information for guidance only. You may find different conditions in the backcountry and should travel accordingly. This forecast expires on midnight of the date it was posted unless otherwise noted.