You are here
Avalanche Forecast for 2019-01-22 06:00
EXPIRED ON January 23, 2019 @ 6:00 am

Published on January 22, 2019 @ 6:00 am
Issued by Ryan Sorenson - Mount Shasta Avalanche Center
The avalanche danger is LOW for all elevations and aspects. Use normal caution. Continue to watch for isolated wind slabs. Pay attention to locally gusty winds along ridgelines of higher terrain. Use caution if climbing into the alpine today. Scoured, icy slopes present slide for life conditions.
Avalanche Problem 1: Normal Caution
Certain

Very Likely

Likely

Possible

Unlikely

Historic

Very Large

Large

Small
Small, isolated wind slab avalanches are possible in leeward terrain.  Moderate to strong wind was felt yesterday. Locally gusty winds will continue today out of the north/northwest. Cornices exist along ridgelines and could be human triggered. Identify terra firm by looking for trees, rock(s) or other features that signify stable ground. Give them a wide berth. Scoured icy slopes present slide for life conditions. An ice axe, crampons, and helmet are mandatory if climbing into the upper regions of the mountain, but realize that self-arrest will be difficult.
Remember, low danger does not mean no danger. Use the ethos of normal caution to minimize consequences of the isolated avalanche event. Carry a beacon, shovel, and probe and know how to use them. Create a travel plan, stick to your travel plan, carry companion rescue gear, actively look for evidence of instability while on the snow, communicate well within your group, and expose only one person at a time to avalanche terrain.
Recent Observations
Windy and cold conditions were felt on the mountain yesterday. Most of the available snow has been hard packed or blown from the upper elevations. 
Current snow conditions include: 
Evidence of rain on snow and deep rain runnels.
Many cornice failures have occurred on ridgelines.
Supportable crust near and above treeline with pockets of smooth, dry powder.
Wind affected snow near and above treeline from steady wind and strong gusts over the past 24 hours. 
Blowing snow visible on ridges, locally gusty conditions.
Dry, chalky, hard wind textured snow above 8,000 feet.
Ridgelines scoured with heavy rime and ice plastered to exposed areas. (see picture below)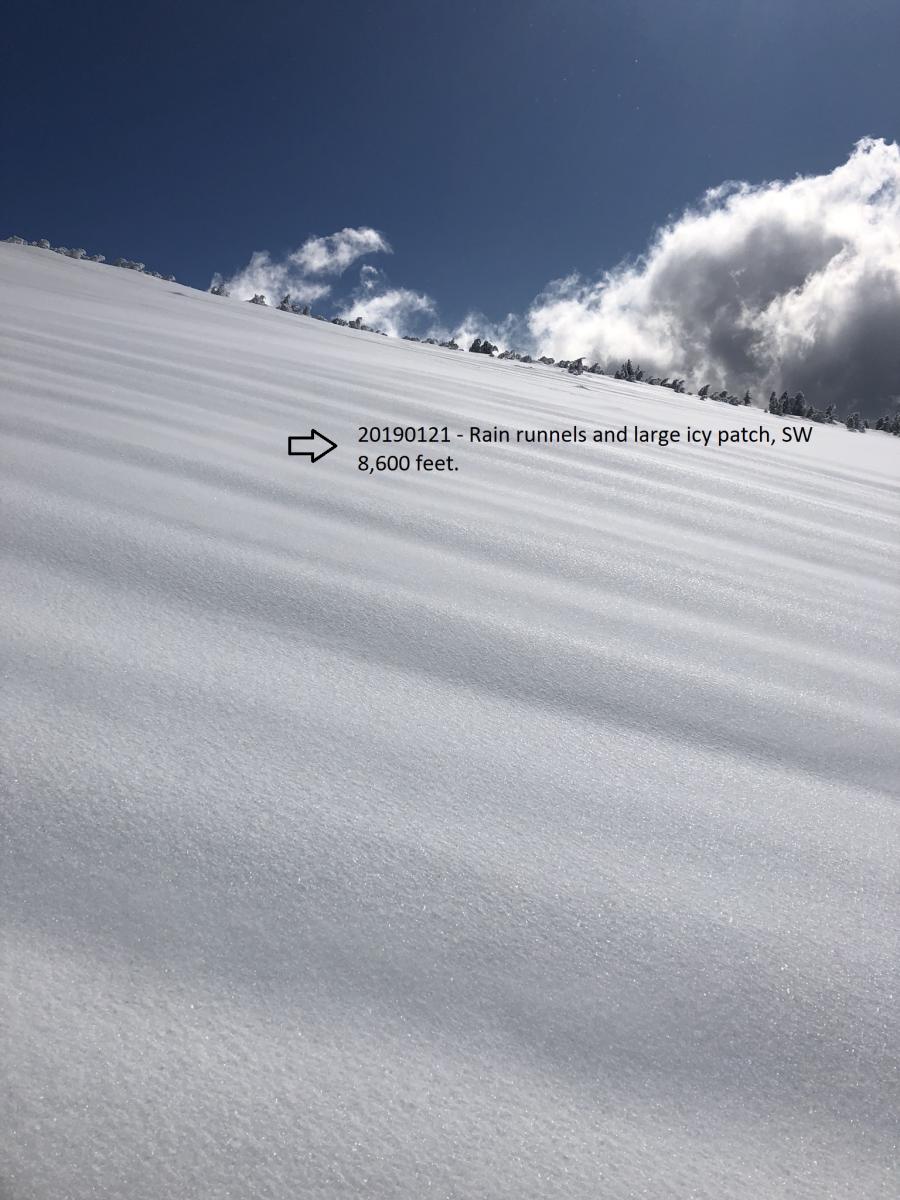 Weather and Current Conditions
Weather Summary
A high pressure ridge has moved into the area from the west. Mostly sunny conditions will prevail for the foreseeable future. A warm frontal system will miss the forecast area to our north, bringing scattered high level clouds and warming temperatures today.  The northerly wind will continue to be moderate with strong gusts, announcing this change in weather pattern. Temperatures will continue to rise throughout the week.
24 Hour Weather Station Data @ 5:00 AM
Two Day Mountain Weather Forecast
Produced in partnership with the Medford NWS
For 7000 ft to 9000 ft
Tuesday
(5 a.m to 11 p.m.)
Tuesday Night
(11 p.m. to 5 a.m.)
Wednesday
(5 a.m to 11 p.m.)
Weather
Mostly sunny, moderate wind with strong gusts
Mostly cloudy in the evening then clearing
Partly cloudy. Highs in the lower to mid 40s
Temperature (°F)
38
32
41
Wind (mi/hr)
North 10-15
Northwest 10-15
Northwest 10-15
Precipitation SWE / Snowfall (in)
/ 0
/ 0
/ 0
For 9000 ft to 11000 ft
Tuesday
Tuesday Night
Wednesday
Weather
Mostly sunny, windy with strong gusts
Mostly clear, windy with strong gusts
Partly cloudy and windy
Temperature (°F)
30
25
30
Wind (mi/hr)
Northwest 15-25
Northwest 0
Northwest 15-20
Precipitation SWE / Snowfall (in)
/ 0
/ 0
/ 0
Season Precipitation for Mount Shasta City
Period
Measured (in)
Normal (in)
Percent of Normal (%)
From Oct 1, 2019 (the wet season)
13.93
20.13
69
Month to Date (since Apr 1, 2020)
5.52
4.92
112
Year to Date (since Jan 1, 2020)
5.52
4.92
112
Disclaimer
This forecast does not apply to Ski Areas or Highways and is for the Mt. Shasta, Castle Lake and Mt. Eddy backcountry. Use this information for guidance only. You may find different conditions in the backcountry and should travel accordingly. This forecast expires on midnight of the date it was posted unless otherwise noted.