You are here
Avalanche Forecast for 2019-01-24 06:05
EXPIRED ON January 25, 2019 @ 6:05 am

Published on January 24, 2019 @ 6:05 am
Issued by Nick Meyers - Shasta-Trinity National Forest
Avalanche danger is LOW at all elevations and aspects. Exercise normal caution. Bring an ice axe, crampons, and a helmet if venturing above treeline. Scoured, icy slopes present slide for life conditions.
Avalanche Problem 1: Normal Caution

Exercise normal caution in the backcountry:
Carry a beacon, shovel, and probe and know how to use them.
Create a travel plan; stick to your travel plan.
Actively look for evidence of instability while on the snow such as fresh wind slabs or unstable cornices.
Communicate well within your group. Expose only one person at a time to avalanche terrain.
Forecast Discussion
We sure don't like to rain on anybody's parade, but Mother Nature sure did. The three feet of lovely storm snow provided powdery dreams for a few days, only to be squished by over an inch of rain on snow this past weekend. Now we deal with the aftermath. Warm, sunny weather will loosen up variable, smoothish, crusty, breakable, lumpy, chalky surfaces in the coming days creating more spring-like travel conditions. Scoured, icy slopes present slide for life conditions. An ice axe, crampons, and helmet are mandatory if climbing into the upper regions of the mountain, but realize that self-arrest will be difficult.
Recent Observations
Temperatures have ranged from 31 to 44 degrees F in the last 24 hours near 7,600 feet, with above freezing temperatures dominating yesterday afternoon and evening. Strong northwest winds cranked on the mountain, averaging 32 mi/hr, gusting up to 67 mi/hr. A lot of blowing ice forms were observed with poor wind slab development. 
Height of snow (HS) at 7,600 feet is 254 cm (100 in). At 10,400 feet, HS is 260 cm (102 in).
A large avalanche was reported in Diller Canyon yesterday, visible with the naked eye from the Weed area. This avalanche likely occurred during the storm this past week.
Snow surfaces are across the board. Severe rain runnels and lumpy, breakable surfaces can be found below treeline. Wind affected, firm and chalky, icy sastrugi and other various wind blown forms can be found near and above treeline. Southerly facing slopes are beginning to corn up and offer supportable snow surfaces. Protected gullies might have a bit of softer snow that has been blown in from recent northwest wind.
Cornices continue to gain strength.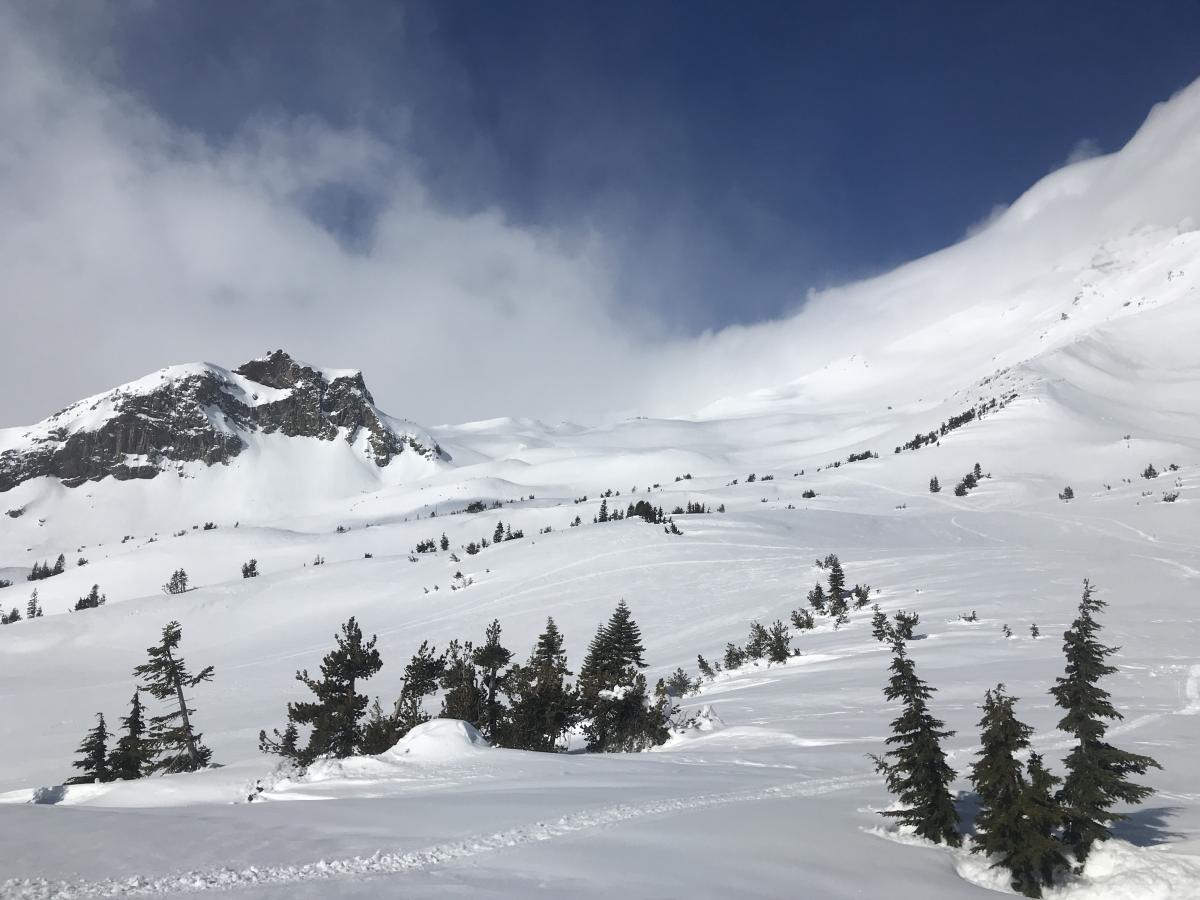 Green Butte and the Old Ski Bowl, 1.23.19 / Photo: Meyers
Weather and Current Conditions
Weather Summary
An upper level ridge centered offshore is building into the area today. This will bring dry weather to northern California. Low clouds and fog is possible in the valleys. Daytime high temperatures will climb into the high 40's to low 50's F at Bunny Flat by Sunday.  Wind will be breezy in exposed terrain near and above treeline for the near future, and light to calm below treeline.
24 Hour Weather Station Data @ 4:00 AM
Two Day Mountain Weather Forecast
Produced in partnership with the Medford NWS
For 7000 ft to 9000 ft
Thursday
(5 a.m to 11 p.m.)
Thursday Night
(11 p.m. to 5 a.m.)
Friday
(5 a.m to 11 p.m.)
Weather
Sunny
Mostly clear
Sunny
Temperature (°F)
42
24
48
Wind (mi/hr)
North 5-10
Northeast 5-10
North 5-10
Precipitation SWE / Snowfall (in)
/ 0
/ 0
/ 0
For 9000 ft to 11000 ft
Thursday
Thursday Night
Friday
Weather
Sunny, blustery
Mostly clear, windy
Sunny, windy
Temperature (°F)
31
30
36
Wind (mi/hr)
North 20-25
Northwest 0
North 20-25
Precipitation SWE / Snowfall (in)
/ 0
/ 0
/ 0
Season Precipitation for Mount Shasta City
Period
Measured (in)
Normal (in)
Percent of Normal (%)
From Oct 1, 2019 (the wet season)
13.93
20.57
68
Month to Date (since Apr 1, 2020)
5.52
5.36
103
Year to Date (since Jan 1, 2020)
5.52
5.36
103
Disclaimer
This forecast does not apply to Ski Areas or Highways and is for the Mt. Shasta, Castle Lake and Mt. Eddy backcountry. Use this information for guidance only. You may find different conditions in the backcountry and should travel accordingly. This forecast expires on midnight of the date it was posted unless otherwise noted.