You are here
Avalanche Forecast for 2019-02-16 05:39
EXPIRED ON February 17, 2019 @ 5:39 am

Published on February 16, 2019 @ 5:39 am
Issued by Nick Meyers - Shasta-Trinity National Forest
The snowpack continues to settle and stabilize, however uncertainy still exists for above treeline terrain. As the weather clears out this weekend and access is gained to upper elevations, proceed with caution. Incessant wind out of the southwest for the past 72 hours has created potentially large and destructive wind slabs. Choose conservative terrain for a couple more days.
Avalanche Problem 1: Wind Slab
Certain

Very Likely

Likely

Possible

Unlikely

Historic

Very Large

Large

Small
Moderate southwest wind with strong gusts has been blowing round-the-clock since February 13th. Wind affected snow and plenty of blowing snow has been observed near treeline. New and existing wind slabs have formed on wind-loaded slopes. Near and above treeline NW-N-NE-E-SE aspects above 7,500 ft where the most new snow has accumulated should hold the largest wind slabs. Additional snow and sustained winds will cause existing wind slabs to grow in size and new wind slabs to form. As the skies begin to clear over the next few days, it will be important to approach near and above treeline avalanche terrain with caution. Wind slabs have the ability to be large and destructive. Southwesterly wind will dissipate later today and swing around to a more northerly flow.
Avalanche Problem 2: Cornice
Certain

Very Likely

Likely

Possible

Unlikely

Historic

Very Large

Large

Small
Cornice falls are caused when a mass of wind‐deposited snow, which is often overhanging and near a sharp terrain break such as a ridge, breaks off. Because they are so heavy, cornices falls often trigger avalanches on the slope below, compounding the problem for anyone in its path. Large and unstable cornices are still possible near and above treeline, until verified otherwise. Look for them overhanging primarily NE-E-SE facing slopes.
Forecast Discussion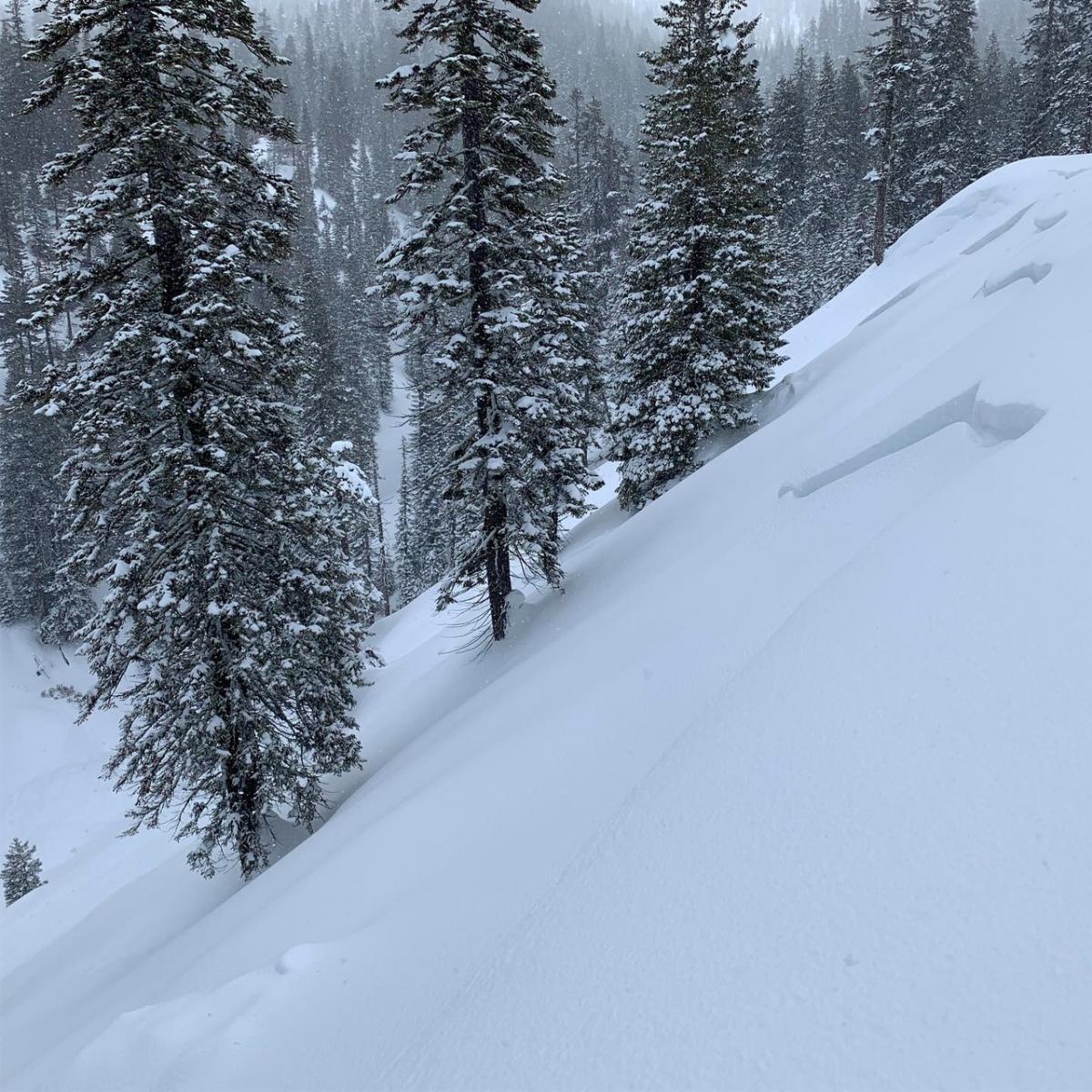 Natural avalanches from our mid-week dump, immediately followed by a rapid warming and rain on snow. Both these D2 storm slabs were below treeline and near 6,300 feet, NW and SE facing.

[Photos - Above: C Carr / Below: N Meyers]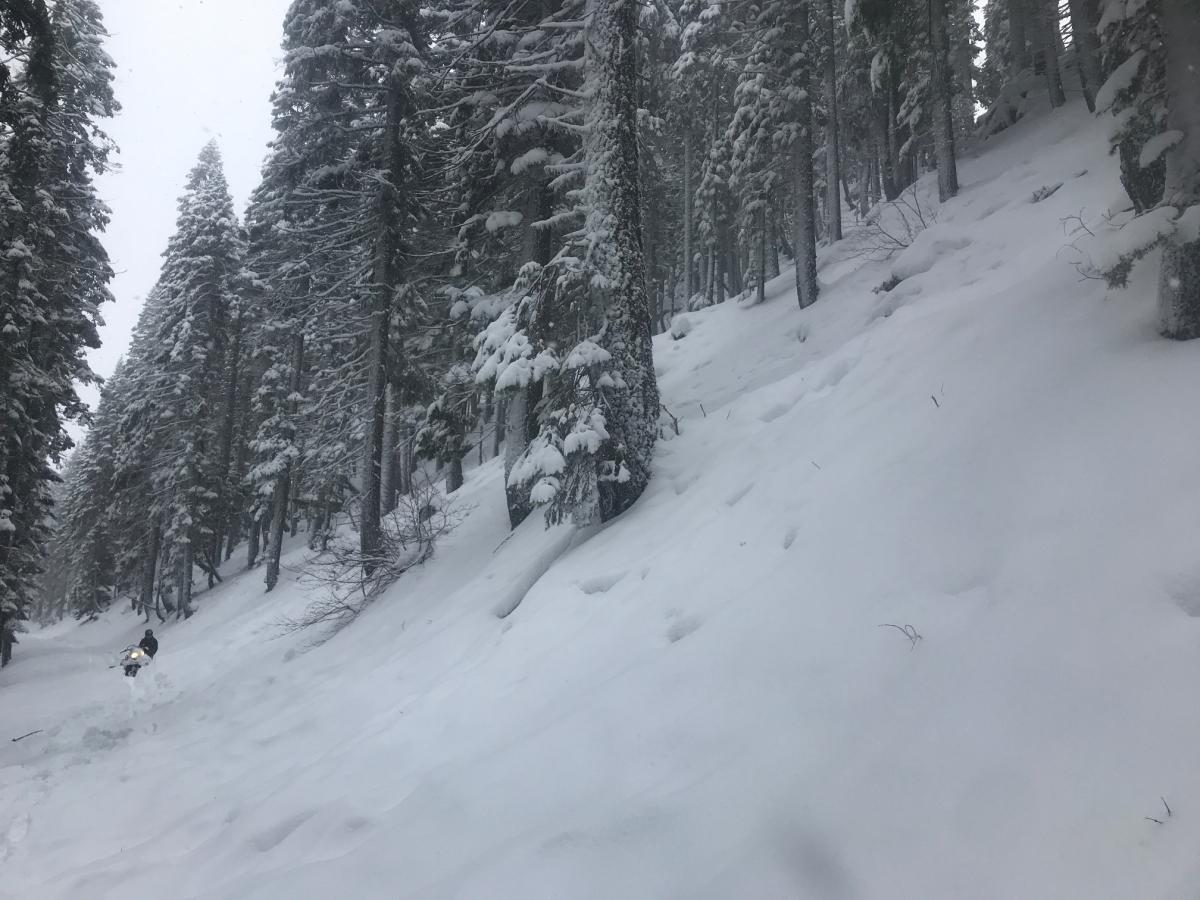 Recent Observations
Yesterday brought snow showers with only a few brief donut holes of blue sky, not enough to get a good look at above treeline terrain. Up to 8 inches of new snow fell. 
Winds were persistent out of the southwest. A skier reported no wind at 9,000 feet above Horse Camp. Out on the east side of the mountain and Ash Creek Butte area, wind and blowing snow were observed all day. 
Avalanches from our 2 feet of snow followed by a rapid warming/rain on snow event (2/13) continue to be discovered as visibility and access is gained in the backcountry. Yesterday, skiers reported a D2 storm slab avalanche below treeline on a NW-6,259 ft aspect on Mount Shasta (McBride Run-Suicide Gully). Another D2 storm slab avalanche was observed on an E/SE aspect at a similar elevation in thick timber, along the 31 road east of the Ski Park. Both avalanches propagated the full width of the slope and likely occurred Wednesday afternoon or shortly after. (Photos above)
6 to 18 inches of new, low density snow rests on top of a widespread 2 inch thick, pencil hard, rain soaked crust. This crust is supportable on skis. Step off your skis and you'll sink into your thighs. At 8,500 feet, the crust begins to disappear. 
Rain runnels topped with fresh, dry snow exists below treeline. Slab properties are poor and column tests could not produce notable failures.
Above treeline terrain has yet to be given a proper look due to whiteout conditions.
Snow surface conditions are generally smooth and soft with some wind affect in more open terrain.
Weather and Current Conditions
Weather Summary
Lingering snow showers will continue through the day. Sustained cold temperatures will keep snow levels low. Overall, snow showers and wind will taper off this afternoon/evening. Tomorrow and Presidents Day, we are bound to see blue sky as a break in the weather ensues. Northerly flow will take over for a couple days early in the work week, keeping temps on the cool side. Then, another front and low pressure system will move southward across the Pacific Northwest Wednesday. An additional system is poised to reach the area late into next weekend. Thus, generally active weather carries on!
24 Hour Weather Station Data @ 4:00 AM
Two Day Mountain Weather Forecast
Produced in partnership with the Medford NWS
For 7000 ft to 9000 ft
Saturday
(5 a.m to 11 p.m.)
Saturday Night
(11 p.m. to 5 a.m.)
Sunday
(5 a.m to 11 p.m.)
Weather
Snow showers, snow levels to town or lower.
Snow showers, tapering off.
Slight chance of snow showers, partly sunny.
Temperature (°F)
21
11
22
Wind (mi/hr)
West 5-10
West 5-10
North 0-5
Precipitation SWE / Snowfall (in)
/ 3-6
/ ~1
/ < .5
For 9000 ft to 11000 ft
Saturday
Saturday Night
Sunday
Weather
Snow showers, widespread blowing snow. Windy. Wind chill values to -26 F.
Snow showers, tapering off. Widespread blowing snow. Blustery. Wind chill values to -23 F.
Partly sunny and cold. Wind chill values to -20 F.
Temperature (°F)
6
3
5
Wind (mi/hr)
West 25-30
Northwest 3-6
Northeast 10-15
Precipitation SWE / Snowfall (in)
/ 3-6
/ ~1
/ < .5
Season Precipitation for Mount Shasta City
Period
Measured (in)
Normal (in)
Percent of Normal (%)
From Oct 1, 2019 (the wet season)
21.48
25.93
83
Month to Date (since Apr 1, 2020)
7.55
3.66
206
Year to Date (since Jan 1, 2020)
13.07
10.72
122
Disclaimer
This forecast does not apply to Ski Areas or Highways and is for the Mt. Shasta, Castle Lake and Mt. Eddy backcountry. Use this information for guidance only. You may find different conditions in the backcountry and should travel accordingly. This forecast expires on midnight of the date it was posted unless otherwise noted.