You are here
Avalanche Forecast for 2019-03-02 06:30
EXPIRED ON March 3, 2019 @ 6:30 am

Published on March 2, 2019 @ 6:30 am
Issued by Ryan Sorenson - Mount Shasta Avalanche Center
The snowpack continues to settle and stabilize, large avalanches from the storm last week is increasingly unlikely. A wind scoured snowpack exists in the Mount Shasta backcountry. New snow accumulation of 1-3 inches and shifting wind will increase the avalanche concern throughout the day. Keep on the watch for new and old wind slabs in steep terrain. If venturing out proceed with caution and pay attention to where the wind is blowing and depositing snow.
Avalanche Problem 1: Wind Slab
Certain

Very Likely

Likely

Possible

Unlikely

Historic

Very Large

Large

Small
Triggering large lingering wind slabs from the last storm has become increasingly unlikely but not impossible. Old slide paths have filled back in with new wind transported snow packing on top of the previous bed surface. Previously icy wind packed slopes could provide the ideal bed surfaces as windblown and new snow shifts around today. 
With 1-3 inches of new snow forecasted with light to moderate wind, fresh wind slabs will be a concern on steep slopes today. New wind slabs have the potential to produce avalanches large enough to bury a person especially if involving a terrain trap.  
Continued caution and paying attention to where leeward areas reside will be necessary if venturing out into the backcountry today. Look for signs of wind slabs and cornices as you travel in safe terrain. Stay away from areas where shooting cracks, blocking, and whumphing are observed. Other signs of wind slabs include previously drifted snow and chalky, hollow sounding snow. If wind slabs are encountered keep travel to lower angle windward slopes to return to safety. 
Forecast Discussion
Come to learn about the basics on avalanche rescue, connect with the outdoor community, and get inspired to get outside in the winter. There will also be a companion rescue beacon clinic meeting at the Fifth Season; 300 N Mt Shasta Blvd, meeting today at 9 a.m.
Recent Observations
In the last 24 hours, temperatures have stayed in the teens to low 20s degrees F near 7,600 feet on Mount Shasta. Moderate wind out of the west yesterday has calmed to light out of the south this morning.  An average wind speed of 8 mi/hr, with a max wind speed of 12 mi/hr and a minimum of 3 mi/hr has been recorded at 8,000 feet on Mount Shasta. Temperatures at Castle Lake ranged from 22 to 33 degrees F in the last 24 hours near 5,800 feet. 

Conditions on Gray Butte yesterday:
Winds: Light, West
Temp: Cooler temperatures below freezing
Surface textures were variable with wind effected chocky supportable crust and 2-3 inches of light snow on top dominating the surface forms above 7,000 feet.
Wind effected snow and sastrugi features were seen on open areas above treeline. 
Breakable crusts dominate surface snow below 6,500 feet. 
Settlement cones were observed around tree wells. 
Road: Everitt Memorial and Castle Lake Roads are closed.
View of Mount Shasta from Gray Butte yesterday: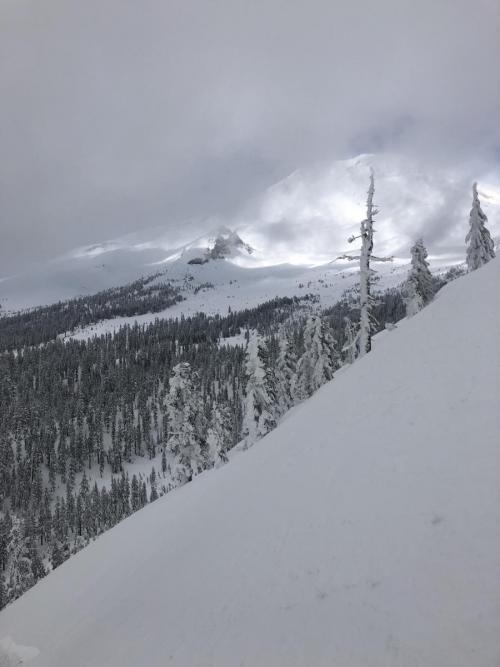 Weather and Current Conditions
Weather Summary
An upper-level low remains off the northern California coast. This area of low pressure will allow snow showers to build throughout the forecast area today. This system is increasing in strength as it moves ashore. Expect increasing snow showers to build today with the majority of the snow falling this morning into the afternoon. Snow accumulation of 1-3 inches by tomorrow morning is likely. Snow levels will start at 3,500 feet this morning and increase to 4,700 feet this afternoon. Snow level is expected to be at 4,500 feet tomorrow. This short-lived storm will give way to a very wet large storm on Tuesday. 
Light wind will continue to blow out of the southeast this morning and will switch to northeast this evening below and near treeline today. Light to Moderate wind out of the southwest will blow above treeline throughout the day on Mount Shasta.  The Eddies will see light to moderate wind from the east today. 
The next storm is expected to move in on Tuesday night. This is another atmospheric river event that will bring nearly 2 inches of water and upwards of 2 more feet of snow.  Data is still being compiled and updated for this storm, however, we should see increasing snow levels starting around 5,000 feet. 
24 Hour Weather Station Data @ 5:00 AM
Two Day Mountain Weather Forecast
Produced in partnership with the Medford NWS
For 7000 ft to 9000 ft
Saturday
(5 a.m to 11 p.m.)
Saturday Night
(11 p.m. to 5 a.m.)
Sunday
(5 a.m to 11 p.m.)
Weather
Cloudy, with snow showers likely.
Cloudy, with snow showers likely.
Mostly cloudy with a chance of snow.
Temperature (°F)
30
20
35
Wind (mi/hr)
Southeast 5-10
Northeast 0-5
North 0-5
Precipitation SWE / Snowfall (in)
/ 1-3
/ 0-2
/ 0-1
For 9000 ft to 11000 ft
Saturday
Saturday Night
Sunday
Weather
Cloudy with snow showers likely.
Chance of snow showers in the evening.
Mostly cloudy with a chance of snow.
Temperature (°F)
25
20
20
Wind (mi/hr)
Southwest 10-15
West 1-3
West 5-10
Precipitation SWE / Snowfall (in)
/ 1-3
/ 0-2
/ 0-1
Season Precipitation for Mount Shasta City
Period
Measured (in)
Normal (in)
Percent of Normal (%)
From Oct 1, 2019 (the wet season)
29.53
29.76
99
Month to Date (since Apr 1, 2020)
0
0.26
0
Year to Date (since Jan 1, 2020)
21.12
14.55
145
Disclaimer
This forecast does not apply to Ski Areas or Highways and is for the Mt. Shasta, Castle Lake and Mt. Eddy backcountry. Use this information for guidance only. You may find different conditions in the backcountry and should travel accordingly. This forecast expires on midnight of the date it was posted unless otherwise noted.