You are here
Avalanche Forecast for 2020-03-12 06:03
EXPIRED ON March 13, 2020 @ 6:03 am

Published on March 12, 2020 @ 6:03 am
Issued by Nick Meyers - Shasta-Trinity National Forest
Avalanche danger is LOW. Exercise normal caution. Spring-like conditions and variable snow surfaces will prevail until the weekend. Steep, sunny slopes may release minor wet, loose snow. Beware of falling rock, especially in Avalanche Gulch above Helen Lake.
Avalanche Problem 1: Normal Caution
Certain

Very Likely

Likely

Possible

Unlikely

Historic

Very Large

Large

Small
Avalanche danger is LOW. Exercise normal caution:
Watch for isolated wind slabs and small wet-loose point releases on steep, sunlit slopes.
Bring and always be prepared to use your avalanche rescue tools.
Practice safe travel techniques when traveling in or near avalanche terrain.
An ice axe, crampons and HELMET is advised above 10,000 feet.
Forecast Discussion
In comparison to last season, it sure has been the Yin and the Yang of winters. But dang, its been a hell of a yang.  In terms of life, if this is what the yang is like, I'm in trouble! A poor winter looks to save a little face this weekend. It's not a whopper, but a decent little refresh. Until then, it's the broken record of variable conditions, low avalanche danger and a heads up for rockfall and firm, icy slopes on the upper mountain.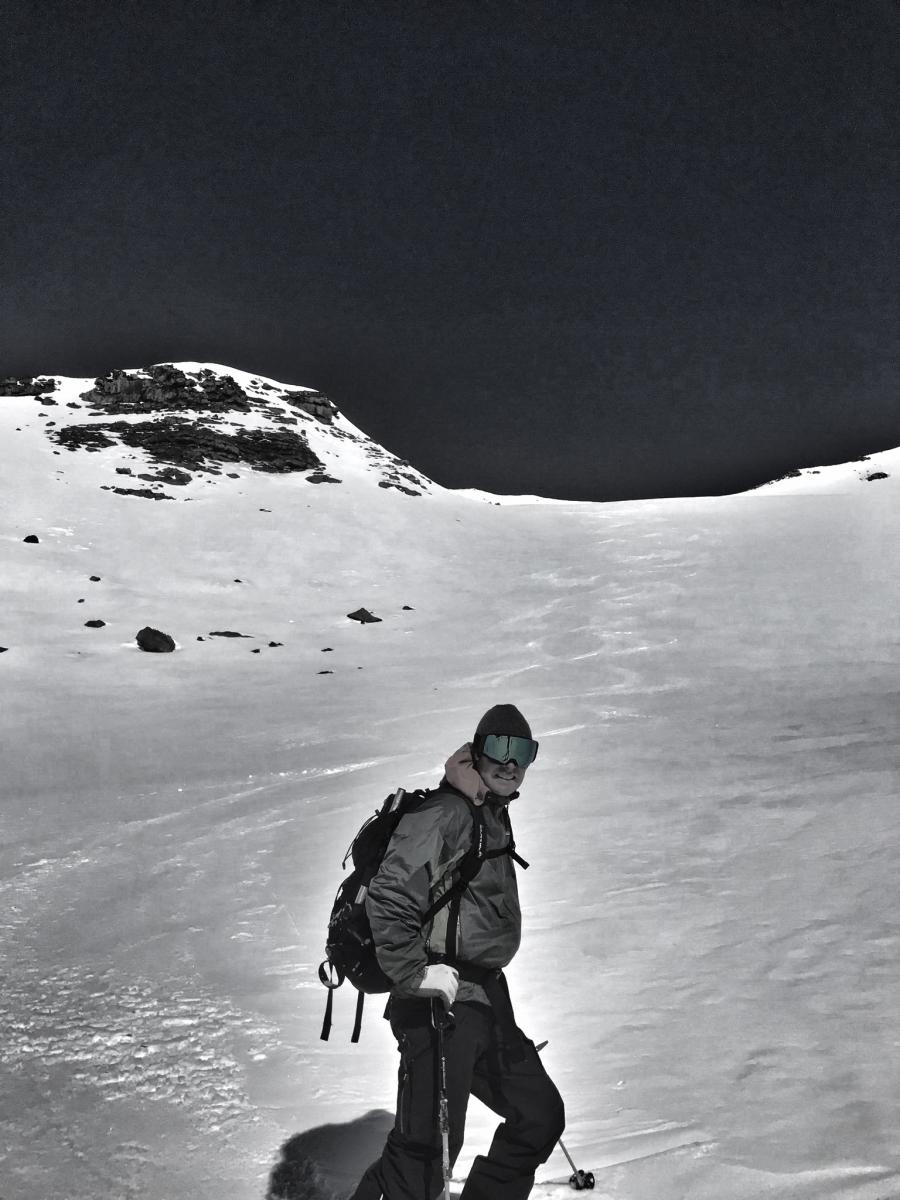 MSAC snowmobile ambassador Bill Gellor stretches the legs and logs a few turns down Powder Bowl yesterday. [Photo: M Hill]
Recent Observations
In the last 24 hours on Mount Shasta, near treeline temperatures ranged from 34 to 44 degrees. Easterly winds were light with gusts 6-12 mi/hr.
Mediocre skiing and variable snow surfaces exist. Expect a mixed bag of conditions above treeline such as: scoured, firm, icy, moist, breakable, chalky. If you venture into more remote, colder regions (north side of Mount Shasta), you may still find favorable snow below treeline. Aside from some small, thin, loose-wet avalanches and minor roller ball action, no instabilities in the snowpack have been seen.
Weather and Current Conditions
Weather Summary
The same but different, because no two days are the same! Dry weather will stay in place for the remainder of the week with chilly mornings and mild afternoons. Winds on the mountain will be light to moderate, northerly in nature. Wet weather is still on track for the weekend. Water amounts have been downgraded some, a little over a half inch of water expected at this point. More on this as the time draws near.
24 Hour Weather Station Data @ 4:00 AM
Two Day Mountain Weather Forecast
Produced in partnership with the Medford NWS
For 7000 ft to 9000 ft
Thursday
(4 a.m. to 10 p.m.)
Thursday Night
(10 p.m. to 4 a.m.)
Friday
(4 a.m. to 10 p.m.)
Weather
Sunny.
Clear
Sunny.
Temperature (°F)
50
30
46
Wind (mi/hr)
Northeast 5-10
Northeast 5-10
Northwest 5-10
Precipitation SWE / Snowfall (in)
0.00 / 0
0.00 / 0
0.00 / 0
For 9000 ft to 11000 ft
Thursday
Thursday Night
Friday
Weather
Sunny.
Clear.
Sunny and windy.
Temperature (°F)
29
28
28
Wind (mi/hr)
Northeast 10-15
Northeast 10-15
West 15-20
Precipitation SWE / Snowfall (in)
0.00 / 0
0.00 / 0
0.00 / 0
Season Precipitation for Mount Shasta City
Period
Measured (in)
Normal (in)
Percent of Normal (%)
From Oct 1, 2022 (the wet season)
13.61
32.15
42
Month to Date (since Jun 1, 2023)
0.71
2.65
27
Year to Date (since Jan 1, 2023)
4.68
16.94
28
Disclaimer
This forecast does not apply to Ski Areas or Highways and is for the Mt. Shasta, Castle Lake and Mt. Eddy backcountry. Use this information for guidance only. You may find different conditions in the backcountry and should travel accordingly. This forecast expires 24 hours after the posted time unless otherwise noted.