You are here
Avalanche Forecast for 2020-04-03 06:32
EXPIRED ON April 4, 2020 @ 6:32 am

Published on April 3, 2020 @ 6:32 am
Issued by Nick Meyers - Shasta-Trinity National Forest
Overall avalanche danger is LOW and NORMAL CAUTION is advised. Both supportable and breakable crust dominates most of the backcountry snow surfaces.
A winter storm will impact the forecast area this weekend. Fresh snow will fall on top of a firm, smooth bed surface and combine with southerly wind. Expect increasing avalanche risk.
Avalanche Problem 1: Normal Caution
Certain

Very Likely

Likely

Possible

Unlikely

Historic

Very Large

Large

Small
Use the ideas of NORMAL CAUTION if traveling in the backcountry today.

This includes:
Carrying proper self-resuce equipment (beacon/shovel/probe)
Watching for unstable snow on isolated terrain features
Looking for active wind blowing snow
Watching for isolated, overhanging cornices along ridges/bowls
Being mindful of steep, firm slopes that could result in a long slip and fall. 
Paying attention to terrain above you for rockfall
Forecast Discussion
Recent Observations
In the last 24 hours, we've received no new snow. Temperatures near treeline on Mount Shasta have ranged from 12 to 32.5 degrees. Winds averaged 9 mi/hr with gusts to 25 mi/hr out of the northwest. If you're a crust connoisseur, now is the time. A variety of supportable and breakable crust dominates the backcountry. Soft snow is scarce. Some surface softening has been occurring on solar aspects.  Snow surfaces are smooth. No signs of avalanche danger have been reported/observed. Snow survey of the Deadfall and North Fork courses (Eddy Mountains) yesterday observed average snow depths of 45 inches (114 cm/.56" SWE) and 26 inches (66 cm/.7" SWE), respectively.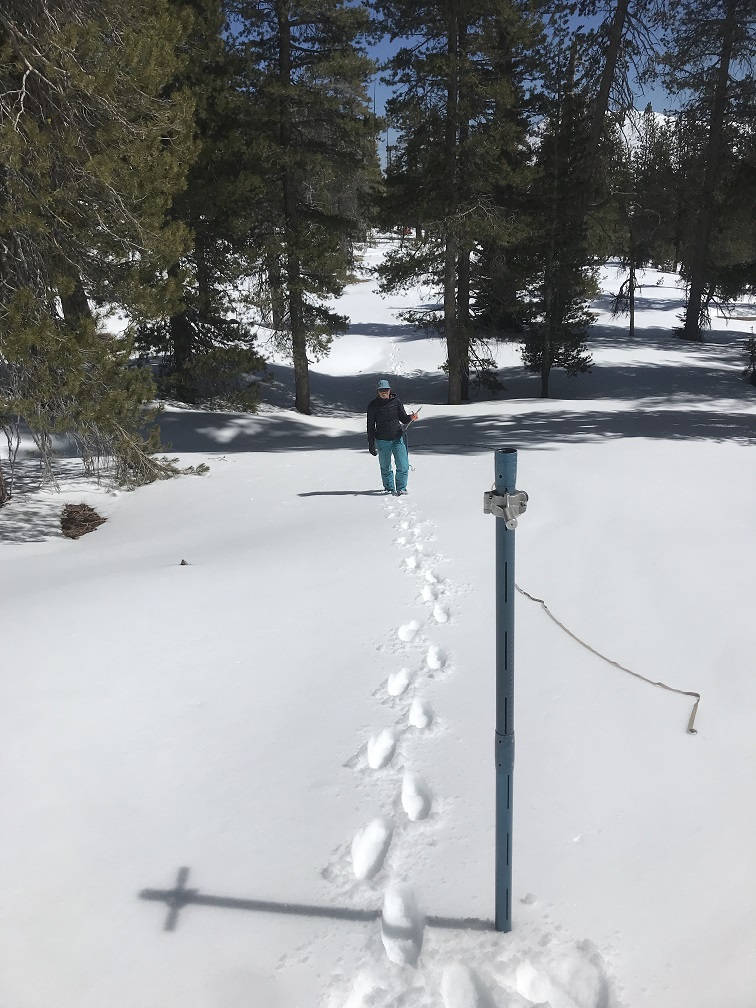 Snow survey for California state resources. North Fork Sacramento course transect. [Meyers]
Weather and Current Conditions
Weather Summary
One more day of sunny weather for the forecast area. Daytime high temperatures will be similar to yesterday. It could be a bit breezy above treeline on the mountain.  We are still on track for a decent looking winter storm over the weekend. Two waves will move through the area. The first is expected late tonight into Saturday. The second will arrive Saturday afternoon. Southerly flow will provide good orographics for Mount Shasta. Snow levels will linger near 4,000 feet. Upwards of 2 inches of water is forecast, which could mean 1 to 2 feet of fresh snow in the mountains. Windy conditions are likely out of the south/southwest. 
24 Hour Weather Station Data @ 4:00 AM
Two Day Mountain Weather Forecast
Produced in partnership with the Medford NWS
For 7000 ft to 9000 ft
Friday
(5 a.m to 11 p.m.)
Friday Night
(11 p.m. to 5 a.m.)
Saturday
(5 a.m to 11 p.m.)
Weather
Sunny.
Increasing clouds. A 30% chance of snow after 11PM. Snow level near 4,300 feet
Snow. Breezy. Chance of precipitation 100%. Snow levels near 4,200 feet.
Temperature (°F)
37
24
29
Wind (mi/hr)
Northwest 5-10
Southwest 5-10
South 10-15
Precipitation SWE / Snowfall (in)
0.00 / 0
0.34 / 0-1
0.50 / 3-7
For 9000 ft to 11000 ft
Friday
Friday Night
Saturday
Weather
Sunny. Windy.
Increasing clouds. A 30% chance of snow after 11PM. Windy.
Snow. Windy.
Temperature (°F)
19
17
17
Wind (mi/hr)
Northwest 20-30
West 20-30
Southwest 30-40
Precipitation SWE / Snowfall (in)
0.00 / 0
0.34 / 1-3
0.50 / 5-9
Season Precipitation for Mount Shasta City
Period
Measured (in)
Normal (in)
Percent of Normal (%)
From Oct 1, 2020 (the wet season)
15.17
35.69
43
Month to Date (since Oct 1, 2020)
0.00
0.23
0
Year to Date (since Jan 1, 2020)
6.24
20.48
30
Disclaimer
This forecast does not apply to Ski Areas or Highways and is for the Mt. Shasta, Castle Lake and Mt. Eddy backcountry. Use this information for guidance only. You may find different conditions in the backcountry and should travel accordingly. This forecast expires 24 hours after the posted time unless otherwise noted.