You are here
Avalanche Forecast for 2020-12-07 06:45
EXPIRED ON December 8, 2020 @ 6:45 am

Published on December 7, 2020 @ 6:45 am
Issued by Ryan Sorenson - Mount Shasta Avalanche Center
High pressure will continue to dominate the weather pattern for the rest of the week. The avalanche danger is LOW. Use caution. The snowpack is thin with many obstacles.
Avalanche Problem 1: Normal Caution
Certain

Very Likely

Likely

Possible

Unlikely
Normal caution is advised. Avalanches are very unlikely at this time due to a thin snowpack. Finding consistent snow is challenging right now. Watch out for many not-so-hidden obstacles. Always use safe travel techniques and bring your beacon, shovel and probe, and most importantly, know how to use them. Now is the time to brush up on your avalanche rescue skills, practice identifying potential avalanche terrain and get your gear dialed. 
Forecast Discussion
This is not the time to climb the mountain. One could make a good argument that conditions are at their worst. It's a bitter cold, slippery rock and icy mess on most routes. Existing snow on the north and east sides routes is bulletproof which makes for dangerous slide-for-life conditions. South and west routes need snow to cover up the rocks. Day hikes on the lower half of the mountain are within reason, but we advise planning your main climbing trip for spring when conditions are primo!
Still looking to freshen up your avalanche rescue skills? Check out this video for a quick explanation of companion rescue:
Recent Observations
Thus far, our season has included one winter storm in mid-November that brought 20 inches of snow to the mountain. Nearly three weeks of high pressure has left a barely usable snowpack. Many rocks and trees have melted out. Colder, near and below treeline areas still host sugary, faceted snow. Below that, a few crusts are intermingled. Snowpack monitoring is focused on areas where this weak snow exists before our first big storm.   
It is possible to find spring-like conditions on the larger south facing snow patches at elevation. The challenge is getting there. Long fields of slippery boulders guard the approach to these upper elevation patches.  A local skier reports there are, "more boulders than snow.  But it linked together."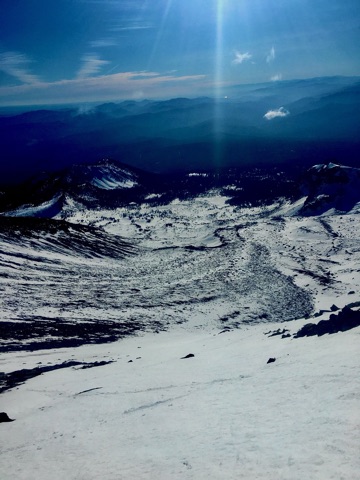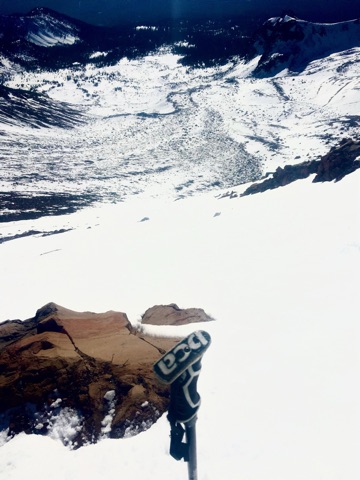 Photo from a large patch of snow below Shastarama in Old Ski Bowl, 10,200 feet on 12/6/20.  [Photos: Koster]
There is no usable snowpack at Castle Lake and temperatures have been staying mostly above freezing. Heart Lake is frozen and local backcountry ice skaters have been enjoying this. Castle Lake and Cliff Lake are not frozen at this time.
Roads are free and clear of snow/ice to Bunny Flat and Castle Lake trailheads. The gate is closed at Bunny Flat and snow exists on the road past the gate, up into the Old Ski Bowl. Sand Flat winter trails are open. Cross-country skiing is possible but conditions marginal. Pilgrim Creek snowmobile park is open, but very little snow exists.
Weather and Current Conditions
Weather Summary
High pressure will continue to dominate our weather pattern throughout the week keeping things mostly clear and dry. A few small blips of moisture will sneak through allowing for high wispy clouds this morning.  Some valley fog is possible. These should dissipate before noon. Bring your sunblock and lawn chairs. Sunny skies return and temperatures will climb to the lower 50s ℉. Models are showing a chance for a shift back to a wet pattern this weekend. Here's to hoping.
24 Hour Weather Station Data @ 6:00 AM
Two Day Mountain Weather Forecast
Produced in partnership with the Medford NWS
For 7000 ft to 9000 ft
Monday
(4 a.m. to 10 p.m.)
Monday Night
(10 p.m. to 4 a.m.)
Tuesday
(4 a.m. to 10 p.m.)
Weather
Partly cloudy, then mostly sunny.
Partly Cloudy.
Mostly Sunny
Temperature (°F)
50
31
54
Wind (mi/hr)
East 10-15
East 10-15
North 5-10
Precipitation SWE / Snowfall (in)
0.00 / 0
0.00 / 0
0.00 / 0
For 9000 ft to 11000 ft
Monday
Monday Night
Tuesday
Weather
Partly cloudy, then mostly sunny.
Mostly clear.
Mostly Sunny
Temperature (°F)
40
25
44
Wind (mi/hr)
Southeast 20-25
South 10-15
Northwest 10-15
Precipitation SWE / Snowfall (in)
0.00 / 0
0.00 / 0
0.00 / 0
Season Precipitation for Mount Shasta City
Period
Measured (in)
Normal (in)
Percent of Normal (%)
From Oct 1, 2020 (the wet season)
1.70
8.73
19
Month to Date (since May 1, 2021)
T
1.37
0
Year to Date (since Jan 1, 2021)
14.61
36.73
40
Disclaimer
This forecast does not apply to Ski Areas or Highways and is for the Mt. Shasta, Castle Lake and Mt. Eddy backcountry. Use this information for guidance only. You may find different conditions in the backcountry and should travel accordingly. This forecast expires 24 hours after the posted time unless otherwise noted.