You are here
Avalanche Forecast for 2020-12-14 06:30
EXPIRED ON December 15, 2020 @ 6:30 am

Published on December 14, 2020 @ 6:30 am
Issued by Ryan Sorenson - Mount Shasta Avalanche Center
A modest front brought 5 to 7 inches of snow to the area last night. LOW avalanche danger and a thin, early-season snowpack will carry on. Watch for rocks and other hidden or exposed objects. Expect light winds and sunny skies this morning, then a partly cloudy afternoon.
Avalanche Problem 1: Normal Caution
Certain

Very Likely

Likely

Possible

Unlikely
Normal caution is advised. Calm winds and warming temperatures will settle any concerns for significant avalanche activity today. A small isolated windslab is very unlikely, however not impossible.  If you feel the need to go searching for windslabs, open north-facing slopes that previously held a snowpack are clues. Our snowpack is shallow. We recommend sticking to roads and gullies for the best snow coverage. The 5 to 7 inches of snow we received yesterday will make the rocks harder to see and easier to hit.  See the photo below for a quick reminder of what it looked like before the storm.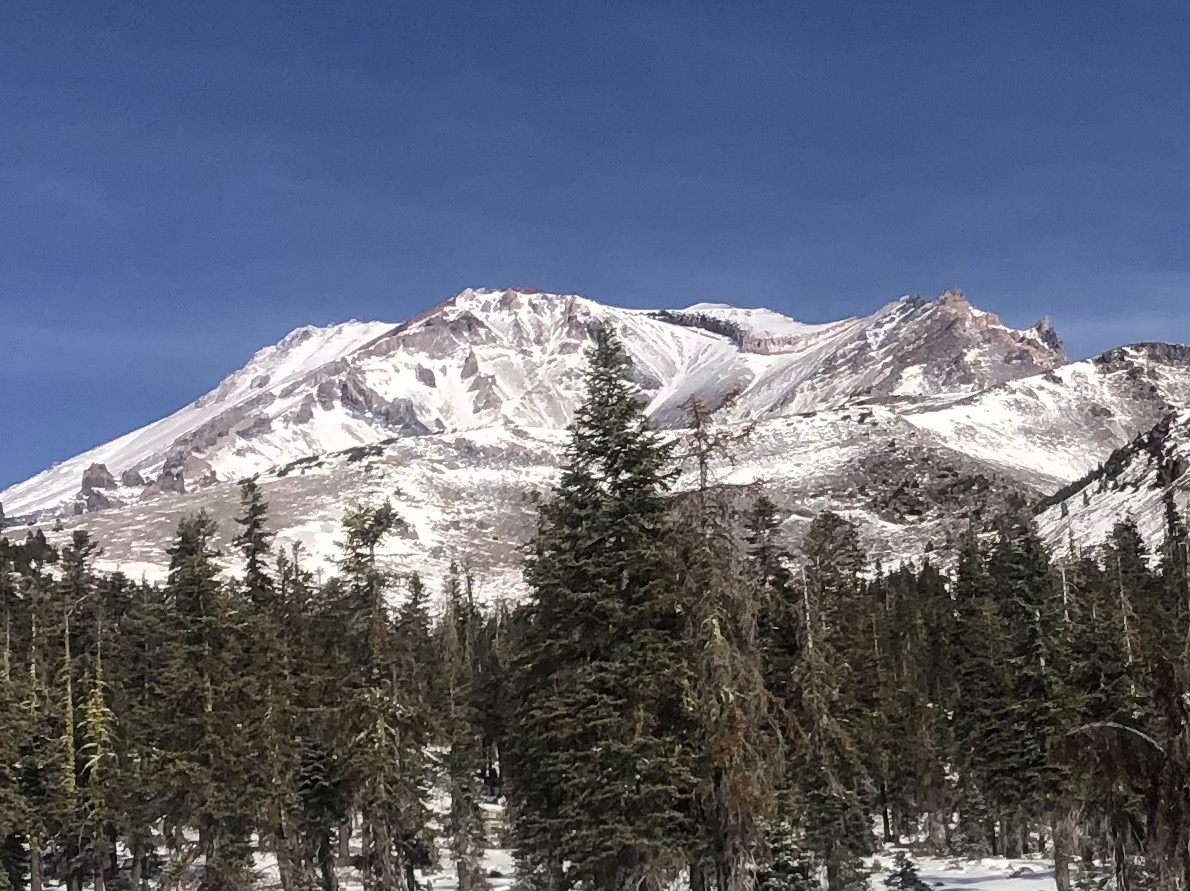 Powder Bowl, Sun Bowl and the South Side of Mount Shasta, on 12/12/20.  [Photo: Sorenson]
Forecast Discussion
The numerous trees, bushes or rocks exposed before Friday's storm will act as anchors in the snowpack as it grows over the next couple of storm events. This should help hold things in place, decreasing the likelihood of avalanches. For more information about anchors check out avalanche.org's avalanche encyclopedia. 
Rangers have witnessed Christmas tree harvesting from the Bunny Flat area. Cutting trees along the Everitt Memorial Highway and at Bunny Flat is prohibited in most areas. Get a map and be informed.
Recent Observations
A thin snowpack still dominates the forecast area with many barely covered rocks, trees and brushes. 
A modest storm came through yesterday, depositing 5 to 7 inches of snow with snow levels near 4,000 feet. 
Winds have shifted from South and Southwest to Easterly. Winds have been light, averaging 11 mi/hr with strong gusts up to 49.  
Temps have been in the teens and low twenties ℉.   
Weather and Current Conditions
Weather Summary
We will have another short break in the precipitation department. Chances are good that we'll wake up to a blue sky. However, clouds are expected to move back in this afternoon. There is a slight possibility for snow on Tuesday. A half-inch at most will be accompanied by strong southwest winds. A storm with slightly more girth than the one from this weekend is set to arrive on Wednesday.  It's still bobbing out in the ocean and a bit out of sight, but models show approximately a foot of snow with levels near 6,000 feet. 
24 Hour Weather Station Data @ 6:00 AM
Two Day Mountain Weather Forecast
Produced in partnership with the Medford NWS
For 7000 ft to 9000 ft
Monday
(4 a.m. to 10 p.m.)
Monday Night
(10 p.m. to 4 a.m.)
Tuesday
(4 a.m. to 10 p.m.)
Weather
Sunny this morning then becoming partly cloudy.
Partly cloudy.
Mostly cloudy with a 40 percent chance of snow. Snow levels near 4,400 feet.
Temperature (°F)
29
21
34
Wind (mi/hr)
North 5-10
Northeast 0-0
Southwest 5-10
Precipitation SWE / Snowfall (in)
0.00 / 0
0.00 / 0
0.01 / 0-0.50
For 9000 ft to 11000 ft
Monday
Monday Night
Tuesday
Weather
Sunny this morning then becoming partly cloudy.
Partly cloudy.
Mostly cloudy with a 40 percent chance of snow.
Temperature (°F)
24
24
26
Wind (mi/hr)
North 15-20
Northwest 25-35
West 35-40
Precipitation SWE / Snowfall (in)
0.00 / 0
0.00 / 0
0.01 / 0-0.50
Season Precipitation for Mount Shasta City
Period
Measured (in)
Normal (in)
Percent of Normal (%)
From Oct 1, 2023 (the wet season)
2.05
10.43
20
Month to Date (since Oct 1, 2023)
0.35
3.07
11
Year to Date (since Jan 1, 2023)
14.96
38.43
39
Disclaimer
This forecast does not apply to Ski Areas or Highways and is for the Mt. Shasta, Castle Lake and Mt. Eddy backcountry. Use this information for guidance only. You may find different conditions in the backcountry and should travel accordingly. This forecast expires 24 hours after the posted time unless otherwise noted.