You are here
Avalanche Forecast for 2020-12-18 06:25
EXPIRED ON December 19, 2020 @ 6:25 am

Published on December 18, 2020 @ 6:25 am
Issued by Nick Meyers - Shasta-Trinity National Forest
The avalanche danger is LOW and normal caution is advised. Expect increasing northwesterly wind today above treeline.
Area snowpack averages 1 to 2 feet deep. Now is probably the most dicey time to slide and ride in the backcountry as ROCKS are just barely covered.
Avalanche Problem 1: Normal Caution
Certain

Very Likely

Likely

Possible

Unlikely

Historic

Very Large

Large

Small
It's been difficult to find any true, life-threatening avalanche danger in the backcountry. The area snowpack remains about 2 feet deep and terra firma does a good job anchoring the snow we have in place.

Always watch for blowing snow and pay attention to where it's headed. Where old snow existed, small wind slabs are not completely out of the question in steep, leeward (southeast/east) areas near treeline. That said, we do not expect them to be significant enough to consider a true avalanche problem. Moreover, watch for rocks.
Forecast Discussion
Since you are not out getting powder in the face, enjoy this short read: Ed-Lachapelle-The Ascending Spiral
Christmas shoppers, if you are seeking gift ideas, look no further: Head on down to The Fifth Season, Mt. Shasta's premier outdoor gear and equipment store. This place is one of the top shops in the Northstate and the Mount Shasta Avalanche Center has it's own clothing and apparel island in the store! Get MSAC swag any day of the week, give as a gift and get some for yourself too! Remember, if you're not looking good, you're not feeling good. Thanks for supporting!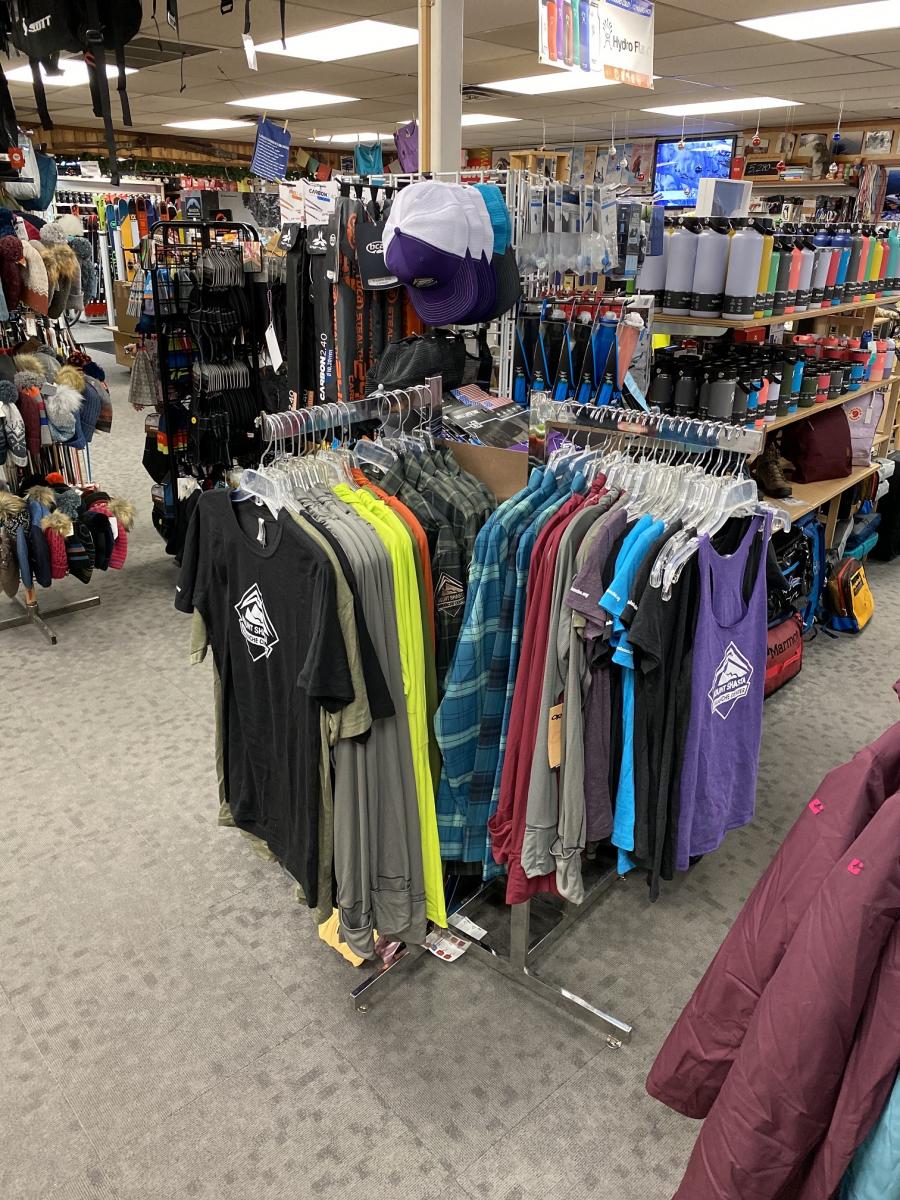 Recent Observations
Yesterday, (photos and observation here) lingering clouds, snow flurries and a little blue sky brought about an ethereal day. Periods of clearing were immediately followed by poor visibility. Winds were almost dead calm. Very light precipitation/mist was observed; no accumulation on the mountain though the west side looked like it might have picked up an inch or two.
As reported by Aaron yesterday, our recent storm brought ~3-5.5 inches of low density snow above 6,500 feet. While it snowed down to town, real accumulation did not occur below 5,000 feet. Over the week, about 12 inches of total storm snow fell.
25 inch total snowpack base at treeline on Mt Shasta. Areas east of the mountain out toward Ash Creek Butte and Medicine Lake have slightly better coverage. The west side (Castle/Eddies) has the least amount of snow on the ground.
Below and near treeline holding the best coverage. Above treeline is marginal with periods of wind that have scoured exposed areas, making it difficult to build adequate snow cover over exposed rocks.
No signs of avalanches, wind slabs or weakness.
Many signs (tracks) of skiers and riders hitting rocks. A myriad of rock sleepers lurk below the snow surface. One report of a damaged snowmobile. Now is probably the sketchiest time to ski and ride. 
Sand Flat cross-country ski trails are in much better shape, one user reported "very nice" conditions. 

 

A look at the upper mountain and the Old Ski Bowl, yesterday evening, 12.17.20 [Photo: J Dove]
Weather and Current Conditions
Weather Summary
Mother Nature has it her way and that is mostly sunny skies for the next couple of days. Northwesterly wind will increase on the mountain into the weekend. Above treeline will be breezy. Temperatures are near normal over the area. A whiff of snow is possible next week on Monday night.
24 Hour Weather Station Data @ 4:00 AM
Two Day Mountain Weather Forecast
Produced in partnership with the Medford NWS
For 7000 ft to 9000 ft
Friday
(4 a.m. to 10 p.m.)
Friday Night
(10 p.m. to 4 a.m.)
Saturday
(4 a.m. to 10 p.m.)
Weather
Partly cloudy to mostly sunny, winds picking up this afternoon.
Partly cloudy, breezy
Partly cloudy to mostly sunny, windy.
Temperature (°F)
40
31
40
Wind (mi/hr)
Northeast to west/southwest 5-10
West 10-15
South, becoming north/northwest 5-10
Precipitation SWE / Snowfall (in)
0.00 / 0-0.50
0.00 / 0
0.00 / 0
For 9000 ft to 11000 ft
Friday
Friday Night
Saturday
Weather
Mostly sunny, windy.
Partly cloudy, windy.
Mostly sunny, windy.
Temperature (°F)
28
28
30
Wind (mi/hr)
Northwest 20-30
West 30-40
Northwest 30-40
Precipitation SWE / Snowfall (in)
0.00 / 0-0.50
0.00 / 0
0.00 / 0
Season Precipitation for Mount Shasta City
Period
Measured (in)
Normal (in)
Percent of Normal (%)
From Oct 1, 2023 (the wet season)
2.30
11.48
20
Month to Date (since Oct 1, 2023)
0.60
4.12
15
Year to Date (since Jan 1, 2023)
15.21
39.48
39
Disclaimer
This forecast does not apply to Ski Areas or Highways and is for the Mt. Shasta, Castle Lake and Mt. Eddy backcountry. Use this information for guidance only. You may find different conditions in the backcountry and should travel accordingly. This forecast expires 24 hours after the posted time unless otherwise noted.