You are here
Avalanche Forecast for 2020-12-23 05:30
EXPIRED ON December 24, 2020 @ 5:30 am

Published on December 23, 2020 @ 5:30 am
Issued by Aaron Beverly - Mount Shasta Avalanche Center
Avalanche danger is LOW. Exercise normal caution. A small Christmas day miracle is on the way with 9-16 inches of snow expected above 4,000 ft.
Avalanche Problem 1: Normal Caution

Avalanche danger is LOW, but remain in the game by thinking about terrain, weather, snowpack, and the human factor. Ninety percent of avalanches are caused by you - the human being. Be aware of how your decisions impact you and your group as you travel in and near avalanche terrain.
An impactful storm is scheduled to arrive Christmas day. Dust off your gear, clean the mice nests out of your boots, and get your shovel, probe, and transceiver ready.
Forecast Discussion
We respectfully request that 4-wheeling enthusiasts refrain from using lower Sand Flat road. It is time to let this area go to non-motorized use for the winter. Thank you.
Recent Observations
About a half an inch of new snow greeted winter seekers yesterday morning. Not much, but the refresh made cross country skiing around Sand Flat quite pleasant. Downhill skiers may want to convert to the horizontal shuffle for the next couple of days.
You'll find 20-24 inches of snow near and below treeline. Most of this has become crusty and post-holey. There are some sugary layers within this shallow snowpack, but most start zones and avalanche terrain are devoid of snow making these weak layers less of a concern. Remember the above treeline picture below after Friday's storm - rocks galore with a tinge of white.
The Sand Flat snow depth sensor is out of commission and will require hauling bags of concrete and water to fix. Ugh! We are working with the California Department of Water Resources to assess the feasibility of fixing this before the full onset of winter.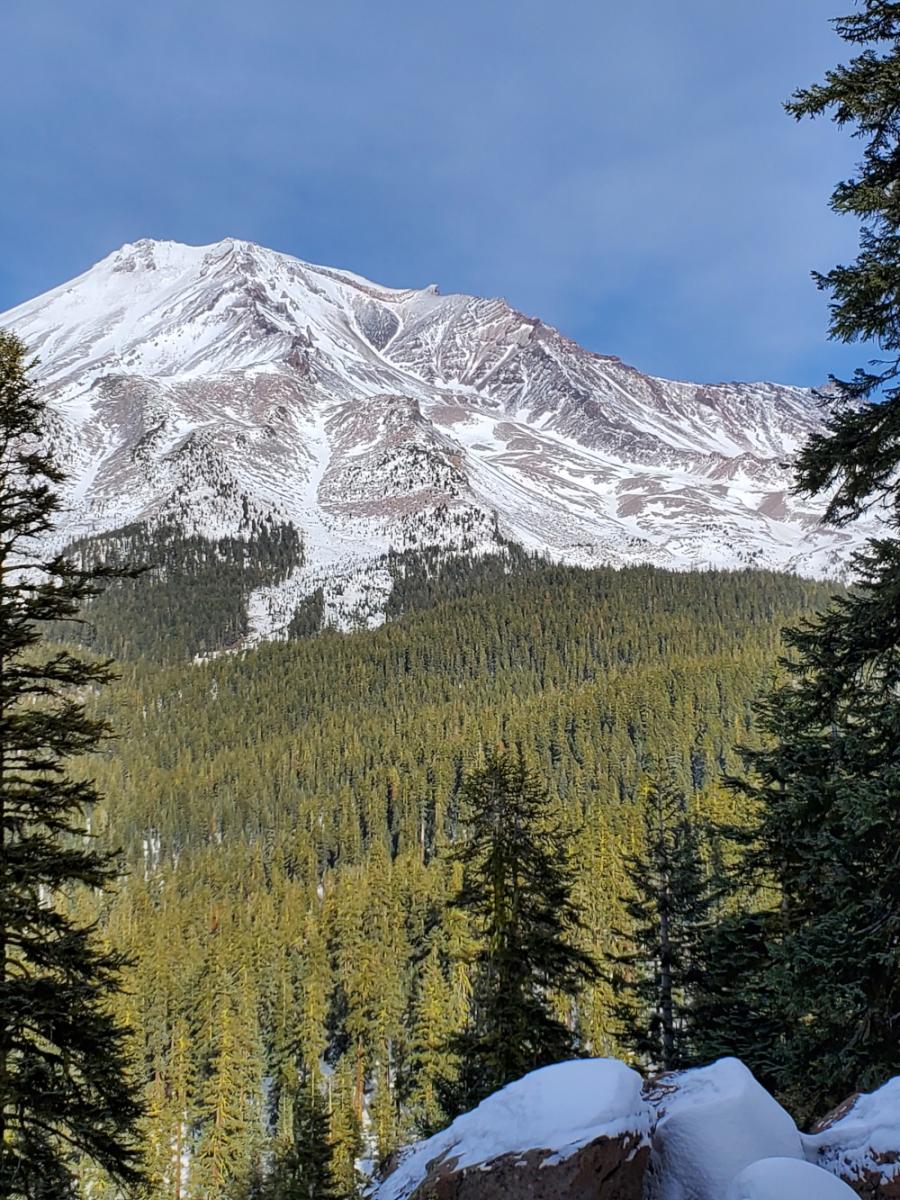 Weather and Current Conditions
Weather Summary
I don't want to jinx it, but Friday's storm is shaping up to be a small Christmas miracle. With 1.59 inches of precipitable water now predicted, we could see 9-16 inches of snow above 4,000 ft. This will fall mostly in the afternoon and night.
Until then expect clear, cold, sunny weather.
24 Hour Weather Station Data @ 5:00 AM
Two Day Mountain Weather Forecast
Produced in partnership with the Medford NWS
For 7000 ft to 9000 ft
Wednesday
(4 a.m. to 10 p.m.)
Wednesday Night
(10 p.m. to 4 a.m.)
Thursday
(4 a.m. to 10 p.m.)
Weather
Sunny.
Clear.
Mostly sunny.
Temperature (°F)
38
23
37
Wind (mi/hr)
East 0-5
Southeast 0-5
South 5-10
Precipitation SWE / Snowfall (in)
0.00 / 0
0.00 / 0
0.00 / 0
For 9000 ft to 11000 ft
Wednesday
Wednesday Night
Thursday
Weather
Sunny.
Clear.
Mostly sunny. Windy
Temperature (°F)
39
38
38
Wind (mi/hr)
East 5-10
South 10-15
South 30-35
Precipitation SWE / Snowfall (in)
0.00 / 0
0.00 / 0
0.00 / 0
Season Precipitation for Mount Shasta City
Period
Measured (in)
Normal (in)
Percent of Normal (%)
From Oct 1, 2023 (the wet season)
2.42
12.88
19
Month to Date (since Oct 1, 2023)
0.72
5.52
13
Year to Date (since Jan 1, 2023)
15.33
40.88
38
Disclaimer
This forecast does not apply to Ski Areas or Highways and is for the Mt. Shasta, Castle Lake and Mt. Eddy backcountry. Use this information for guidance only. You may find different conditions in the backcountry and should travel accordingly. This forecast expires 24 hours after the posted time unless otherwise noted.