You are here
Avalanche Forecast for 2021-01-07 06:20
EXPIRED ON January 8, 2021 @ 6:20 am

Published on January 7, 2021 @ 6:20 am
Issued by Nick Meyers - Shasta-Trinity National Forest
A winter weather advisory is in effect from 10 PM this evening to 10 AM Friday above 4,000 feet. Snow and southwesterly wind is certain, allowing for widespread blowing snow. Wind will continue to be a factor and keep wind slabs as our main avalanche problem. Use caution in avalanche terrain near and above treeline. Human triggered wind slabs are possible.
Avalanche Problem 1: Wind Slab
Certain

Very Likely

Likely

Possible

Unlikely

Historic

Very Large

Large

Small
It's been windy on Gray Butte (treeline, 8,000 feet) recently, but other exposed terrain near and above treeline not so much. It's baffling, but Mt. Shasta is a big mountain and local orographics play a big part in directing the wind. 
Over the past 3 days, the area has received a ton of westerly wind. Slopes NE/E/SE facing, near and above treeline, should be approached with caution. We already had one snowboarder triggered wind slab in Powder Bowl recently. Aspects north and south facing could be cross-loaded too. 
Pay attention to localized areas of wind blowing snow in avalanche terrain. Temporal spikes in avalanche danger is common for our area. Most often, clues present themselves like cracking and blocking on small test slopes and of course the most obvious clue of all...wind blowing snow!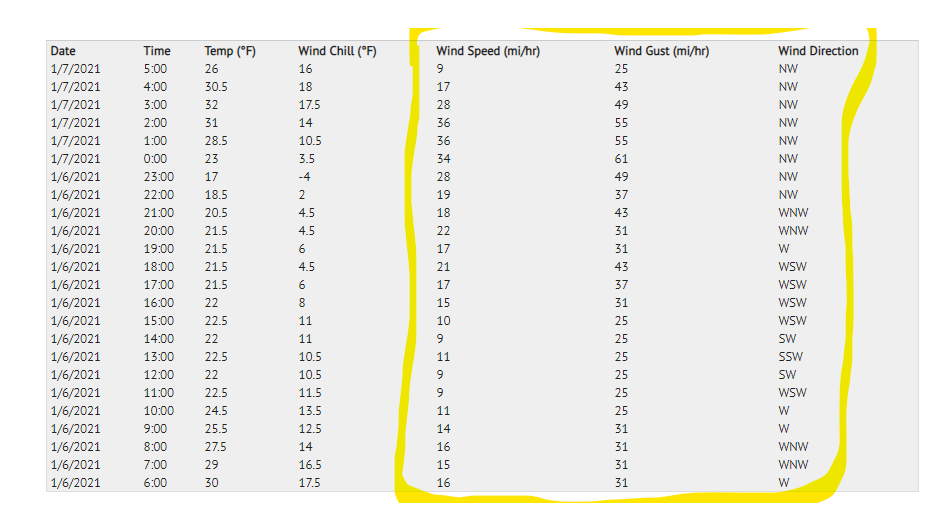 [Screenshot from Gray Butte weather station]
Forecast Discussion
Recent Observations
Yesterday, clouds gradually increased over the morning and light snow began to fall near the noon hour. Small micro-bursts of weather characterized the remainder of the day. Periods of wind and heavy snow were followed by peeks of blue sky. About 1 to 3 inches of fresh snow fell above 5,000 feet on the mountain and at Castle Lake. Winds have been incessant and strong out of the SW/W/NW. Our observations were much like the weather: all across the board.
Late afternoon at Castle Lake, visibility was very poor and big, fat snowflakes were blowing sideways across the lake. It was a full whiteout and quite wintry. Total snow depth up there is 22 inches with 1 - 2 inches new snow. The lake is frozen solid and supportable. Widespread blowing snow and small wind slabs observed. Driving back to town, blue sky could be seen over Lake Siskiyou and to the north of the Black Butte divide.
On Mount Shasta, conditions were much mellower at Bunny Flat. Light snow and calm to light winds were observed at the trailhead. New snow totals measured 1 to 3 inches. 
The wind has been cranking on Gray Butte out of the SW/W/NW, however a public skier observation near treeline on Green Butte Ridge noted calm wind, albeit with previous wind loading on SE aspects. Visibility was poor on the mountain. We did not get any above treeline observations.
The area snowpack is at the point where coverage looks pretty good, but isn't. We still need another good storm or two before we can dig deep with spinning tracks and sliding edges. Many folks are still finding some fun in gullies above treeline and lower angle slopes near and below treeline.
Weather and Current Conditions
Weather Summary
Gradually increasing clouds today will lead to snow later this evening. Total accumulation of 4 to 8 inches is expected above 4,000 feet with strong west/southwest wind. A winter weather advisory has been issued by the NWS.

High pressure will build this weekend. This will put the forecast area under light southeast flow and near normal temperatures with no precipitation.
24 Hour Weather Station Data @ 5:00 AM
Two Day Mountain Weather Forecast
Produced in partnership with the Medford NWS
For 7000 ft to 9000 ft
Thursday
(4 a.m. to 10 p.m.)
Thursday Night
(10 p.m. to 4 a.m.)
Friday
(4 a.m. to 10 p.m.)
Weather
Partly cloudy this morning, then mostly cloudy this afternoon with a chance of snow. Snow levels near 3,700 feet.
Snow, mainly after 10 p.m. Snow level near 4,500 feet. Winter weather advisory in efffect from 10 p.m. to 10 a.m. Jan 8th
Snow, mainly before 10 a.m. Mostly to partly cloudy in afternoon
Temperature (°F)
36
27
26
Wind (mi/hr)
Southeast 5-10
South 10-15
Southwest 5-10
Precipitation SWE / Snowfall (in)
0.04 / 0-0.50
0.21 / 2-4
0.24 / 1-3
For 9000 ft to 11000 ft
Thursday
Thursday Night
Friday
Weather
Increasing clouds, chance of snow after 4 p.m. Windy.
Snow likely, mainly after 10 p.m. Snow heavy at times. Windy
Snow, mainly before 10 a.m. Snow heavy at times. Windy.
Temperature (°F)
21
18
22
Wind (mi/hr)
West 15-20
Southwest 30-40
Southwest 30-40
Precipitation SWE / Snowfall (in)
0.04 / 0-0.50
0.21 / 3-7
0.24 / 1-3
Season Precipitation for Mount Shasta City
Period
Measured (in)
Normal (in)
Percent of Normal (%)
From Oct 1, 2022 (the wet season)
5.16
16.62
31
Month to Date (since Jun 1, 2023)
1.58
1.41
112
Year to Date (since Jan 1, 2023)
1.58
1.41
112
Disclaimer
This forecast does not apply to Ski Areas or Highways and is for the Mt. Shasta, Castle Lake and Mt. Eddy backcountry. Use this information for guidance only. You may find different conditions in the backcountry and should travel accordingly. This forecast expires 24 hours after the posted time unless otherwise noted.