You are here
Avalanche Forecast for 2021-01-15 05:45
EXPIRED ON January 16, 2021 @ 5:45 am

Published on January 15, 2021 @ 5:45 am
Issued by Nick Meyers - Shasta-Trinity National Forest
Avalanche danger is low and normal caution is advised for another day of sunny skies and warm temperatures. West/northwest wind will check back in on the mountain.
Watch for falling rime ice below ice crusted cliffs. Any climbers on steeper terrain may also encounter firm, slide-for-life snow conditions.
Avalanche Problem 1: Normal Caution
Certain

Very Likely

Likely

Possible

Unlikely

Historic

Very Large

Large

Small
Overall avalanche danger is low. Backcountry hazards will be limited to challenging, knee wrenching ski conditions, slide for life climbing conditions and over head hazard due to ice caked cliff bands. Oh yeah, we wouldn't want those exposed rocks and trees feeling left out, they are also part of the show.
Forecast Discussion
The 2021 Snowball has gone VIRTUAL this year and there are some bitching items on the silent auction site that you should bid on. The snow is terrible, so how about a little shopping, eh? Register to participate by clicking below. Thank you for supporting us. We love you!
The USDA Forest Service would like to remind everyone to recreate responsibly during MLK weekend and amidst the ongoing pandemic. Simple actions such as staying local, planning ahead and following social distance guidelines can increase the outdoor experience for everyone. Bunny Flat will no doubt be busy. Please follow these parking suggestions: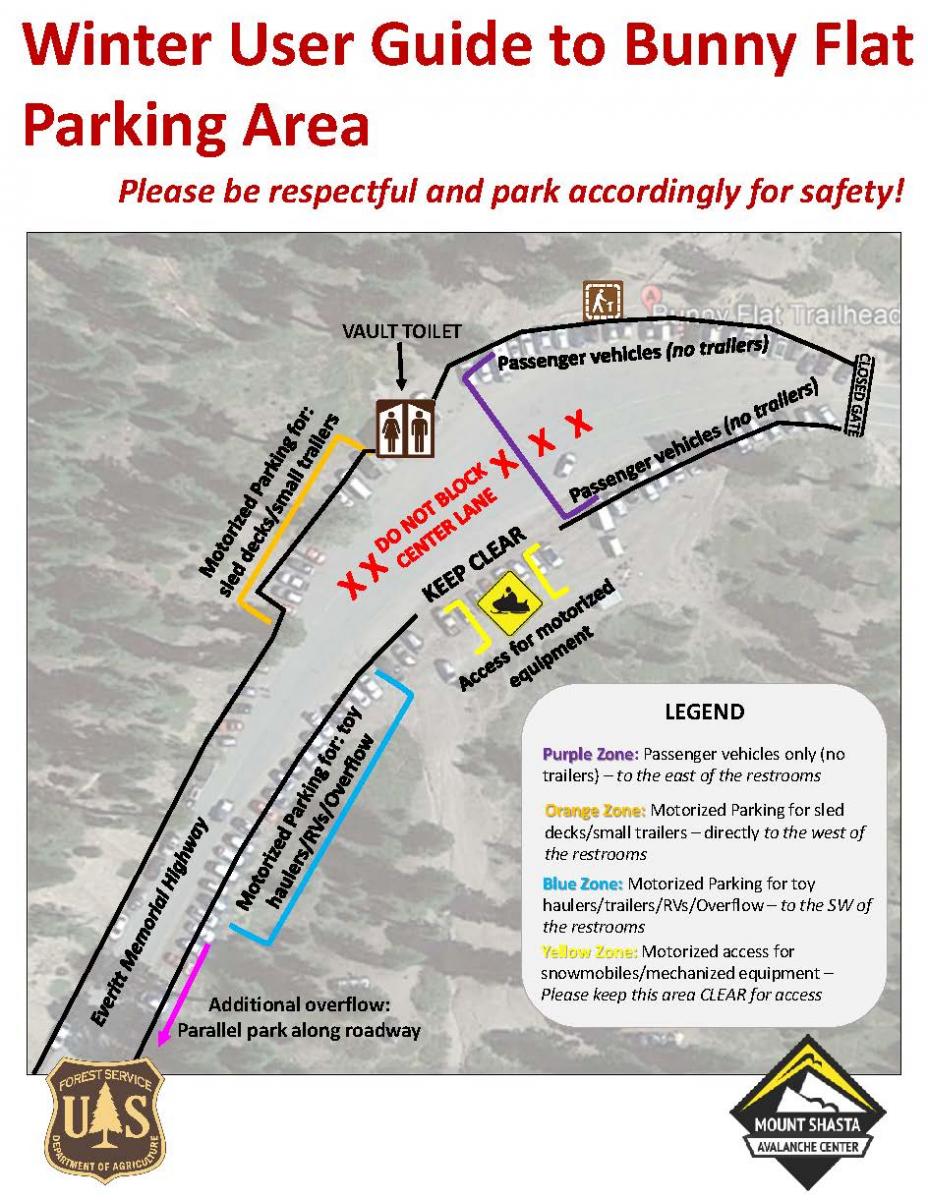 Recent Observations
The powder hounds are bummed, but the corn snow lovers have their nose to the air, sniffing about. Tuesday's storm capped off the snowpack with a widespread rain and wet snow crust, up to an inch thick. Smooth, firm and icy conditions on the upper mountain are likely and slide for life conditions may exist. Rime ice is a hazard for anyone venturing below ice plastered cliffs. Wear a helmet or just avoid these areas. You couldn't buy an avalanche at this time and snow surfaces are challenging: icy and firm, breakable crust to sticky and gloppy during the heat of the day. All trees have shed their snow. Temperatures soared to 63° F in town yesterday, 50° at the Mt. Shasta Ski Park at 1400 hours. Winds were calm.
Weather and Current Conditions
Weather Summary
There is nothing but sunshine in the box for the foreseeable future. Temperatures are down right balmy this morning. While the general trend is for things to cool off into next week, today will be another warmer one with highs in the mid to upper 40°s F. Tonight's low is right around freezing. Near and above treeline, expect those pesky west/northwest winds to blow. Next best chance at precipitation is later next week.
24 Hour Weather Station Data @ 4:00 AM
Two Day Mountain Weather Forecast
Produced in partnership with the Medford NWS
For 7000 ft to 9000 ft
Friday
(4 a.m. to 10 p.m.)
Friday Night
(10 p.m. to 4 a.m.)
Saturday
(4 a.m. to 10 p.m.)
Weather
Mostly sunny
Mostly clear
Mostly sunny
Temperature (°F)
47
32
47
Wind (mi/hr)
Northwest 5-10
East/Northeast 10-15
North 5-10
Precipitation SWE / Snowfall (in)
0.00 / 0
0.00 / 0
0.00 / 0
For 9000 ft to 11000 ft
Friday
Friday Night
Saturday
Weather
Mostly sunny, windy
Mostly clear, windy
Mostly sunny, breezy
Temperature (°F)
34
29
35
Wind (mi/hr)
West 25-35
Northwest 10-20
North 15-25
Precipitation SWE / Snowfall (in)
0.00 / 0
0.00 / 0
0.00 / 0
Season Precipitation for Mount Shasta City
Period
Measured (in)
Normal (in)
Percent of Normal (%)
From Oct 1, 2022 (the wet season)
5.75
18.58
31
Month to Date (since Jun 1, 2023)
2.17
3.37
64
Year to Date (since Jan 1, 2023)
2.17
3.37
64
Disclaimer
This forecast does not apply to Ski Areas or Highways and is for the Mt. Shasta, Castle Lake and Mt. Eddy backcountry. Use this information for guidance only. You may find different conditions in the backcountry and should travel accordingly. This forecast expires 24 hours after the posted time unless otherwise noted.