You are here
Avalanche Forecast for 2021-02-14 06:40
EXPIRED ON February 15, 2021 @ 6:40 am

Published on February 14, 2021 @ 6:40 am
Issued by Ryan Sorenson - Mount Shasta Avalanche Center
More snow and wind today will continue to add weight to a potentially fragile snowpack. Watch out for firm, fresh wind slabs resting on top of lower density snow. Natural avalanches are possible, and human-triggered avalanches are likely on steep, wind-loaded slopes. CONSIDERABLE avalanche danger remains in near/above treeline terrain and MODERATE danger exists below treeline.
Avalanche Problem 1: Wind Slab
Certain

Very Likely

Likely

Possible

Unlikely

Historic

Very Large

Large

Small
Strong W/NW winds continued to form fresh wind slabs and cornices yesterday. Expect existing wind slabs to be fragile as firm slabs over weaker softer snow have not had the time to bond to the underlying snow. Plenty of snow remains available for transport. Models predict more snowfall and wind today with rising snow levels. The additional snow and wind will increase the size and distribution of wind slabs. Slabs will be small to large-sized. Some natural wind slab avalanches are possible and human triggering likely on steep loaded terrain.
Look for clues such as blowing snow, cornices over slopes, ripples on the snow surface, and hollow sounding snow as you travel in safe terrain. Careful snowpack evaluation and conservative decision-making are necessary to avoid wind slab avalanches if you plan to step out into steeper terrain today. Be willing to step back if you see shooting cracks or whoomphing within the snowpack. 
Recent Observations
Two small storms, on Thursday night (2/11) and Friday night (2/12), brought a combined total of 6-10 inches (0.9 SWE) of fresh snow to the Mount Shasta area. Lingering showers and strong northwesterly winds continued to move snow around yesterday. Snow surfaces were soft and smooth in the protected treed areas, but surfaces quickly transitioned to wind effect on any exposed ridgeline or open slope. Some cracking and blocking and hollow-sounding wind slabs were observed on a tour of Green Butte. See complete observation and photos here. 
Over the last 24 hours on Mount Shasta, strong west/northwest winds have averaged 21 mi/hr, gusting up to 74 mi/hr. Wind speeds decreased last night. Temperatures have averaged 22 ºF, peaking at 27° F around 2 p.m. yesterday and bottoming out at 17° F.  The snow settled approximately 1 inch. Snow depth is currently 78 inches (198 cm) near treeline on Mount Shasta.
Weather and Current Conditions
Weather Summary
A brief clearing between storms allowed for clear skies last night. More active weather will arrive today as a cold front followed by a warm front pushes in. Expect cloudy skies and snow after 10 a.m. Snow levels will plunge to 3,000 feet today then rise to 4,900 feet tonight as the warm front overruns the cold front. Freezing fog/rain is possible. Westerly winds will continue to blow but not as strong as yesterday. Precipitation will diminish by tomorrow morning. A slight chance of lingering snow showers is possible through Wednesday. Expect another active period of weather starting Thursday.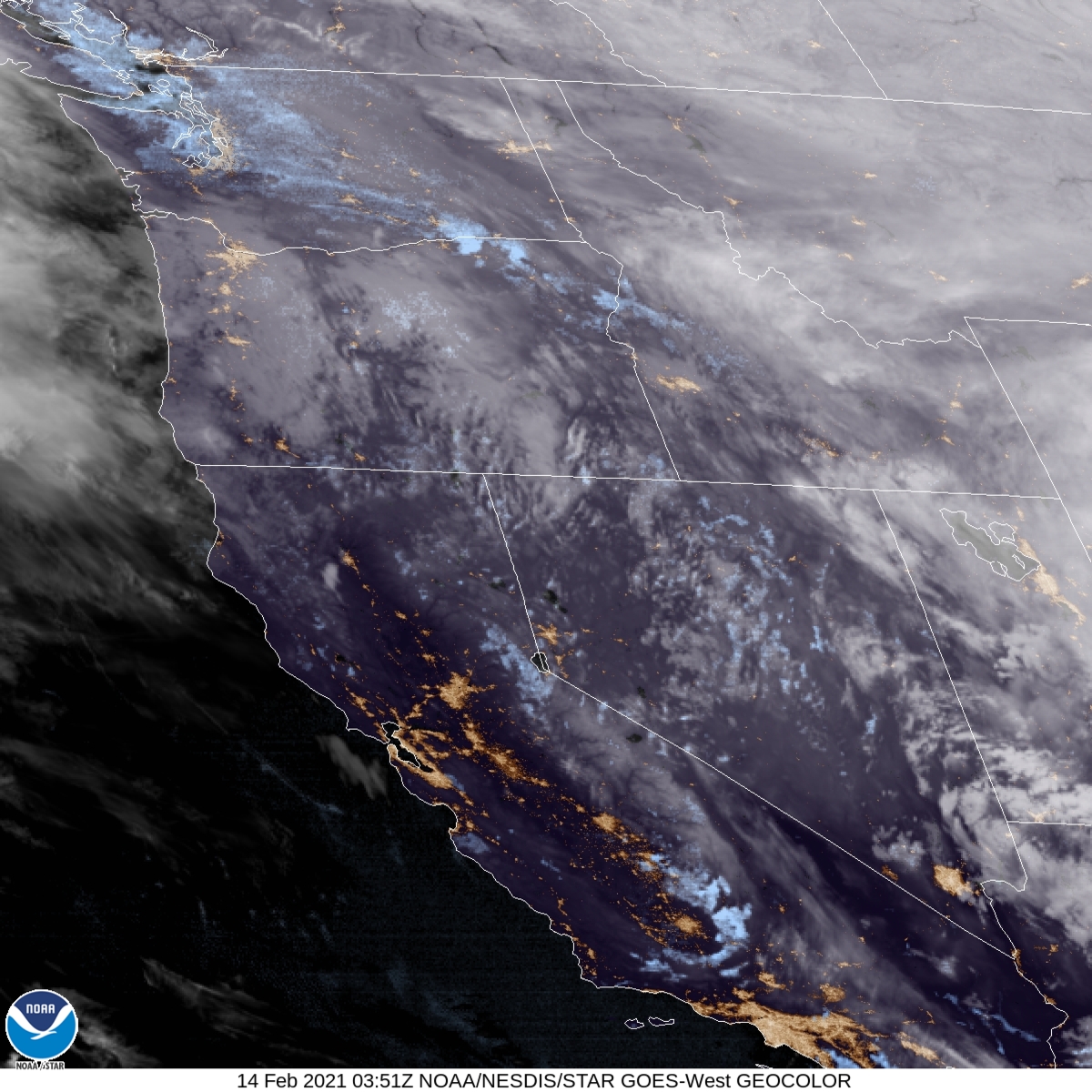 24 Hour Weather Station Data @ 5:00 AM
Two Day Mountain Weather Forecast
Produced in partnership with the Medford NWS
For 7000 ft to 9000 ft
Sunday
(4 a.m. to 10 p.m.)
Sunday Night
(10 p.m. to 4 a.m.)
Monday
(4 a.m. to 10 p.m.)
Weather
Cloudy. Chance of snow this morning, then snow this afternoon. Snow levels near 3,000 feet and rising.
Snow. Snow levels near 4,900 feet.
Mostly cloudy. Snow in the morning then a chance of snow showers in the afternoon. Snow levels near 5,300 feet.
Temperature (°F)
32
30
36
Wind (mi/hr)
West 5-10
Southwest 5-10
Southwest 10-15
Precipitation SWE / Snowfall (in)
0.32 / 2-3
0.22 / 1-2
0.08 / 0-1
For 9000 ft to 11000 ft
Sunday
Sunday Night
Monday
Weather
Cloudy. Chance of snow this morning, then snow this afternoon.
Cloudy. Snow.
Mostly cloudy. Snow in the morning then a chance of snow showers in the afternoon.
Temperature (°F)
24
20
23
Wind (mi/hr)
Northwest 10-15
West 30-35
West 45-50
Precipitation SWE / Snowfall (in)
0.32 / 2-4
0.22 / 1-4
0.08 / 1-3
Season Precipitation for Mount Shasta City
Period
Measured (in)
Normal (in)
Percent of Normal (%)
From Oct 1, 2022 (the wet season)
13.09
25.41
52
Month to Date (since Jun 1, 2023)
1.65
3.14
53
Year to Date (since Jan 1, 2023)
9.51
10.20
93
Disclaimer
This forecast does not apply to Ski Areas or Highways and is for the Mt. Shasta, Castle Lake and Mt. Eddy backcountry. Use this information for guidance only. You may find different conditions in the backcountry and should travel accordingly. This forecast expires 24 hours after the posted time unless otherwise noted.