You are here
Avalanche Forecast for 2021-03-23 06:15
EXPIRED ON March 24, 2021 @ 6:15 am

Published on March 23, 2021 @ 6:15 am
Issued by Aaron Beverly - Mount Shasta Avalanche Center
Avalanche danger is low. The snowpack continues to transition as melt-freeze cycles begin to take hold. Snow surfaces will offer a bit of everything - the good, the bad, and the ugly. Be prepared for firm conditions at high elevations. At lower elevations, where temperatures are warmer, keep wet point releases and cornice breaks on your mind. Enjoy the sunny day.
Avalanche Problem 1: Normal Caution
Certain

Very Likely

Likely

Possible

Unlikely

Historic

Very Large

Large

Small
Melt-freeze cycles and battering winds will continue to harden the snowpack. Expect firm conditions. Slide for life conditions could be encountered. Make sure you have sharp edges on your skis and use your ice axe and crampons if ascending into steep terrain.
Reactive wind slabs may still be encountered in isolated areas or in extreme terrain. These will be very small, but could sweep you off your feet and onto an icy slope.
Forecast Discussion
At lower elevations where temperatures are higher, cornice breaks and loose wet avalanches (point releases) should be on your radar. Castle Lake comes to mind. If you are seeing a lot of natural pinwheels and roller balls or you are in ankle deep, wet snow, avoid cornices and steep slopes.
Recent Observations
The snowpack continues to transition. Yesterday you could find crusts, thin to thick moist snow, rime, chalky wind-affected snow, and scoured icy surfaces. North facing and shady areas still held drier, lower density snow. If you kept your standards low and searched hard, you could still find favorable sliding conditions.
Overall the snowpack is settling and becoming more consolidated. Some reactive wind slabs could still be found, but they were very small and isolated.
Roller balls and pinwheels were seen at lower elevations. A cornice break was observed at Castle Lake.
About half an inch of snow fell Sunday night. Above treeline temperatures peaked at 36 ºF around noon yesterday, but remained mostly in the 20s. Direct sun was softening exposed snow surfaces. Lower elevations such as Castle Lake, saw temperatures reach 40 ºF. Northwest winds were strong at times, though little blowing snow was observed.
Weather and Current Conditions
Weather Summary
High pressure will swing dry air in from the north. Clouds will diminish this morning. Expect a sunny day with temperatures in the mid-30s near treeline. North winds will be strong to gale force above treeline. A front may bring a bit of precipitation late tomorrow but it's barely worth mentioning.
The one month climate outlook does not give us much hope for a game changing April.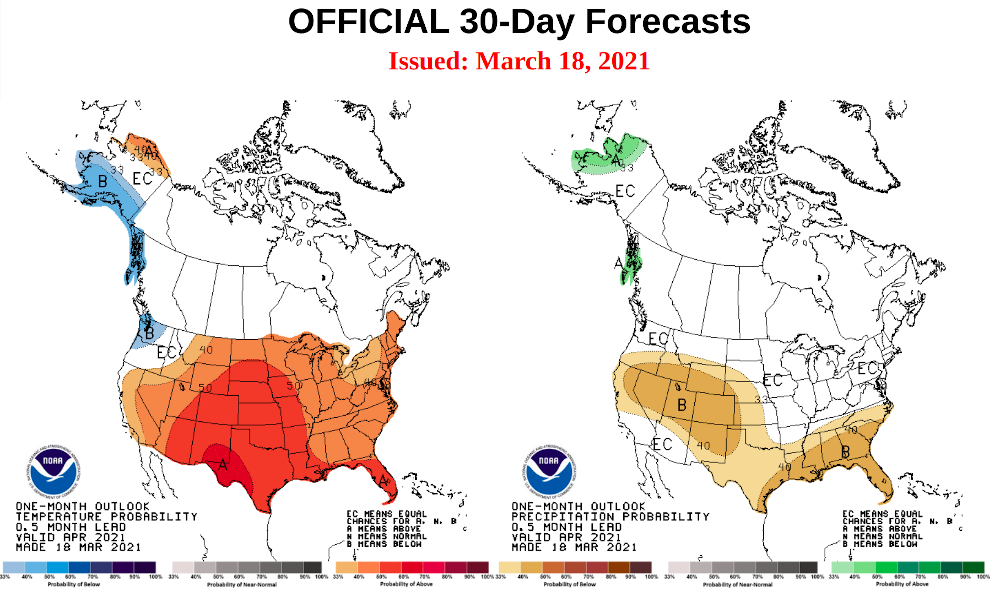 24 Hour Weather Station Data @ 4:00 AM
Two Day Mountain Weather Forecast
Produced in partnership with the Medford NWS
For 7000 ft to 9000 ft
Tuesday
(4 a.m. to 10 p.m.)
Tuesday Night
(10 p.m. to 4 a.m.)
Wednesday
(4 a.m. to 10 p.m.)
Weather
Sunny.
Mostly clear.
Mostly sunny.
Temperature (°F)
35
23
39
Wind (mi/hr)
North 10-15
North 10-15
North 5-10
Precipitation SWE / Snowfall (in)
0.00 / 0
0.00 / 0
0.00 / 0
For 9000 ft to 11000 ft
Tuesday
Tuesday Night
Wednesday
Weather
Sunny. Very windy. Low wind chills.
Clear. Very windy. Low wind chills. showers after midnight.
Mostly sunny. Windy. Low wind chills.
Temperature (°F)
23
13
29
Wind (mi/hr)
North 40-50
Northeast 40-50
North 30-35
Precipitation SWE / Snowfall (in)
0.00 / 0
0.00 / 0
0.00 / 0
Season Precipitation for Mount Shasta City
Period
Measured (in)
Normal (in)
Percent of Normal (%)
From Oct 1, 2022 (the wet season)
17.14
34.20
50
Month to Date (since Sep 1, 2023)
3.56
4.70
76
Year to Date (since Jan 1, 2023)
13.56
18.99
71
Disclaimer
This forecast does not apply to Ski Areas or Highways and is for the Mt. Shasta, Castle Lake and Mt. Eddy backcountry. Use this information for guidance only. You may find different conditions in the backcountry and should travel accordingly. This forecast expires 24 hours after the posted time unless otherwise noted.