You are here
Avalanche Forecast for 2021-03-25 06:30
EXPIRED ON March 26, 2021 @ 6:30 am

Published on March 25, 2021 @ 6:30 am
Issued by Aaron Beverly - Mount Shasta Avalanche Center
Avalanche danger is low. Be prepared for firm, icy conditions. Snow is unlikely to soften today. Aside for a blip of precipitation expected early Monday, spring conditions will set in tomorrow and will continue until next weekend.
Avalanche Problem 1: Normal Caution
Certain

Very Likely

Likely

Possible

Unlikely

Historic

Very Large

Large

Small
Not much has changed since yesterday. Continue to plan for firm conditions. A skiff of snow atop an icy surface may make things more slick. Your feet slipping out from under you is no laughing matter until your friends confirm you are not hurt. But seriously, slide for life conditions could be encountered. Make sure you have sharp edges on your skis and use your ice axe and crampons if ascending into steep terrain. Clouds and below freezing temperatures will probably not allow snow surfaces to soften today. 
Pay attention at very high elevations or in extreme terrain. Wind slabs may linger. They will probably be small, but could sweep you off your feet and onto a steep, icy slope.
Forecast Discussion
When should we plan to climb this year? That is the main question we are receiving now. It is a hard question to answer as we are over a month away from the start of the prime climbing season. The mountains are unpredictable. That is one of the reasons we love them. If we get no more snow and Avalanche Gulch is your target, an earlier trip will be better this year. But we'll have to see what April gives us.
Monitor the weather, talk to guide services, and check our website for observations and reports. This will help you in your decision making.
What we can say for sure is this is what the mountain looked like 3 days ago: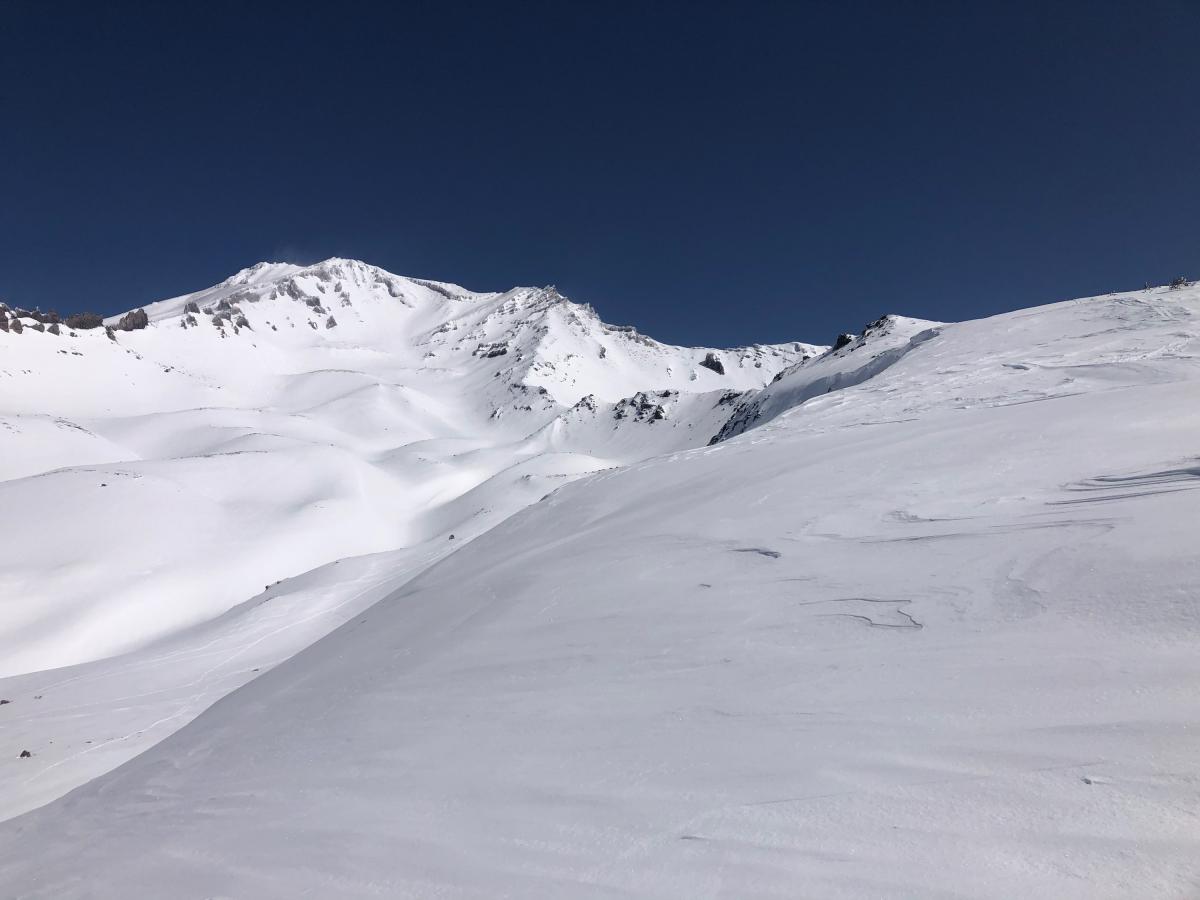 Recent Observations
Winds and temperatures have firmed up much of the snowpack out there. The Castle Lake cirque is smooth and icy. Similar conditions will be found on Mount Shasta, though above treeline, you'll find things more uneven with sastrugis in wind affected areas.
We got a skiff of snow last night, though it is hard to know how much from looking at weather station data. They are not reliable at that level of granularity. Best guess is under half an inch.
Northwest winds maxed at 24 mi/hr and gusted up to 49. Temperatures peaked at 38 ºF around 3 p.m. Height of snow is about 84 inches near treeline. The Old Ski Bowl weather station is acting a bit funky and not reporting the correct snow depth at the moment.
Check out yesterday's observation for trailhead access information.
Weather and Current Conditions
Weather Summary
Expect some lingering snow showers this morning and then clear, dry weather. Temperatures near treeline will be below freezing. North winds will be light to moderate.
We might get nicked with a bit of precipitation early Monday morning, but other than that, plan on melt-freeze cycles until next weekend. The near treeline high on Saturday will be 52 ºF.
24 Hour Weather Station Data @ 10:00 PM
Two Day Mountain Weather Forecast
Produced in partnership with the Medford NWS
For 7000 ft to 9000 ft
Thursday
(4 a.m. to 10 p.m.)
Thursday Night
(10 p.m. to 4 a.m.)
Friday
(4 a.m. to 10 p.m.)
Weather
A 20 percent chance of snow showers before 11 a.m. Mostly sunny.
Mostly clear.
Sunny.
Temperature (°F)
29
22
26
Wind (mi/hr)
Northwest 5-10
North 5-10
North 5-10
Precipitation SWE / Snowfall (in)
0.20 / 0-0.25
0.00 / 0
0.00 / 0
For 9000 ft to 11000 ft
Thursday
Thursday Night
Friday
Weather
A 20 percent chance of snow showers before 11 a.m. Blustery. Low wind chills.
Mostly clear. Breezy. Low wind chills.
Sunny. Windy. Low wind chills.
Temperature (°F)
19
19
35
Wind (mi/hr)
North 20-25
North 25-30
North 40-50
Precipitation SWE / Snowfall (in)
0.20 / 0-0.25
0.00 / 0
0.00 / 0
Season Precipitation for Mount Shasta City
Period
Measured (in)
Normal (in)
Percent of Normal (%)
From Oct 1, 2022 (the wet season)
17.15
34.50
50
Month to Date (since Sep 1, 2023)
3.57
5.00
71
Year to Date (since Jan 1, 2023)
13.57
19.29
70
Disclaimer
This forecast does not apply to Ski Areas or Highways and is for the Mt. Shasta, Castle Lake and Mt. Eddy backcountry. Use this information for guidance only. You may find different conditions in the backcountry and should travel accordingly. This forecast expires 24 hours after the posted time unless otherwise noted.