You are here
Avalanche Forecast for 2021-04-03 06:05
EXPIRED ON April 4, 2021 @ 6:05 am

Published on April 3, 2021 @ 6:05 am
Issued by Nick Meyers - Shasta-Trinity National Forest
The Mt. Shasta avalanche center will issue daily forecasts through April 11th. Rockfall and slips/falls on the upper mountain are the primary concern at this point, but always keep an eye out for loose-wet slides. Spring has the potential to bring all types of weather. Be prepared. Mostly clear skies and moderate west/southwest wind will prevail for the weekend.
Avalanche Problem 1: Normal Caution
Certain

Very Likely

Likely

Possible

Unlikely

Historic

Very Large

Large

Small
Normal caution is advised in the backcountry today. Despite above freezing overnight temperatures, the snowpack should have firmed up some. Today's warm sunshine will melt through the refreeze without problem. Snow conditions will change from supportable to moist/wet mid-day. Keep an eyebrow raised for loose wet snow on steep slopes. Loose, wet snow that begins sliding downhill can gather more wet snow as it moves. Traditional pit tests don't work for loose-wet slides, but rollerballs, pinwheels and wet, sticky, ankle-deep snow are signs to watch for. 
Forecast Discussion
We've been wishing for a Spring atmospheric river event of some sort, and while it's still possible, conditions will likely not get much better for climbing. Now is the time. We are a month or more ahead of schedule this year due to a winter that is 48% of normal for precipitation and accompanied by A LOT of wind. This has left the mountain above treeline a scoured, rocky heap and climbs this season will host more risk than normal. The climbing routes around The Heart and through Redbanks in Avalanche Gulch are already narrow and/or melted out. If ascending anywhere below exposed rocks, keep your head up and helmet on! Early spring climbs can bring a full range of weather. Check it before you plan your climb and be prepared. The Bunny Flat trailhead is the only open trailhead accessible by vehicle at this time. We will post photos and information regarding other trailheads and routes as access is gained.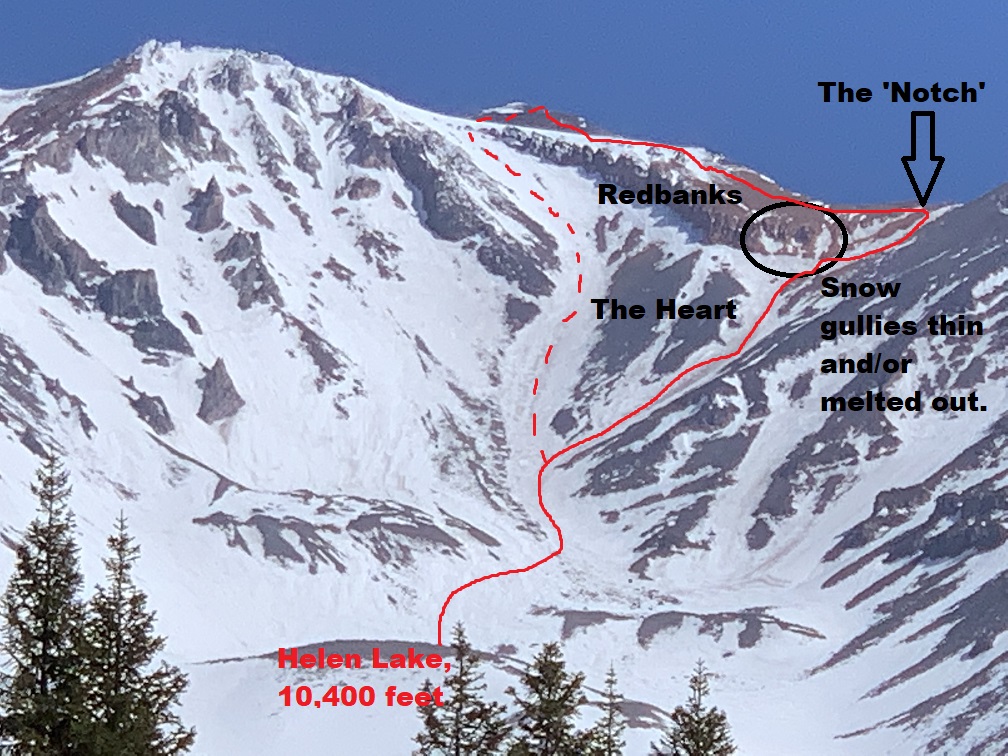 The route through/around Redbanks depicted here. Either left of The Heart or right and around Redbanks through "The Notch" is recommended. It is in this area that the majority of our Avalanche Gulch search & rescue incidents occur.  [Photo: Meyers]
Recent Observations
At treeline (7,600 feet) on Mount Shasta, we have 74 inches of snow on the ground and 62-64 inches over on the west side in the Castle Lake Basin and Eddy Mountains. Temperature averages over the past 3 days include a 42 °F degree mean, 35.5 °F low and 54.5 °F high. The wind has averaged 8 mi/hr, maxed out at 31 mi/hr and a minimum of 4 mi/hr, predominantly out of the west/southwest.

No recent avalanches of any flavor have been observed. Rockfall is a concern on the upper mountain. Snow surfaces are supportable, but softening mid-day and some post-holing is possible in the afternoon's at lower elevations. The skiing has been mediocre. One can find moments of brilliance, but it's not the typical spring corn glory fest. Snow still exists all the way to Bunny Flat, but if the weather continues as is, it won't last long.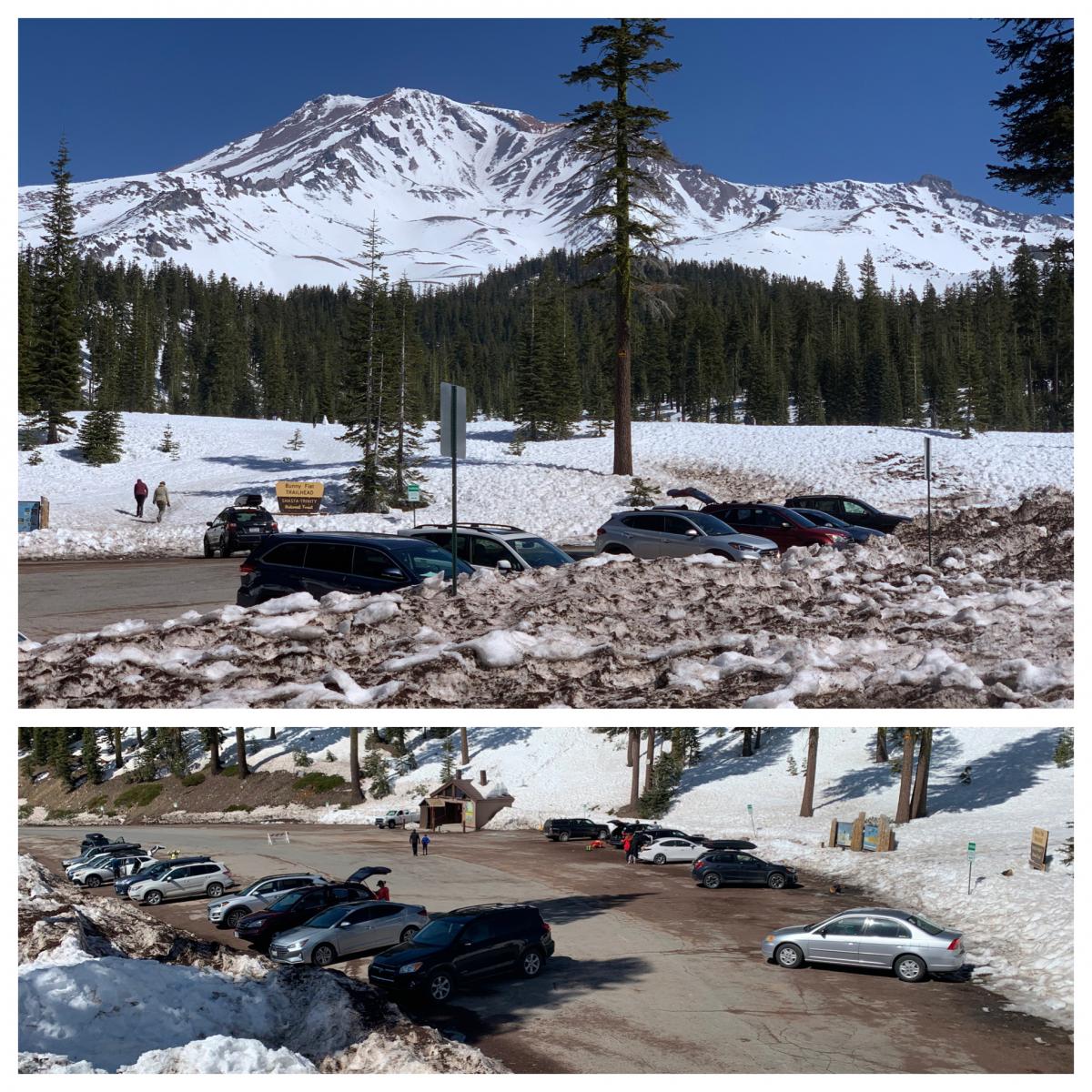 Weather and Current Conditions
Weather Summary
A low pressure trough will swing across the area late this weekend on Sunday night. Ahead of this, expect clouds to increase, but overall mostly sunny skies should prevail. Winds are notable, and we should see moderate to strong south/southwesterly flow increase with the cold front as it approaches. Overall, dry and mild conditions appear to be the norm for next week and beyond. Temperatures today near and below treeline will linger in the mid to high 40s and in the low to mid 30s above treeline.
24 Hour Weather Station Data @ 3:00 AM
Two Day Mountain Weather Forecast
Produced in partnership with the Medford NWS
For 7000 ft to 9000 ft
Saturday
(4 a.m. to 10 p.m.)
Saturday Night
(10 p.m. to 4 a.m.)
Sunday
(4 a.m. to 10 p.m.)
Weather
Mostly sunny
Partly cloudy
Sunny
Temperature (°F)
47
30
47
Wind (mi/hr)
South 5-10
South 5-10
South 5-10
Precipitation SWE / Snowfall (in)
0.00 / 0
0.00 / 0
0.00 / 0
For 9000 ft to 11000 ft
Saturday
Saturday Night
Sunday
Weather
Mostly sunny and windy
Partly cloudy and windy
Mostly sunny and windy
Temperature (°F)
31
28
31
Wind (mi/hr)
Southwest 20-30
Southwest 20-30
Southwest 20-30
Precipitation SWE / Snowfall (in)
0.00 / 0
0.00 / 0
0.00 / 0
Season Precipitation for Mount Shasta City
Period
Measured (in)
Normal (in)
Percent of Normal (%)
From Oct 1, 2022 (the wet season)
17.15
35.57
48
Month to Date (since Jun 1, 2023)
0.00
0.11
0
Year to Date (since Jan 1, 2023)
13.57
20.36
67
Disclaimer
This forecast does not apply to Ski Areas or Highways and is for the Mt. Shasta, Castle Lake and Mt. Eddy backcountry. Use this information for guidance only. You may find different conditions in the backcountry and should travel accordingly. This forecast expires 24 hours after the posted time unless otherwise noted.