You are here
Avalanche Forecast for 2021-04-10 05:42
EXPIRED ON April 11, 2021 @ 5:42 am

Published on April 10, 2021 @ 5:42 am
Issued by Nick Meyers - Shasta-Trinity National Forest
Avalanche danger is low and normal caution is advised in the backcountry. For climbers, falling rock and slips and falls are the main concern. This hazard should be considered in between Helen Lake and Redbanks, or any other steep slope with exposed rock overhead. Expect strong northwesterly wind today with clear skies.
Avalanche Problem 1: Normal Caution
Certain

Very Likely

Likely

Possible

Unlikely

Historic

Very Large

Large

Small
Normal caution is advised in the backcountry. The spring climbing season is here. Falling rock and slips and falls are the main concern and one of Mount Shasta's most common accident. The majority of these accidents happen in between Helen Lake and Redbanks. Keep your head up and helmet on and know how use your ice axe and crampons. 
Warm spring sunshine will melt snow surfaces and loose wet avalanches and/or cornice breaks are not impossible. Do you see rollerballs and pinwheels? Are you sinking up to your ankles? If so, avoid steep slopes, choose a different aspect or get an earlier start.
Forecast Discussion
We've had dry winter. Precipitation is 47% of normal. High wind events have left the upper mountain scoured and rocky. Climbs this season will have more risk than normal. The optimal climbing season has been pushed months earlier this year. If you plan to climb Mount Shasta, now is the time...or next year. The climbing routes around The Heart and through the Red Banks in Avalanche Gulch are already narrow or melted out.
The Bunny Flat trailhead is the only open trailhead accessible by vehicle at this time. Your required items to climb Mt. Shasta, a summit pass, wilderness permit, and human waste packout bag,  can be attained at the McCloud or Mount Shasta Ranger Stations (self-issue) or at The Fifth Season in Mount Shasta. For annual passes, The Fifth Season is the best option. Bunny Flat trailhead also has a self-issue kiosk for all items. A summit pass ($25/3-days) is required to climb anywhere above 10,000 feet, even if you don't plan on going to the summit. A wilderness permit (free) is required to enter the MS Wilderness. Human waste "wag bags" are provided for free at open trailheads, and it is required to packout your poop, please and thank you!
Recent Observations
Over the past 24 hours, west/northwest wind has averaged 11 mi/hr with gusts to 25 mi/hr at 8,000 feet. Temperatures peaked at 48.5 ºF and bottomed out at 32 ºF. The snow depth at the Old Ski Bowl is 64 inches. At Castle Lake, the current snow depth is 52 inches, with a high temperature of 62 ºF and low of 35.5 ºF. 
Yesterday we had a close call in Avalanche Gulch near The Heart. A solo skier received a glancing blow by a large rock to the thigh. A 911 call was made, but after assistance down to Helen Lake by another climber and reassessment of the injury, the two were able to self-rescue together back down to the trailhead. This is direct proof of the warnings we've been giving. Rockfall is real folks. Below is a photo and illustration of the danger zone, Helen Lake through Redbanks. Several climbing variations shown. It's up to you the risk you're willing to take.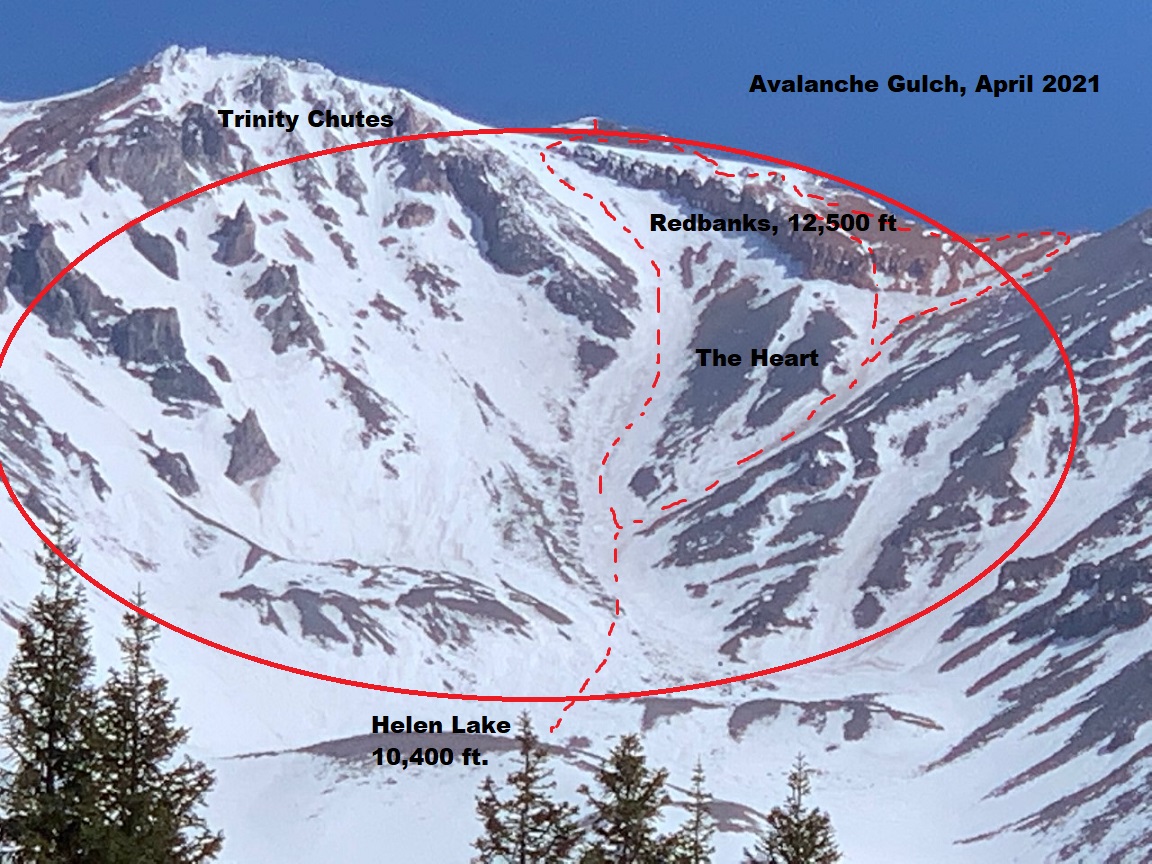 Most Mt. Shasta Wilderness trailhead access is still prolonged. Despite the looks of things above treeline on the mountain, 50-60 inches of snow still remains below and near treeline. Clear Creek trailhead is 6-7 miles out, Northgate about 3.9 miles and Brewer Creek trailhead about 16.5 miles out. You are welcome to access these trailheads, but a snowmobile or good set of legs is necessary. Bunny Flat remains the only open and vehicle accessible trailhead at this time. This trailhead accessed the entire south and west facing routes on the mountain, including Shastina. There is no running water at Bunny Flat.
Spring skiing this year is a bit of a bust. That said, turns can still be had and one can ski all the way to Bunny Flat. Expect variable conditions. Below Helen Lake is still worthwhile, while above is pretty dire. Climbers have been attempting the mountain with some success. The skies have been clear, but wind has thwarted a some attempts. The snow is mostly supportable in the morning hours and soft in the afternoon. We have not observed any loose-wet avalanches recently.
Sand Flat still has snow for cross-country skiing and snowshoeing. Check out the upper or lower road off the Everitt Memorial Highway for access. Motorized/snowmobile access from Bunny Flat into the Old Ski Bowl is still possible. Make sure you are familiar with the riding boundaries, please. Pilgrim Creek Sno-Park is done for the season.

 
Weather and Current Conditions
Weather Summary
Clear and sunny today with strong northwest wind above treeline on the mountain. Temperatures are 5-10 degrees cooler than normal. None-the-less, Spring-like weather will continue for the foreseeable future. 
24 Hour Weather Station Data @ 11:00 PM
Two Day Mountain Weather Forecast
Produced in partnership with the Medford NWS
For 7000 ft to 9000 ft
Saturday
(4 a.m. to 10 p.m.)
Saturday Night
(10 p.m. to 4 a.m.)
Sunday
(4 a.m. to 10 p.m.)
Weather
Sunny
Clear
Sunny
Temperature (°F)
32
18
41
Wind (mi/hr)
Northwest 5-10
North 5-10
Northeast 5-10
Precipitation SWE / Snowfall (in)
0.00 / 0
0.00 / 0
0.00 / 0
For 9000 ft to 11000 ft
Saturday
Saturday Night
Sunday
Weather
Sunny and windy
Clear and windy
Sunny and windy
Temperature (°F)
26
16
35
Wind (mi/hr)
Northwest 25-35
Northwest 20-30
Northwest 5-15
Precipitation SWE / Snowfall (in)
0.00 / 0
0.00 / 0
0.00 / 0
Season Precipitation for Mount Shasta City
Period
Measured (in)
Normal (in)
Percent of Normal (%)
From Oct 1, 2022 (the wet season)
17.15
36.47
47
Month to Date (since Sep 1, 2023)
0.00
1.01
0
Year to Date (since Jan 1, 2023)
13.57
21.26
64
Disclaimer
This forecast does not apply to Ski Areas or Highways and is for the Mt. Shasta, Castle Lake and Mt. Eddy backcountry. Use this information for guidance only. You may find different conditions in the backcountry and should travel accordingly. This forecast expires 24 hours after the posted time unless otherwise noted.