You are here
Avalanche Advisory for 2018-02-01 06:35:14
EXPIRED ON February 2, 2018 @ 6:35 am

Published on February 1, 2018 @ 6:35 am
Issued by Nick Meyers - Shasta-Trinity National Forest
The avalanche danger is LOW for all elevations and aspects throughout the forecast area. Practice safe travel protocols and watch for unstable snow on isolated terrain features. Watch for falling rime ice above treeline.
Avalanche Problem 1: Wind Slab
Certain

Very Likely

Likely

Possible

Unlikely

Historic

Very Large

Large

Small
Natural and human triggered wind slabs are unlikely. Small wind slabs may be found in isoloated areas on SE-E-NE aspects above 9000 ft. Avoid wind loaded slopes steeper than 35 degrees. Check for the presence of wind slabs by looking for cornices, blowing snow, wind pillows, and hollow sounding snow.
Forecast Discussion
Alpine rock features on Mount Shasta are covered with rime ice. Warm weather will cause ice to dislodge and fall onto humans below. Be careful below Casaval Ridge, the Trinity Chutes, Green Butte/Sargents Ridges and Redbanks. Wear a helmet. Carry an ice axe and crampons.
Recent Observations
Temperatures have been above freezing at 8000 ft for the last 72 hours. Moderate to strong northwesterly winds have prevailed averaging 21 mi/hr. A wind slab (HS-N-D1.5-2) was observed yesterday on the SE aspect of Sun Bowl, however the actual occurrence of this slide is uncertain. It is suspected to be a few days old. Wind has been successful at transporting snow, though most of it is moving off the mountain or into low lying convexities, gullies, etc. Ridgetop wind loading has not been observed. It is a mixed bag out there, depending on your aspect and elevation. Below treeline, the top 4 to 6 inches of snow was moist to wet yesterday, mid-day. Near and above treeline, moist to dry snow surfaces exist. The combination snow platter will serve up sun crusts, wind crusts, sastrugi, wind eroded features, scoured old snow surfaces as well as smooth areas. Melt-freeze, corn snow is possible by the weekend. 
Weather and Current Conditions
Weather Summary
A warm front passes through today. Partly cloudy skies is all we shall receive, perhaps fog in valley bottoms. The forecast for the remainder of the week remains quiet with the worn out question: When will more snow arrive? One month temperature and precipitation models displayed below, pulled from the NOAA Climate Prediction Center. At this point, we're looking at above normal temperatures and below normal precipitation. Can we cry snowflakes?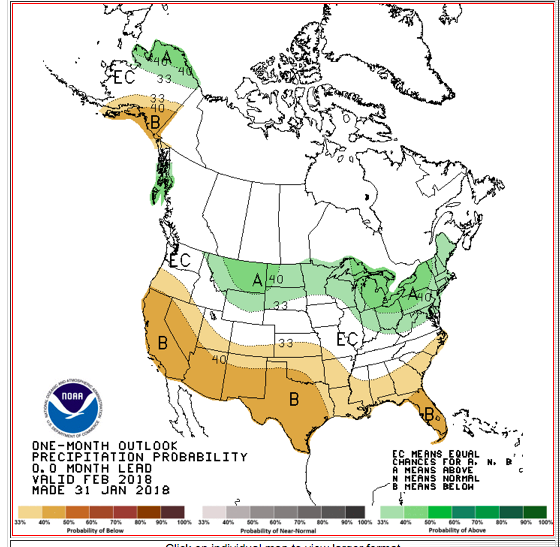 24 Hour Weather Station Data @ 5:00 AM
Two Day Mountain Weather Forecast
Produced in partnership with the Medford NWS
For 7000 ft to 9000 ft
Thursday
Thursday Night
Friday (5 a.m to 5 p.m.)
Weather
Partly cloudy
Partly cloudy
Sunny
Temperature (°F)
47
36
50
Wind (mi/hr)
Northwest 5-10 mi/hr
Northwest 5-10 mi/hr
Northwest 5-10 mi/hr
Precipitation SWE / Snowfall (in)
/ 0
/ 0
/ 0
For 9000 ft to 11000 ft
Thursday
Thursday Night
Friday (5 a.m to 5 p.m.)
Weather
Partly cloudy. Windy
Partly cloudy. Windy
Sunny. Breezy
Temperature (°F)
34
34
36
Wind (mi/hr)
West 20-30 mi/hr
Northwest 0
Northwest 10-20 mi/hr
Precipitation SWE / Snowfall (in)
/ 0
/ 0
/ 0
Season Precipitation for Mount Shasta City
Period
Measured (in)
Normal (in)
Percent of Normal (%)
From Oct 1, 2018 (the wet season)
10.11
22.27
45
Month to Date (since May 1, 2019)
4.28
7.06
61
Year to Date (since Jan 1, 2019)
4.28
7.06
61
Disclaimer
This advisory does not apply to Ski Areas or Highways and is for the Mount Shasta, Castle Lake and Mount Eddy backcountry. Use this information for guidance only. You may find different conditions in the backcountry and should travel accordingly. This advisory expires on midnight of the date it was posted unless otherwise noted.