You are here
Avalanche Advisory for 2018-02-02 06:19:10
EXPIRED ON February 3, 2018 @ 6:19 am

Published on February 2, 2018 @ 6:19 am
Issued by Nick Meyers - Shasta-Trinity National Forest
The avalanche danger is LOW for all elevations and aspects throughout the forecast area. NORMAL CAUTION is advised. Always practice safe travel protocols and watch for unstable snow on isolated terrain features and falling rime ice above treeline.
Avalanche Problem 1: Normal Caution
Certain

Very Likely

Likely

Possible

Unlikely

Historic

Very Large

Large

Small
NORMAL CAUTION means:
Always watch for isolated slabs.
Ski and ride one at a time in avalanche terrain
Don't regroup in run out zones
Basic avalanche rescue skills are essential anytime you travel in avalanche terrain.
Isolated slabs are generally related to wind and terrain: look for places where small areas of drifting have occurred and firm layers of surface snow overlie softer layers. Often this will occur on the lee side of ridges, in terrain depressions, on convex terrain features, and in the lee of isolated bands of trees.
Advisory Discussion
Triggering an avalanche will be difficult today. Of most concern are alpine rock features on Mount Shasta plastered with rime ice. Warm weather will cause ice to dislodge and fall onto humans below. Rime ice can function just like a rock. Any climbers this weekend? Be careful below Casaval Ridge, the Trinity Chutes, Green Butte/Sargents Ridges and Redbanks. Wear a helmet. Carry an ice axe and crampons.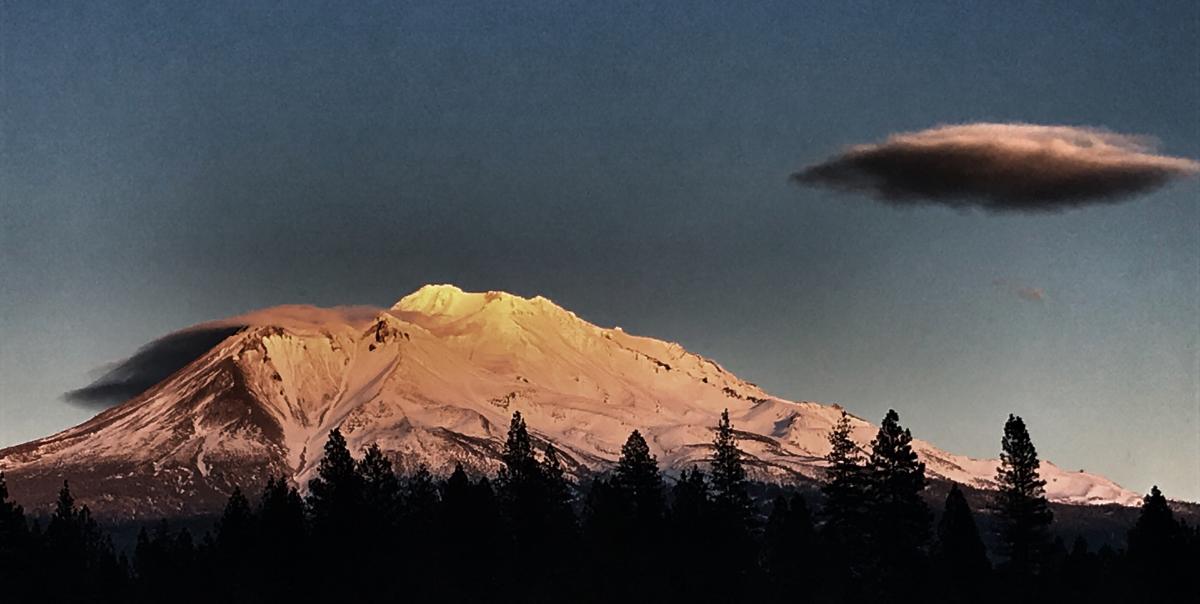 February 1st, 2018 sunset, west side Mount Shasta with Diller Canyon facing, center left. / Photo: N Meyers
Recent Observations
Spring-like temperatures and light to moderate wind has been the status quo for this week. The snowpack is brewing up its melt-freeze corn snow ale, however the freeze part of that equation needs work. For the past 4 days, nighttime lows only dropped to 34 deg F at 8,000 feet. Below 8,000 feet, moist and mushy snow dominates. Tree wells and shallow snowpack hazards are showing. Above 8,000 feet, coverage is better, albeit thin in areas. Gullies and concavities hold the most snow. Snow surface conditions and supportability are across the board. One will find various sun/wind crusts, sastrugi/wind eroded features, scoured old snow surfaces and smooth areas too. Play your aspect, elevation and time of day cards correctly and you could be rewarded with some decent sliding and riding. Yesterday, no signs of instability were observed in all of Avalanche Gulch area, Green Butte Ridge, Sun Bowl and Powder Bowl. Rime ice is caked on exposed rocks. Skies were scattered with light to moderate wind out of the northwest. Blowing snow was not observed due to heavy, moist snow surfaces.
Weather and Current Conditions
Weather Summary
The weak ridging pattern keeping us high and dry will continue for the foreseeable future. Light to moderate, gusty winds will blow out of the north/northwest near and above treeline on Mount Shasta. Temperatures hold with daytime highs in the high 40's deg F to low 50's deg F. Freezing levels will fluctuate between 8 and 9,000 feet. The extended forecast shows clear weather all the way through next week. Visit the NOAA Climate Prediction Center site for temperature and precipitation prediction models.

                                                                                                     
24 Hour Weather Station Data @ 5:00 AM
Two Day Mountain Weather Forecast
Produced in partnership with the Medford NWS
For 7000 ft to 9000 ft
Friday
Friday Night
Saturday
Weather
Sunny
Mostly clear
Sunny
Temperature (°F)
50
42
51
Wind Direction
North
North
Northwest
Wind Speed (mi/hr)
5-10 mi/hr
5-10 mi/hr
5-10 mi/hr
Expected Snowfall (in)
0
0
0
For 9000 ft to 11000 ft
Friday
Friday Night
Saturday
Weather
Sunny and windy
Mostly clear and windy
Sunny and breezy
Temperature (°F)
37
35
36
Wind Direction
Northwest
Northwest
Northwest
Wind Speed (mi/hr)
20-30 mi/hr
20-30 mi/hr
20-30 mi/hr
Expected Snowfall (in)
0
0
0
Season Precipitation for Mount Shasta City
Period
Measured (in)
Normal (in)
Percent of Normal (%)
From Oct 1, 2017 (the wet season)
10.11
22.51
45
Month to Date (since Nov 1, 2018)
0.00
0.24
0
Year to Date (since Jan 1, 2018)
4.28
7.30
59
Disclaimer
This advisory does not apply to Ski Areas or Highways and is for the Mount Shasta, Castle Lake and Mount Eddy backcountry. Use this information for guidance only. You may find different conditions in the backcountry and should travel accordingly. This advisory expires on midnight of the date it was posted unless otherwise noted.