You are here
Avalanche Advisory for 2018-02-22 05:54
EXPIRED ON February 23, 2018 @ 5:54 am

Published on February 22, 2018 @ 5:54 am
Issued by Nick Meyers - Shasta-Trinity National Forest
Avalanche danger is LOW and NORMAL CAUTION is advised. Firm and icy snow surfaces are widespread and shallow snowpack hazards exist. Minor wind loading will occurr on S-SE-E aspects between 7,500-9,000 ft. Watch for unstable snow on isolated terrain features.
Avalanche Problem 1: Normal Caution
Certain

Very Likely

Likely

Possible

Unlikely

Historic

Very Large

Large

Small
NORMAL CAUTION means:
Watch for isolated slabs.
Ski and ride one at a time in avalanche terrain.
Don't regroup in run out zones.
Basic avalanche rescue skills are essential in avalanche terrain.
Isolated slabs are related to wind and terrain. Look for areas of drifting snow. This will occur on the lee side of ridges, in terrain depressions, on convex terrain features, and in the lee of isolated bands of trees.
Advisory Discussion
Though avalanche danger is low, it will be possible to find small, isolated wind slabs and cornices near the top of easterly aspects. These don't pose much concern, although triggering even a small slide or cornice could knock you off your feet and down a firm, slippery slope.
Wind chills will be well below 0 °F today and tonight. Bring appropriate clothing to keep warm.
Moraines, ridges, and areas above 9000 ft are very icy. An ice axe and crampons are mandatory if you venture into this terrain. Self arresting on steep slopes will be difficult if not impossible.
Recent Observations
Cold temperatures and light to moderate winds have left the snowpack unchanged since Monday. The 2-3 inches of new snow from Sunday's storm remains light and dry and can be found below 9000 ft. Above, new snow has been stripped away by winds. Ridges are icy, exposed, and treacherous. Some evidence of wind loading has been seen on easterly aspects of Sun Bowl. This loading is just below the ridge. Below treeline, expect hidden and exposed rocks, chaparral, and forest debris.  The Upper Sand Flat X-C trails are still usable and a skiff of new snow should make classic cross country skiing enjoyable.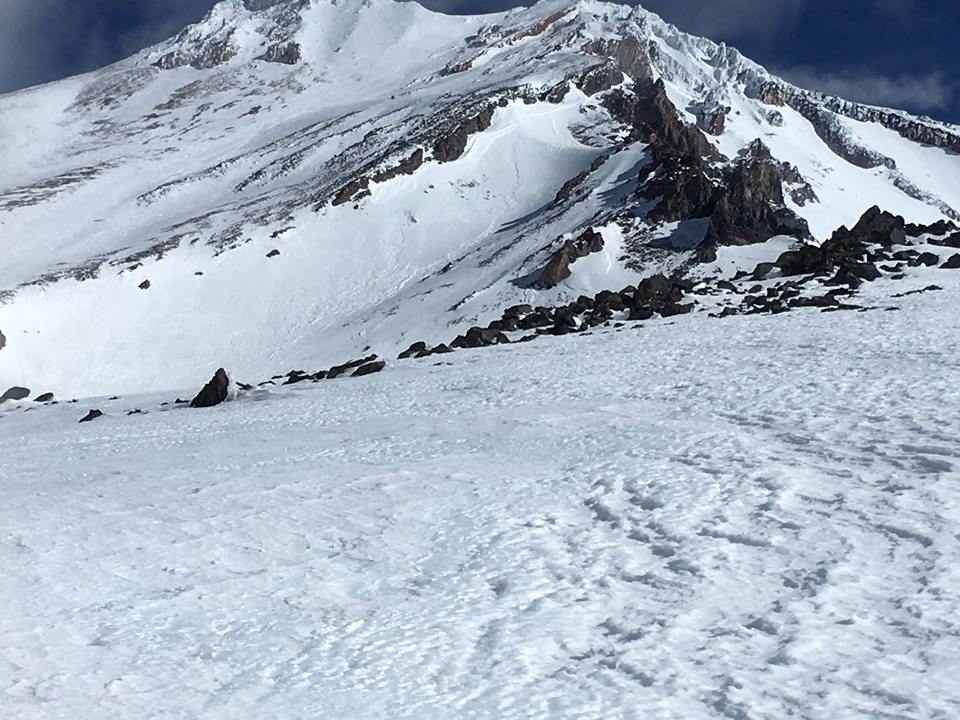 Casaval Ridge and the West Face from 10,300 feet. Photo: T Kamp
Weather and Current Conditions
Weather Summary
A small winter storm developes today. Northern California sits on the southern edge of this one. This means less snow than areas such as southern and central Oregon. The positive side of things is that cold ambient temperatures will continue and even just a little bit of snow should stick easily. Snow levels will remain at town or lower. An inch or two of snow is expected today with moderate winds on the mountain. Another weak frontal system moves in Saturday bringing ongoing showers through Monday. 
24 Hour Weather Station Data @ 4:00 AM
Two Day Mountain Weather Forecast
Produced in partnership with the Medford NWS
For 7000 ft to 9000 ft
Thursday
Thursday Night
Friday
Weather
Mostly cloudy with snow showers likely
Mostly cloudy with snow showers likely
Partly cloudy to mostly sunny
Temperature (°F)
25
9
30
Wind Direction
NW
NW
N
Wind Speed (mi/hr)
5-10 mi/hr
5-10 mi/hr
10 mi/hr
Expected Snowfall (in)
1-2
0-1
0
For 9000 ft to 11000 ft
Thursday
Thursday Night
Friday
Weather
Mostly cloudy, snow likely, cold and windy.
Mostly cloudy, snow likely, cold and windy.
Partly cloudy to mostly sunny, windy.
Temperature (°F)
3
1
14
Wind Direction
NW
N
N
Wind Speed (mi/hr)
15-25 mi/hr
15-25 mi/hr
20-30 mi/hr
Expected Snowfall (in)
1-2
0-1
0
Season Precipitation for Mount Shasta City
Period
Measured (in)
Normal (in)
Percent of Normal (%)
From Oct 1, 2017 (the wet season)
10.20
27.60
37
Month to Date (since Dec 1, 2018)
0.09
5.33
2
Year to Date (since Jan 1, 2018)
4.37
12.39
35
Disclaimer
This advisory does not apply to Ski Areas or Highways and is for the Mount Shasta, Castle Lake and Mount Eddy backcountry. Use this information for guidance only. You may find different conditions in the backcountry and should travel accordingly. This advisory expires on midnight of the date it was posted unless otherwise noted.