You are here
Avalanche Forecast for 2019-03-09 05:36
EXPIRED ON March 10, 2019 @ 6:36 am

Published on March 9, 2019 @ 5:36 am
Issued by Nick Meyers - Shasta-Trinity National Forest
A winter weather advisory is in affect until 10am this morning. Showery weather will bring several inches of new snow along with increasing southwesterly wind today. Pay attention to wind blowing snow and look for areas of drifting on isolated terrain features this afternoon.
Avalanche Problem 1: Normal Caution
Certain

Very Likely

Likely

Possible

Unlikely

Historic

Very Large

Large

Small
A couple inches of new snow accompanied by increasing southwesterly wind may allow for small, fresh wind slabs to form.  We don't expect wind slabs to be a big problem...but don't throw caution to the wind. Using normal backcountry travel precautions today should keep you out of trouble. Watch for unstable snow on isolated terrain features, especially this afternoon following our wintery weather onset.
Pay attention to wind blowing snow and areas of drifting. 
Isolated slabs are generally related to wind and terrain: look for places where drifting has occurred and firm layers of surface snow overlie softer layers. Often this will occur on the lee side of ridges, in terrain depressions, on convex terrain features and in the lee of isolated bands of trees.
Identify features of concern. Travel one at a time in avalanche terrain. Choose appropriate safety zones. 
Basic avalanche rescue skills are always necessary when you travel in avalanche terrain.
Forecast Discussion
Moods were happy at Bunny Flat yesterday due to an open road and smooth, buttery skiing conditions. The snow banks themselves are the tourist attraction for some. We've seen a few climbers start to filter into the area. Without skis or snowshoes, post-holing is going to be an issue, even at upper elevations. Don't fret. Spring climbing conditions are shaping up and will be good soon.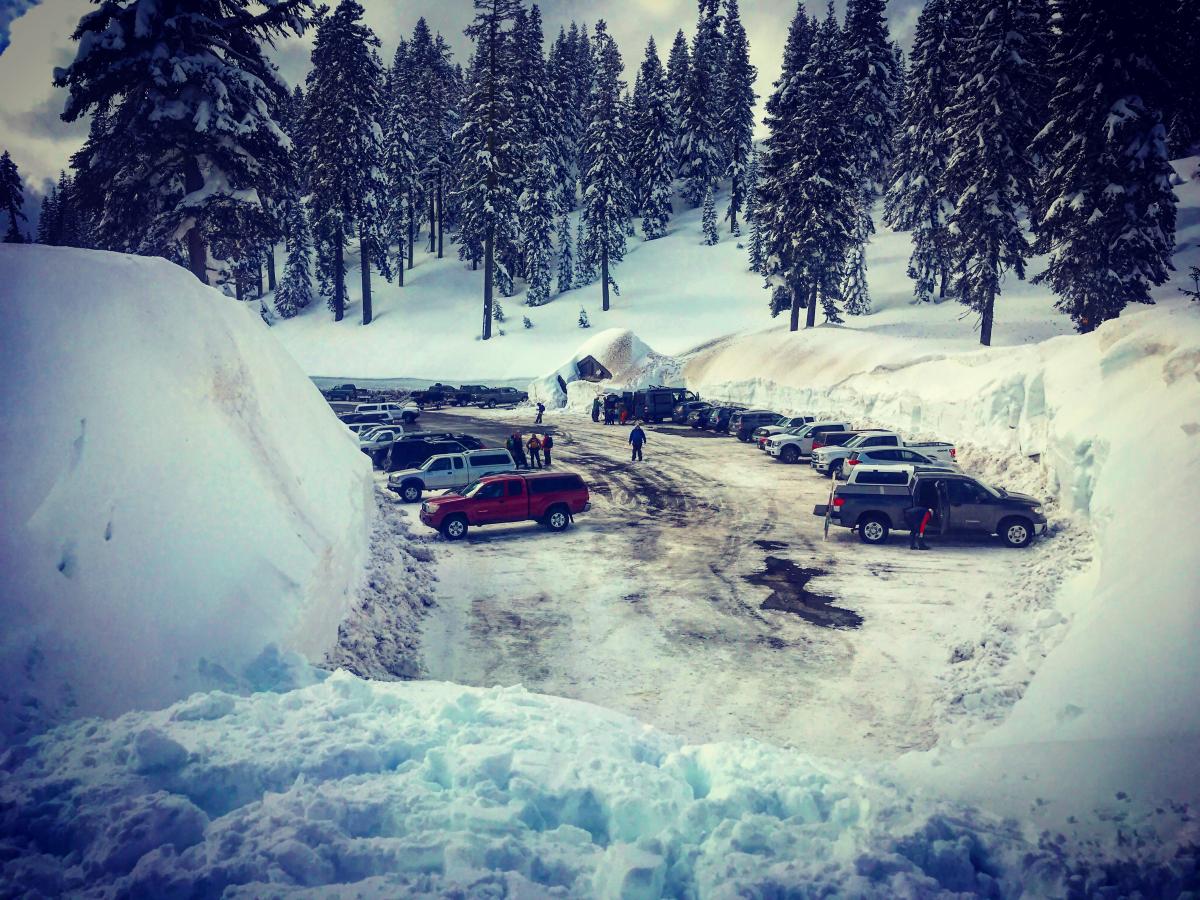 Awe, yes...the berms of Bunny Flat...Steep and deep piles of snow, no doubt. [Photo: N Meyers]
Castle Lake road remains closed.
Recent Observations
In the last 24 hours:
Temperatures have ranged from 9 to 25 degrees F at treeline on Mount Shasta. 
Wind: 9 mi/hr average, with gusts to 25 out of the W/NW
Precip: +/- 2 inches of new snow (.24 inches of SWE)
A couple natural, old wind slab avalanches were observed in the Old Ski Bowl and in upper Avalanche Gulch. Slides are estimated to have occurred on the afternoon/evening of 3.6.19 (Observation and photos)
A calm, clear and chilly day above treeline yesterday prompted ski and snomobile use to many areas. All users tested steeper lines with no ensuing avalanches or other signs of instability. Wind affect is minimal. Snow is supportable by ski and calf to knee deep by boot.
Recent snowpit stability tests indicate a strong, isothermal snowpack structure on Mount Shasta and in the Eddies.
We had one outlier extended column test submitted by the public that failed and fully propagated upon isolation on a 30 degree, northeast aspect of Ash Creek Butte. (NE @ 7,900' - ECTP0x2 - SC/Q1). The test failed on an icy crust, 27 inches down from the surface. The group decided to turn back and noted several old crown lines in the area as well. We are uncertain if this unstable result is an isolated anomaly or if a persistent weak layer problem exists out there.
Weather and Current Conditions
Weather Summary
Light to moderate showers with low snow levels for the AM hours today have prompted a winter weather advisory for Siskiyou County.  Southwesterly winds will join the fun, especially above treeline and along exposed ridgelines, making a crescendo today and descrescendo tonight/tomorrow.  This showery and windy theme will produce a handful of inches of new snow today. Snow water equivalent forecast total is .27 inches by tomorrow morning.  The unsettled nature of the current weather pattern will begin to dry out and clear up on Sunday afternoon, remaining dry through Monday. The next front approaches on Monday night.
24 Hour Weather Station Data @ 4:00 AM
Two Day Mountain Weather Forecast
Produced in partnership with the Medford NWS
For 7000 ft to 9000 ft
Saturday
(5 a.m to 11 p.m.)
Saturday Night
(11 p.m. to 5 a.m.)
Sunday
(5 a.m to 11 p.m.)
Weather
Snow showers. Chance of snow 90%. Snow levels 1k to 2k feet.
Snow showers likely, mainly before 10pm. Mostly cloudy,
A 20% chance of snow showers in the AM, partly to mostly cloudy.
Temperature (°F)
26
19
32
Wind (mi/hr)
South 5-10
South 0-5
Southeast 0-5
Precipitation SWE / Snowfall (in)
/ 2-5
/ 1-2
/ 0
For 9000 ft to 11000 ft
Saturday
Saturday Night
Sunday
Weather
Snow showers, windy. Chance of precipitation 80%
Snow showers likely, mainly before 10pm. Mostly cloudy. Chance of precipitation 60%.
A 30% chance of snow showers, mainly before 10am. Partly to mostly cloudy.
Temperature (°F)
11
11
14
Wind (mi/hr)
Southwest 20-30
Southwest 3-6
Southwest 0-10
Precipitation SWE / Snowfall (in)
/ 3-6
/ 2-3
/ 0
Season Precipitation for Mount Shasta City
Period
Measured (in)
Normal (in)
Percent of Normal (%)
From Oct 1, 2019 (the wet season)
31.50
31.46
100
Month to Date (since Apr 1, 2020)
1.97
1.96
101
Year to Date (since Jan 1, 2020)
23.09
16.25
142
Disclaimer
This forecast does not apply to Ski Areas or Highways and is for the Mt. Shasta, Castle Lake and Mt. Eddy backcountry. Use this information for guidance only. You may find different conditions in the backcountry and should travel accordingly. This forecast expires on midnight of the date it was posted unless otherwise noted.