You are here
Avalanche Forecast for 2020-03-14 06:07
EXPIRED ON March 15, 2020 @ 6:07 am

Published on March 14, 2020 @ 6:07 am
Issued by Nick Meyers - Shasta-Trinity National Forest
Anticipate changing conditions this weekend as new snow and W/SW wind impacts the backcountry. The avalanche danger is LOW this morning and expected to rise to MODERATE this afternoon/evening. Fresh, small to medium-sized wind slabs are likely near and above treeline and will be most reactive immediately during or just after the storm.
Avalanche Problem 1: Wind Slab
Certain

Very Likely

Likely

Possible

Unlikely

Historic

Very Large

Large

Small
Winds have been active on the mountain, but new snow has yet to accumulate this morning. Expect on again, off again type weather this weekend. Snowfall will not be constant and there will be breaks in most areas. Impactful snow accumulations will be specifically during Saturday night into Sunday when snowfall rates are the highest, though uncertainty exists with how much snow we will receive. Look for wind blowing snow and wind loading on leeward N-NE-E aspects. Pay attention to the wind direction within a given piece of terrain as Mount Shasta can create funky wind eddies. Identify wind slabs by looking for convex pillows of wind drifted snow on the lee side of ridges and other terrain features. They may look and feel chalky. Wind slabs can be hard and drum-like. Avoid by sticking to sheltered or wind-scoured areas.
Forecast Discussion
I'm not extremely confident about this storm, but I'd love to be wrong. Whether we get a little or a lot, expect changing conditions in the backcountry. Don't forget, this is the LAST weekend for the season at the Mount Shasta Ski Park. They've got some great lift ticket deals, drink specials and live music. Go hang out and support the local slopes!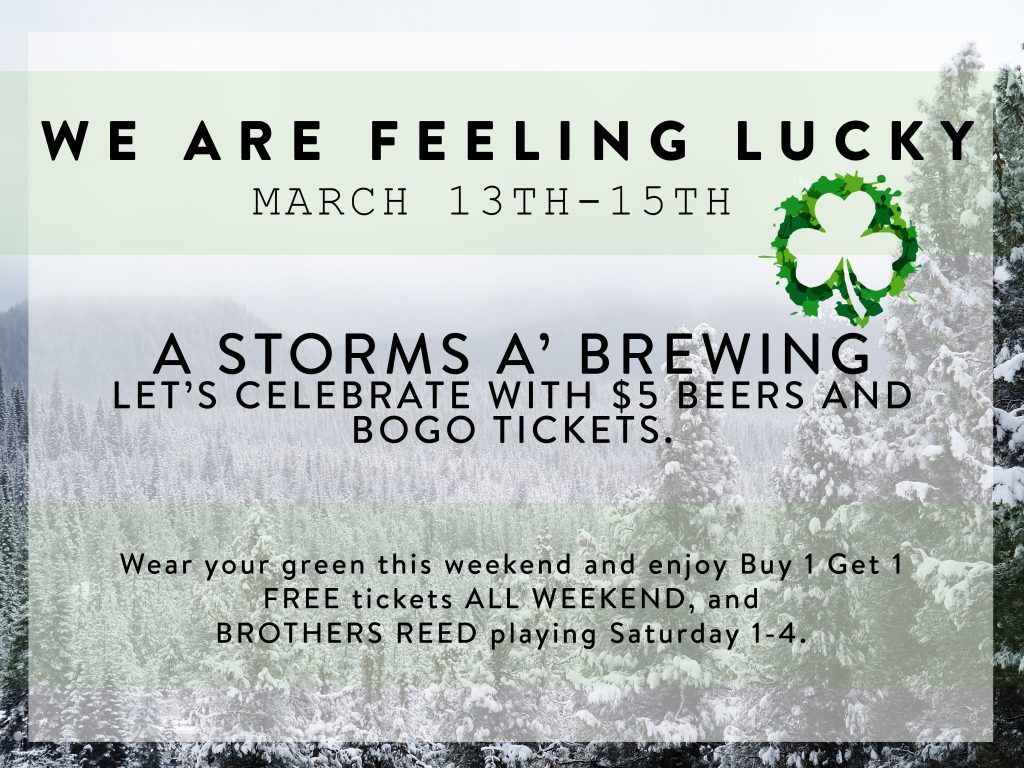 Recent Observations
It was the existing state of affairs out there yesterday with spring-like weather and variable snow surfaces. In the last 24 hours on Mount Shasta, near treeline temperatures ranged from 13 to 41 degrees.  Temperatures really began to fall in the afternoon due to the incoming cold front. Winds picked up considerably in the morning, blowing west/southwest at 14 mi/hr average and gusts to 30-40 mi/hr range.  Still today, westerly wind is moderate at 8,000 feet (Gray Butte weather station). The Old Ski Bowl station has recorded no new snow at 0600 hours.
Weather and Current Conditions
Weather Summary
The anticipated miracle March snow storm this weekend will present itself in a hit or miss fashion with many shortwaves moving through the area. About an inch of water is expected with snow levels to Mount Shasta City, or lower (~2000 feet). At this point, clear sky and minimal accumulation is showing this morning, so Ma Nature better get it together. South/southwest wind is notable on 700mb models (10,000 feet).  Thus, I'd expect it to be windy near and above treeline today. We are still in the early stages of the storm and it's yet to be seen what track the storm will take. Westerly flow generally does not favor this area much, while southerly flow does. The heaviest precipitation periods look to be Saturday night into Sunday. All said and done, by the end of the weekend, wishful thinking hopes we see a foot of new snow blanketing the higher hills. Crossing our fingers! Light showers may linger into next work week.
24 Hour Weather Station Data @ 4:00 AM
Two Day Mountain Weather Forecast
Produced in partnership with the Medford NWS
For 7000 ft to 9000 ft
Saturday
(4 a.m. to 10 p.m.)
Saturday Night
(10 p.m. to 4 a.m.)
Sunday
(4 a.m. to 10 p.m.)
Weather
Snow showers. Snow level near 2,500 feet or lower
Snow showers. Snow level near 2,000 feet or lower.
Snow showers. Snow level near 2,000 feet or lower.
Temperature (°F)
26
24
26
Wind (mi/hr)
South/Southwest 10-15
South/Southwest 10-15
South/Southwest 5-10
Precipitation SWE / Snowfall (in)
0.16 / 1-3
0.39 / 4-8
0.41 / 4-8
For 9000 ft to 11000 ft
Saturday
Saturday Night
Sunday
Weather
Snow showers.
Snow showers.
Snow showers.
Temperature (°F)
7
3
6
Wind (mi/hr)
Southwest 30-35
South 25-30
South 25-30
Precipitation SWE / Snowfall (in)
0.16 / 2-4
0.39 / 4-8
0.41 / 4-8
Season Precipitation for Mount Shasta City
Period
Measured (in)
Normal (in)
Percent of Normal (%)
From Oct 1, 2022 (the wet season)
13.61
32.59
42
Month to Date (since Jun 1, 2023)
0.71
3.09
23
Year to Date (since Jan 1, 2023)
4.68
17.38
27
Disclaimer
This forecast does not apply to Ski Areas or Highways and is for the Mt. Shasta, Castle Lake and Mt. Eddy backcountry. Use this information for guidance only. You may find different conditions in the backcountry and should travel accordingly. This forecast expires 24 hours after the posted time unless otherwise noted.