You are here
Avalanche Forecast for 2020-03-15 07:00
EXPIRED ON March 16, 2020 @ 7:00 am

Published on March 15, 2020 @ 7:00 am
Issued by Ryan Sorenson - Mount Shasta Avalanche Center
New snow and productive winds will increase the avalanche danger to considerable today. Human triggered avalanches are likely and natural avalanches are possible.
Avalanche Problem 1: Wind Slab
Certain

Very Likely

Likely

Possible

Unlikely

Historic

Very Large

Large

Small
Avalanche danger will increase today as moderate south winds combine with new snow. Over the past 24 hours, 4 inches of new snow accumulation has been measured near treeline on Mount Shasta. Increasing amounts of snowfall are expected today. Wind slab avalanches are likely near and above treeline where wind drifted snow has accumulated. Look for wind blown snow. Leeward W-NW-N aspects are most suspect; however, pay attention to the wind direction as terrain features can create eddies and varying wind behavior.  Identify wind slabs by looking for new cornice development, and pillows of wind drifted snow. Wind slabs are often smooth and round and sometimes sound hollow.  Avoid by sticking to sheltered or wind-scoured areas. 
Forecast Discussion
As the storm continues to move through the Mount Shasta area be sure to make conservative decisions and watch for the five red flags for avalanche danger: 
recent avalanches
cracking, blocking and whumping
significant snowfall in 24 hours
strong winds
temperature rise
Today is the LAST day of the season at the Mount Shasta Ski Park. They've got some great lift ticket deals, drink specials and live music. Go hang out and support the local slopes!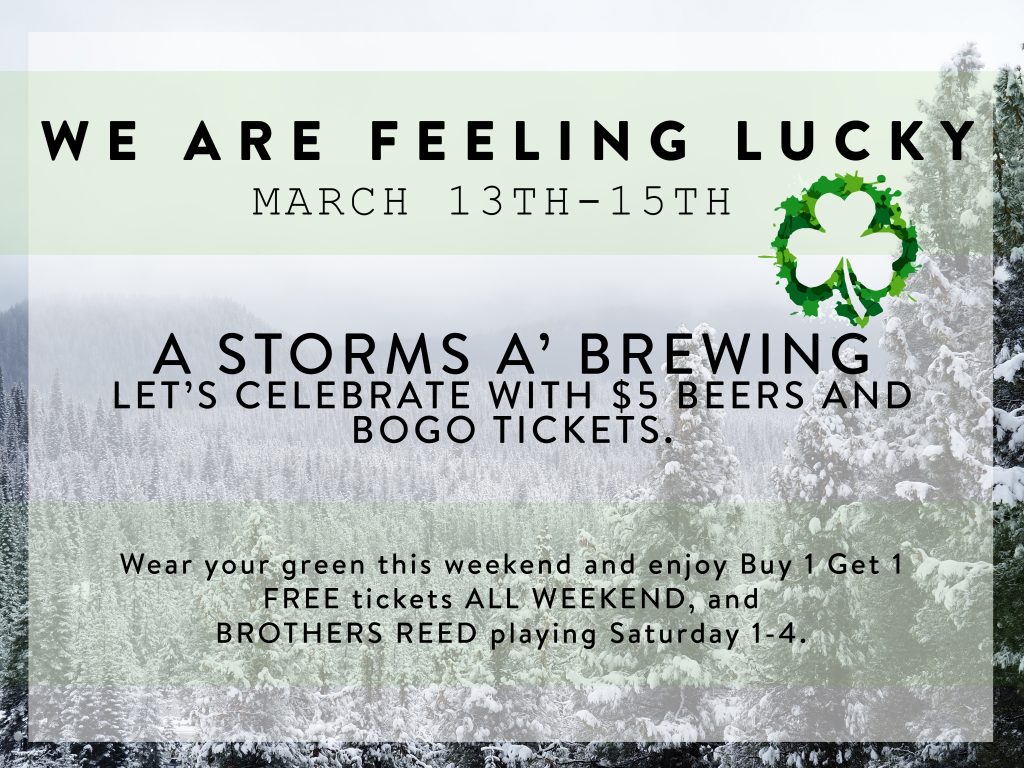 Recent Observations
In the last 24 hours, Mount Shasta has received about 3 inches of new snow. Southwest winds have averaged 12 mi/hr, peaking at 19 mi/hr, and gusting up to 31 mi/hr.
The weather did a fair amount of bluffing yesterday without much action. Sporadic snow flurries moved in and out for much of the day. On a tour up Gray Butte yesterday, we were met by challenging skinning and skiing conditions as no surface softening occurred.  One inch of fresh snow covered the icy and well-consolidated snowpack below.  South facing tree wells have melted out. Tree debris has littered the snow surfaces along with rocks and logs that had previously melted out. Notable blowing snow and small wind drifts up to 6 inches deep were observed on the ridge near the summit. 
Weather and Current Conditions
Weather Summary
The miracle March storm currently impacting the forecast area has been showery thus far. Things may have briefly stalled out this morning; however, expect increasing waves of snow showers accompanied by moderate south wind over the next 24 hours. The heaviest precipitation period looks to be today.  Snow accumulation of 4-8 inches is expected with snow levels near Mount Shasta City level, or lower (~2000 feet).  Cold air pushing down from the north will keep temperatures in the teens to low-20s below and near treeline. Above treeline, temperatures will be in the single digits.
24 Hour Weather Station Data @ 3:00 AM
Two Day Mountain Weather Forecast
Produced in partnership with the Medford NWS
For 7000 ft to 9000 ft
Sunday
(4 a.m. to 10 p.m.)
Sunday Night
(10 p.m. to 4 a.m.)
Monday
(4 a.m. to 10 p.m.)
Weather
Snow showers. Snow level near 2,500 feet or lower
Snow showers. Snow level near 2,000 feet or lower.
Snow showers. Snow level near 2,000 feet or lower.
Temperature (°F)
26
22
26
Wind (mi/hr)
Southeast 10-15
South 10-15
East 5-10
Precipitation SWE / Snowfall (in)
0.46 / 4-8
0.05 / 0-1
0.05 / 0-1
For 9000 ft to 11000 ft
Sunday
Sunday Night
Monday
Weather
Snow showers.
Snow showers.
Snow showers.
Temperature (°F)
10
6
19
Wind (mi/hr)
South 25-30
South 25-30
Southeast 20-25
Precipitation SWE / Snowfall (in)
0.46 / 4-8
0.05 / 0-1
0.05 / 0-1
Season Precipitation for Mount Shasta City
Period
Measured (in)
Normal (in)
Percent of Normal (%)
From Oct 1, 2022 (the wet season)
13.68
32.80
42
Month to Date (since Jun 1, 2023)
0.78
3.30
24
Year to Date (since Jan 1, 2023)
4.75
17.59
27
Disclaimer
This forecast does not apply to Ski Areas or Highways and is for the Mt. Shasta, Castle Lake and Mt. Eddy backcountry. Use this information for guidance only. You may find different conditions in the backcountry and should travel accordingly. This forecast expires 24 hours after the posted time unless otherwise noted.