You are here
Avalanche Forecast for 2020-12-11 06:31
EXPIRED ON December 12, 2020 @ 6:31 am

Published on December 11, 2020 @ 6:31 am
Issued by Nick Meyers - Shasta-Trinity National Forest
LOW avalanche danger continues today with normal caution advised. A fast and progressive weather pattern will send rain, snow and windy conditions our way for the foreseeable future. No big dumps yet, but it all adds up. Rocks, trees and brush are still the number one hazard. The first wave of winter weather should fire up later this afternoon and into the evening. Expect extreme wind and bitter cold above treeline on the mountain.
Avalanche Problem 1: Normal Caution
Certain

Very Likely

Likely

Possible

Unlikely
Normal caution is advised for avalanches. Extra caution is advised for rocks, brush and small trees that are exposed or barely covered. Snow conditions are variable: wind scoured, soft(ish) and unconsolidated below treeline in wind protected areas and a variety of crusts throughout. Use safe travel techniques and bring your beacon, shovel and probe. Practice your rescue skills. Get ready for the coming snow.
Forecast Discussion
Winter storms will begin to impact the area over the coming weeks
Be prepared for winter driving conditions. The Everitt Memorial Highway can be a dangerous, icy road. Go slow. Envision grandma's fresh, frosty cupcakes are sitting on the dash. 
It is still going to take several good storms before early season, low tide, rocky, crunchy, brushy, snow sharky...you name it...conditions fade away.
Rangers have witness several parties harvesting Christmas trees from the Bunny Flat area. Cutting trees along the Everitt Memorial Highway and at Bunny Flat is prohibited in most areas. Get a map and be informed.
As we begin to get snow and see avalanches, help us out by submitting an observation! You can do it right on our website by clicking that big blue button near the obs section. A photo, a few words, anything helps! 
Recent Observations
Snow remaining on the ground from our one and only storm for the season that blew in on November 17th:
Old Ski Bowl, treeline on Mount Shasta - 12 inches
Castle Lake - 2 inches
Eddies - 8 inches
East side/Ash Creek Butte - 14 inches
You've heard it a bunch already...early season conditions is still the mode of operation around these parts. Here is how it's looking on the big hill before the weekend storm(s).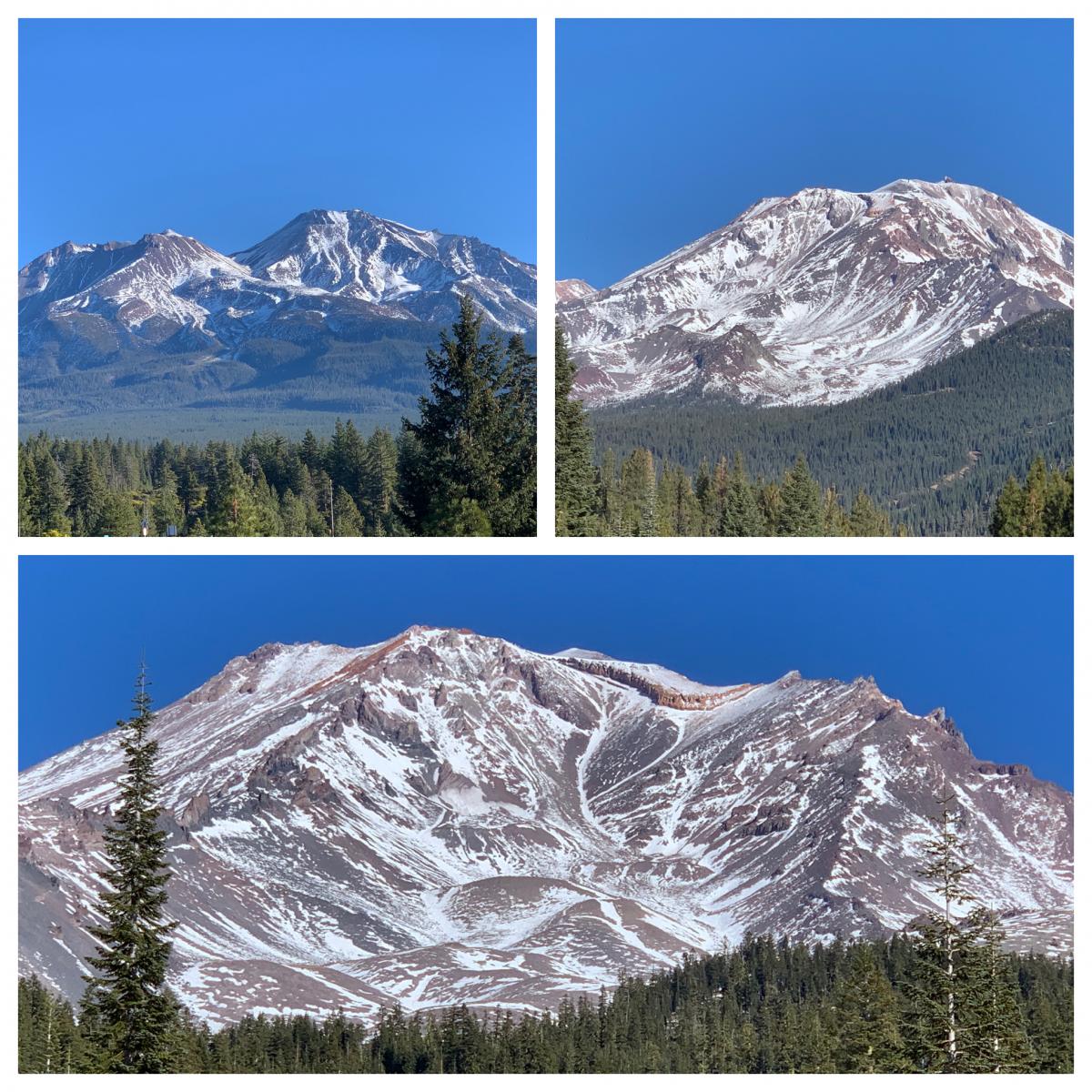 Mt Shasta views, clockwise from top left: Shastina and the West Face view from Abrams Lake exit along I-5 /  Old Ski Bowl view from the Mt Shasta Ski Park / Avalanche Gulch from Bunny Flat. [Photo: Meyers]
Weather and Current Conditions
Weather Summary
Mother Nature has decided to ease us into winter gently. Snow is in the forecast folks, and we should begin to see the landscape turn white this weekend. This first system is not very strong, but none-the-less, a period of stormy weather is expected for the coming weeks.

Today, increasing clouds will usher in snow for later this afternoon and evening. Precipitation total for the next 24 hours is .28 inches, which could mean a couple inches of snow on the mountain. Snow levels will be near town. All of this will happen in about a 6-8 hour period tonight before snow levels come up tomorrow. Saturday will give way to a short break. That said, this progressive weather pattern we are entering will persist and another front will be pushed onshore Saturday night. Snow levels will rise to 5,500 to 6,000 feet. We should see more widespread snow with the second system and perhaps 4-6 inches of additional snow accumulation in the mountains through Sunday. Wind will be a factor with all of this. 
24 Hour Weather Station Data @ 5:00 AM
Two Day Mountain Weather Forecast
Produced in partnership with the Medford NWS
For 7000 ft to 9000 ft
Friday
(4 a.m. to 10 p.m.)
Friday Night
(10 p.m. to 4 a.m.)
Saturday
(4 a.m. to 10 p.m.)
Weather
Mostly cloudy with a 40% chance of snow after 10a.m. Snow level near town.
Snow, breezy. Snow level near 4,200 feet.
Mostly cloudy, slight chance of snow in the morning, a 50% chance of snow after 4p.m. Snow level near 5,300 feet.
Temperature (°F)
30
25
34
Wind (mi/hr)
South/Southwest 5-10
South/Southwest 10-20
Northwest 5-10
Precipitation SWE / Snowfall (in)
0.15 / 1-2
0.13 / 3-5
0.15 / 0-1
For 9000 ft to 11000 ft
Friday
Friday Night
Saturday
Weather
A 50% chance of snow after 10a.m. Windy.
Snow, heavy at times. Windy.
Snow likely, mainly before 10a.m. and after 4p.m. Windy.
Temperature (°F)
19
14
30
Wind (mi/hr)
West 30-40
West 40-50
Northwest 20-30
Precipitation SWE / Snowfall (in)
0.15 / 1-3
0.13 / 4-8
0.15 / 1-2
Season Precipitation for Mount Shasta City
Period
Measured (in)
Normal (in)
Percent of Normal (%)
From Oct 1, 2020 (the wet season)
1.70
9.69
18
Month to Date (since May 1, 2021)
T
2.33
0
Year to Date (since Jan 1, 2021)
14.61
37.69
39
Disclaimer
This forecast does not apply to Ski Areas or Highways and is for the Mt. Shasta, Castle Lake and Mt. Eddy backcountry. Use this information for guidance only. You may find different conditions in the backcountry and should travel accordingly. This forecast expires 24 hours after the posted time unless otherwise noted.