You are here
Avalanche Forecast for 2021-01-08 06:21
EXPIRED ON January 9, 2021 @ 6:21 am

Published on January 8, 2021 @ 6:21 am
Issued by Nick Meyers - Shasta-Trinity National Forest
Wind slabs remain the main concern near and above treeline. Snow showers linger this morning and will taper this afternoon. The 3-5 inches of new snow overnight will be accompanied by windy, westerlies today. Expect to see snow blowing around and fresh wind slabs that could be triggered by a skier or rider.
Avalanche Problem 1: Wind Slab
Certain

Very Likely

Likely

Possible

Unlikely

Historic

Very Large

Large

Small
Fresh snow overnight and windy (W/NW) conditions today should put wind slabs on your mind for near and above treeline terrain. Existing wind slab concern is minimal, but blowing snow today may form small, fresh slabs that have drifted on leeward aspects (NE/E/SE) near ridgelines and cross-load some N and S facing aspects. In most areas, triggering a large, consequential wind slab is unlikely. However, they may still be possible in heavily wind loaded areas or in complex/extreme terrain like unsupported slopes or wind-loaded couloirs.  In areas where wind speeds are the highest above treeline, new snow may completely blow away.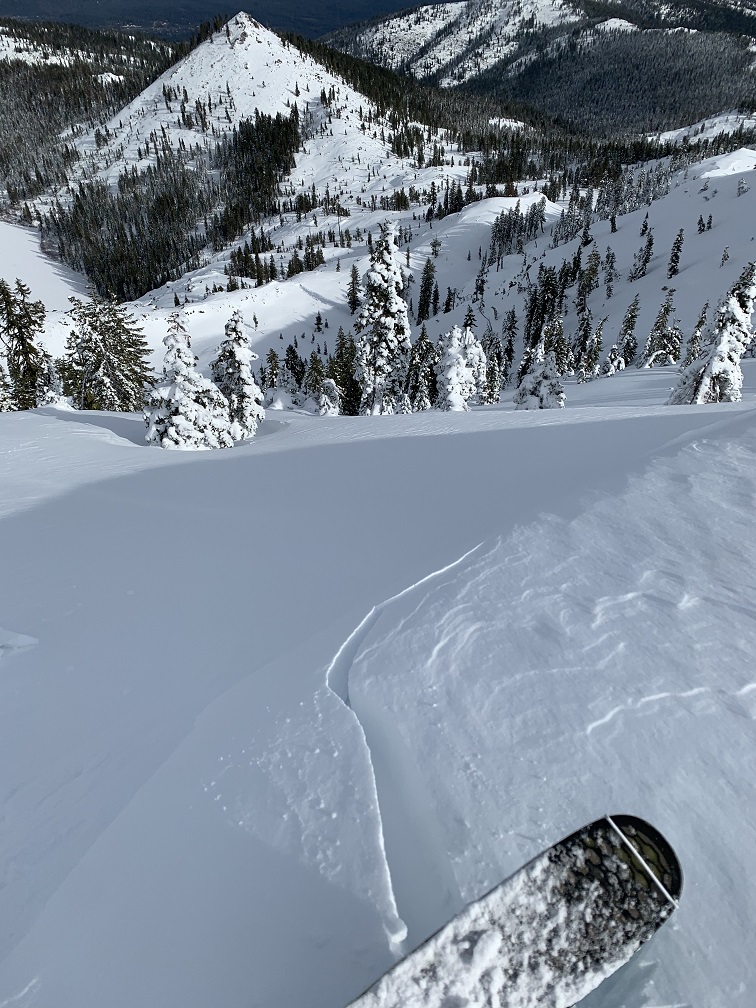 Small cornices and wind slabs with cracking like this were observed yesterday along NE facing ridge lines in the Castle Lake Basin

 
Forecast Discussion
Snowmobile/Motorized specific avalanche awareness and companion rescue workshop starts tonight at 7 p.m. Click HERE for details.
Recent Observations
Yesterday, a mostly clear day with high, scattered clouds and smoke in the valleys from local burn piles. In the Castle Lake basin, 1-3 inches of new snow was measured.  Small wind slabs and cornices along ridgelines (NE facing) were reactive to skier weight. Cracking, blocking and small slabs could be triggered but did not involve enough snow to bury a rider. Full observation with photos HERE. Castle Lake is frozen and supportable. An average snow depth of 30-35 inches was measured at mid-basin, ~5,600 feet, making for a barely usable snowpack. This was the first outing of the season in this area with skis on the feet. 

On the mountain, our recent W/NW wind even hammered the snowpack above treeline. Most ridges are stripped of snow with rock and ice remaining. Gullies and some lower lying, open areas continue to fill in with packed powder/wind-board/sastrugi features. Soft snow can be found in sheltered and/or shady areas near and below treeline. 
Weather and Current Conditions
Weather Summary
Our winter weather advisory and associated snow showers got a late start last night, but active this morning. It looks like we've received most of the precipitation but expect lingering showers for the first half of the day. This band of precipitation across southern Oregon and northern California will slowly fade and skies mostly clear by late afternoon. Snow levels have resided near 3,500 to 4,000 feet. Windy, west/northwest conditions will fill in. Winter will take a break for the weekend. Mostly sunny weather is forecast.
24 Hour Weather Station Data @ 4:00 AM
Two Day Mountain Weather Forecast
Produced in partnership with the Medford NWS
For 7000 ft to 9000 ft
Friday
(4 a.m. to 10 p.m.)
Friday Night
(10 p.m. to 4 a.m.)
Saturday
(4 a.m. to 10 p.m.)
Weather
Snow before 7 a.m., then snow showers, tapering off this afternoon. Snow level near 4,400 feet.
Mostly clear
Mostly sunny
Temperature (°F)
26
21
38
Wind (mi/hr)
Southwest 10-15
North 5-10
Northeast 0-5
Precipitation SWE / Snowfall (in)
0.10 / 1-2
0.00 / 0
0.00 / 0
For 9000 ft to 11000 ft
Friday
Friday Night
Saturday
Weather
Snow before 7a.m., then snow showers, tapering off by the afternoon. Windy.
Mostly clear. Windy.
Mostly sunny, blustery.
Temperature (°F)
21
21
27
Wind (mi/hr)
West 30-40
Northwest 20-30
Northwest 10-20
Precipitation SWE / Snowfall (in)
0.10 / 1-3
0.00 / 0
0.00 / 0
Season Precipitation for Mount Shasta City
Period
Measured (in)
Normal (in)
Percent of Normal (%)
From Oct 1, 2022 (the wet season)
5.16
16.86
31
Month to Date (since Jun 1, 2023)
1.58
1.65
96
Year to Date (since Jan 1, 2023)
1.58
1.65
96
Disclaimer
This forecast does not apply to Ski Areas or Highways and is for the Mt. Shasta, Castle Lake and Mt. Eddy backcountry. Use this information for guidance only. You may find different conditions in the backcountry and should travel accordingly. This forecast expires 24 hours after the posted time unless otherwise noted.