You are here
Avalanche Forecast for 2021-02-01 06:30
EXPIRED ON February 2, 2021 @ 6:30 am

Published on February 1, 2021 @ 6:30 am
Issued by Ryan Sorenson - Mount Shasta Avalanche Center
Dangerous avalanche conditions will continue for the next 24 hours as we receive over a foot of predicted snowfall and strong winds. South winds will increase with gale-force gusts. Fresh and preexisting snow will form into large to very large wind slabs. Storm slabs will be sensitive to human triggers and will grow large as well. Large natural avalanches are possible, and human triggered avalanches are likely.
Avalanche Problem 1: Wind Slab
Certain

Very Likely

Likely

Possible

Unlikely

Historic

Very Large

Large

Small
Sensitive wind slab avalanches are likely today. Models predict increasing heavy snowfall. South winds will also increase. Gusts could be as strong as 70 mi/hr. Up to 17 inches of fresh snow will mix with the 2-4 inches received yesterday and any loose snow not affected by the riming event on Saturday. Expect large to very large wind slabs to grow on leeward terrain. Loaded W-NW-N-NE-E aspects are most suspect, though local topography variations can affect a slope's wind speed, direction, and loading characteristics.  While freezing fog and rime ice on Saturday has capped off much of the preexisting snowpack, wind slab avalanches could break on weak layers above or below this rime layer.  Expect large, fragile cornices to continue to grow along steep ridgelines. We observed strong south winds with whole trees in motion and up to 4 inches of fresh snow on the south side of Mount Shasta yesterday. Over four feet of snow has accumulated throughout the past week. 
Careful snowpack evaluation, cautious route-finding, and conservative decision-making are necessary to avoid wind slab avalanches today. Travel on or below steep wind-loaded slopes is not recommended. 
Avalanche Problem 2: Storm Slab
Certain

Very Likely

Likely

Possible

Unlikely

Historic

Very Large

Large

Small
Heavy snowfall over the next 24 hours will cause concern about storm slab development. Temperatures stayed cool yesterday but increased last night. Temperatures and snow levels are expected to decrease as snowfall rates increase today.  Such fluctuations in temperature and snowfall rates are prime for storm slab formation.  Much like an upside-down cake, storm slabs form when layers of warmer heavier snow fall atop lighter snow creating layers and slabs within the storm snow. The zipper thin ice lenses from Saturday could provide an ideal bed surface for storm slabs to run on.  Storm slabs will be sensitive to trigger and will grow large on any slope steeper than 35 degrees as we receive more snow.
Forecast Discussion
The Everitt Memorial Highway and Castle Lake road remain closed.
Snowmobiles have been launching from McBride Springs and riding up on the mountain in many prohibited motorized equipment areas. This behavior is not tolerated. See the map for a reminder of the boundaries. 
Recent Observations
Traveling up to Old Ski Bowl yesterday we were met with more stormy weather with low visibility. A zipper thin sheet of rime ice was found as high as 8,300 feet near the eastern wilderness boundary.  A pit dug at 8,300 feet on a southeast-facing wind loaded slope (low angle) measured 102 inches of snow. Our test results were inconsistent, but medium failures below the rime layer showed a potential for propagation.  See observation for more details. Gusty south winds were stronger at lower elevations. No blocking or cracking was observed on small test slopes. That said, a few notes:
Visibility has been poor for the past week, limiting observations. 
We saw several inches of settlement in the snowpack this weekend, but several feet of cold, layered snow remains under the zipper thin rime layer.
It is unknown how prevalent the ice lense is around the area. Reports indicate less rime in the Eddies. 
24-hour total precipitation measured at treeline on Mount Shasta, as of this morning at 0500: 1.6 inches snow / 0.52 SWE (Snow-Water Equivalent) 
Gray Butte wind: moderate to strong south/southeast wind 8 to 15 mi/hr, 11 mi/hr average.  Wind gusts as high as 37 mi/hr.
Total snow heights:

73.2 inches (186 cm) - 7,600 feet, Old Ski Bowl
63 inches (160 cm) - 6,600 feet, Mt. Eddy
 57.1 inches (145 cm) - 5,800 feet, Castle Lake
54.5 inches (138 cm) - 7,300 feet, Ash Creek Butte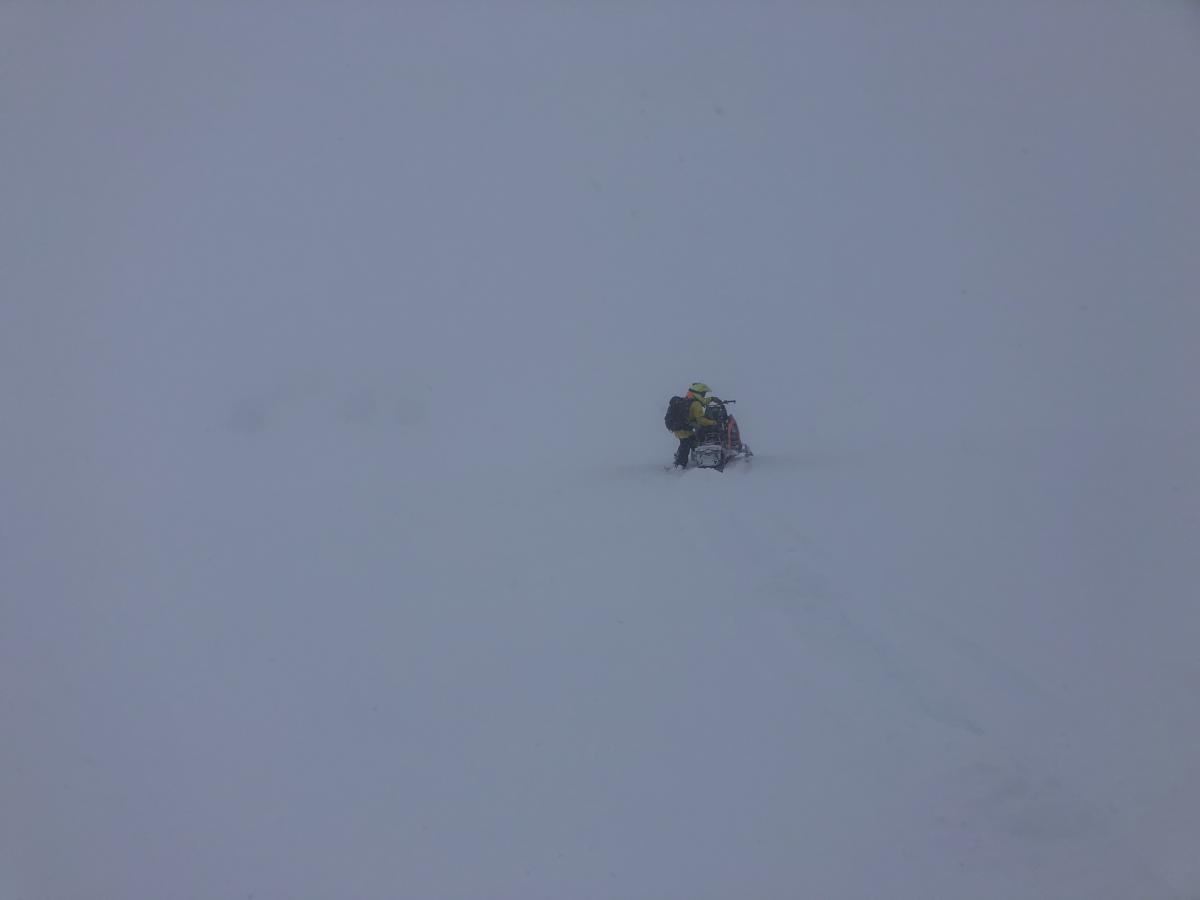 Photo of whiteout conditions yesterday (20210131) above treeline near eastern wilderness boundary in Old Ski Bowl, 8,300 feet.
Weather and Current Conditions
Weather Summary
Weather models show another 1.5 inches of precipitable water left in this storm. More heavy snowfall and increasing southerly winds are in-store today.  We can expect 10 to 17 inches today then 3 to 6 inches tonight. The heaviest snowfall will occur this afternoon. Snow levels rose due to a brief clearing last night. Snow levels will drop back to 3,500 feet by this afternoon.  Snow showers will linger Tuesday as we transition to a northerly flow. Mainly dry and cold conditions will prevail until Thursday night/Friday morning.
The NWS has issued a Winter Storm Warning above 3,500 feet and a Winter Weather Advisory above 3,000 feet from 4 a.m. this morning to 10 a.m. Tuesday. 
24 Hour Weather Station Data @ 5:00 AM
Two Day Mountain Weather Forecast
Produced in partnership with the Medford NWS
For 7000 ft to 9000 ft
Monday
(4 a.m. to 10 p.m.)
Monday Night
(10 p.m. to 4 a.m.)
Tuesday
(4 a.m. to 10 p.m.)
Weather
Snow, heavy at times. Very windy with strong gusts. Snow levels lowering to 3,500.
Snow, windy, snow level near 3,500 feet.
Mostly cloudy. Snow showers likely in the morning, then chance of snow showers in the afternoon. Snow level near 3,800 feet.
Temperature (°F)
31
27
30
Wind (mi/hr)
South 25-30
South 20-25
Southwest 15-20
Precipitation SWE / Snowfall (in)
1.17 / 10-16
0.33 / 2-5
0.08 / 0-1
For 9000 ft to 11000 ft
Monday
Monday Night
Tuesday
Weather
Snow, heavy at times. Windy strong gusts.
Chance of snow, cloudy, windy.
Mostly cloudy. Snow showers likely in the morning, then chance of snow showers in the afternoon.
Temperature (°F)
23
16
16
Wind (mi/hr)
South 60-70
Southwest 60-70
Southwest 40-45
Precipitation SWE / Snowfall (in)
1.17 / 11-17
0.33 / 3-6
0.08 / 1-2
Season Precipitation for Mount Shasta City
Period
Measured (in)
Normal (in)
Percent of Normal (%)
From Oct 1, 2022 (the wet season)
11.44
22.27
51
Month to Date (since Jun 1, 2023)
7.86
7.06
111
Year to Date (since Jan 1, 2023)
7.86
7.06
111
Disclaimer
This forecast does not apply to Ski Areas or Highways and is for the Mt. Shasta, Castle Lake and Mt. Eddy backcountry. Use this information for guidance only. You may find different conditions in the backcountry and should travel accordingly. This forecast expires 24 hours after the posted time unless otherwise noted.