You are here
Avalanche Forecast for 2021-02-18 06:14
EXPIRED ON February 19, 2021 @ 6:14 am

Published on February 18, 2021 @ 6:14 am
Issued by Nick Meyers - Shasta-Trinity National Forest
A winter weather advisory has been issued from 10am to 10pm today above 4,500 feet. Anticipate strong winds and blizzard conditions on the upper mountain late today into Friday due to snow and blowing snow. Wind slabs will stay at the top of the problem list. Pay attention as you ascend from trailheads into cold and windy alpine terrain. This is where danger may lurk.
Avalanche Problem 1: Wind Slab
Certain

Very Likely

Likely

Possible

Unlikely

Historic

Very Large

Large

Small
We should probably make wind slabs a permanent sticky on the forecast. A fast moving storm will host several inches of new snow and windy conditions over the next 24 hours. Blowing snow and wind slab development will remain possible. Existing snow surfaces are scoured, smooth and firm. Wind will blow out of the west and load aspects on the right half of the compass, near and above treeline. Watch out for those open areas below treeline, too. This morning, overall danger will feel low to moderate, but expect the danger to rise to considerable with the onset of new snow and wind.
Recent Observations
Dear Wind, please stop. Yesterday was a real howler. Gray Butte weather station recorded 92 mi/hr early in the morning. North and west aspects of the mountain are stripped and all exposed ridgelines, moraine tops and other features facing west through north are a rock and ice. Some blowing snow has settled into gullies, but most sublimated: a transition from the solid state to the gas state, without passing through the liquid state. Snow surfaces are variable, as you might imagine. Temperatures have been warm, a balmy 35 degrees yesterday and already the same this morning. We didn't have any wind slabs avalanches reported or observed, but that doesn't mean they don't exist. Minor roller ball action was observed on sunny southeast slopes below treeline.




A good look at Diller Canyon and the west side of Shastina. Mother Nature, a little heavier on the cream cheese, please!?
Weather and Current Conditions
Weather Summary
A winter weather advisory has been issued by the NWS Medford office for terrain above 4,500 feet. A fast moving frontal system will bring moderate to locally heavy snowfall from late this morning through late this evening. Light to moderate snow showers are likely to continue through Friday morning. Wet snow is expected with total snow accumulations of 3 to 6 inches, accompanied by wind gusts 25 to 45 mi/hr. Areas to the north of Mt. Shasta will get the brunt of this storm, but none-the-less we should see some new snow on the ground over the next 24 hours.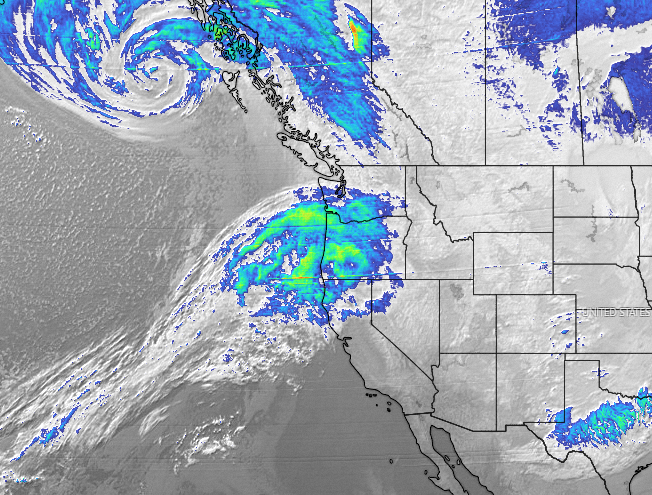 24 Hour Weather Station Data @ 5:00 AM
Two Day Mountain Weather Forecast
Produced in partnership with the Medford NWS
For 7000 ft to 9000 ft
Thursday
(4 a.m. to 10 p.m.)
Thursday Night
(10 p.m. to 4 a.m.)
Friday
(4 a.m. to 10 p.m.)
Weather
Breezy, cloudy, snow. Snow level near 3,900 feet.
Breezy, mostly cloudy, chance of light snow. Snow level near 4,200 feet
Mostly cloudy, chance of snow showers. Snow level near 4,000 feet.
Temperature (°F)
32
27
30
Wind (mi/hr)
South 5-10
South 10-15
Southwest 5-10
Precipitation SWE / Snowfall (in)
0.36 / 2-4
0.03 / 1-3
0.05 / 0-1
For 9000 ft to 11000 ft
Thursday
Thursday Night
Friday
Weather
Snow, windy.
Snow, windy.
Mostly cloudy, windy.
Temperature (°F)
27
21
19
Wind (mi/hr)
West 30-40
West 40-50
West 30-40
Precipitation SWE / Snowfall (in)
0.36 / 3-6
0.03 / 2-4
0.05 / 0-1
Season Precipitation for Mount Shasta City
Period
Measured (in)
Normal (in)
Percent of Normal (%)
From Oct 1, 2022 (the wet season)
13.28
26.49
50
Month to Date (since Jun 1, 2023)
1.84
4.22
44
Year to Date (since Jan 1, 2023)
9.70
11.28
86
Disclaimer
This forecast does not apply to Ski Areas or Highways and is for the Mt. Shasta, Castle Lake and Mt. Eddy backcountry. Use this information for guidance only. You may find different conditions in the backcountry and should travel accordingly. This forecast expires 24 hours after the posted time unless otherwise noted.