You are here
Avalanche Forecast for 2021-02-20 06:17
EXPIRED ON February 21, 2021 @ 6:17 am

Published on February 20, 2021 @ 6:17 am
Issued by Nick Meyers - Shasta-Trinity National Forest
Backcountry sliders and riders, your advice for today: tread lightly in steep terrain off ridgelines, couloirs, unsupported slopes and moraine convexities near and above treeline. Cornices are large and wind slabs lurk. A human triggered avalanche is possible on slopes >35 degrees. The area has fallen back into that pesky NW wind pattern, a common theme to the winter. Remain attentive to fresh wind loading today as well. Skies should gradually clear for the weekend.
Avalanche Problem 1: Wind Slab
Certain

Very Likely

Likely

Possible

Unlikely

Historic

Very Large

Large

Small
Touchy cornices and wind slabs have been observed over the past two days on Mt. Shasta and the Castle Lake Basin. Steep slopes off ridgelines, bowls, steep couloirs, unsupported slopes and moraine convexities are all pieces of terrain that one should use caution around today. Give the snow another day (or two) to settle out before hard charging. Wind has blown westerly in nature, loading those NE-E-SE slopes primarily, but may not be limited to. Remember to pay attention to wind blowing snow in the moment as well. It doesn't have to be snowing from the sky for avalanche danger to lurk. Northwest flow will move back in and one can expect windy conditions over higher terrain, again.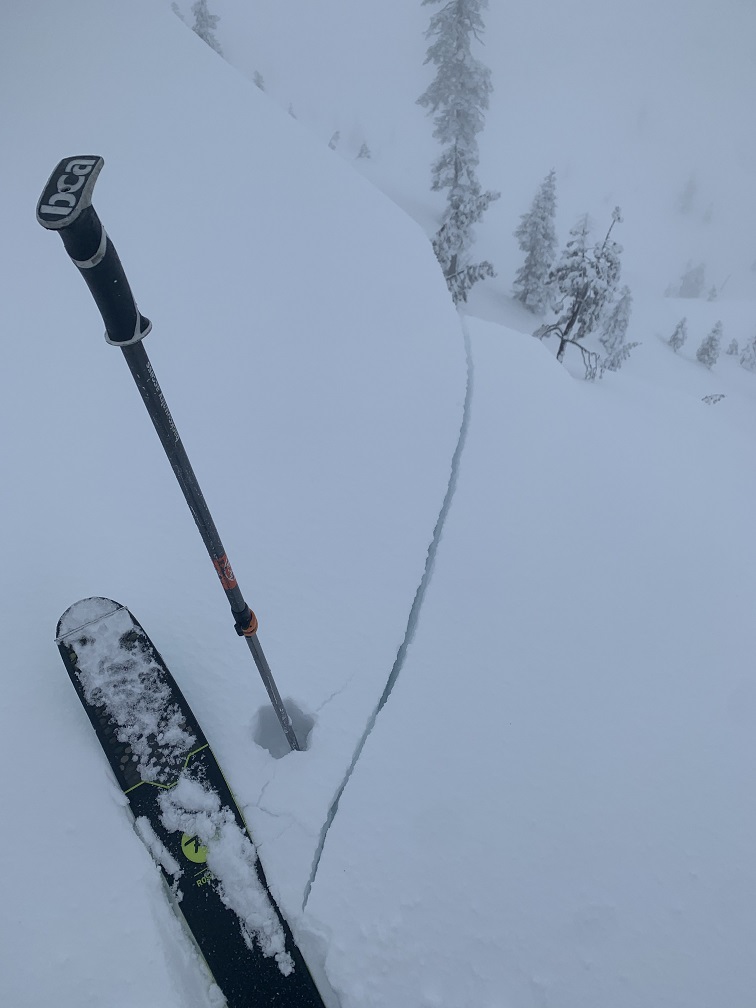 Forecast Discussion
This video illustrates the ins-and-outs of the North American Avalanche Danger scale. Have a look.
Recent Observations
Over the past 48 hours, the forecast area experienced breaks in precipitation, but very little clearing. Storm totals from Castle Lake Basin and on the big mountain average 6 to 12 inches of moist snow, just over an inch of water (SWE). Visibility has been very poor. Moderate to strong wind has blown from all directions westerly: WSW-W-WNW-NW. Terrain below treeline has held together quite well with no signs of danger presented. Near and above treeline has been a different story. Most notable: wind exposed terrain. These areas have been touchy. Cornices are large. Smaller cornices have been easy to trigger. Shooting cracks could be initiated all along ridges within small wind slabs. View the photos and observation from Castle Lake yesterday here, or the day prior on Mt Shasta. Below is a snapshot of temp, wind and precipitation over the past 24 hours near treeline on Shasta.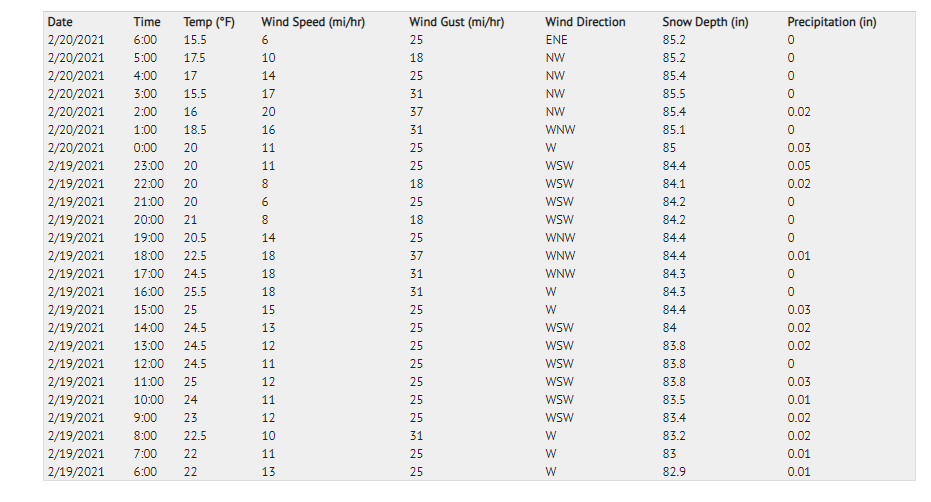 Weather and Current Conditions
Weather Summary
Lingering showers will cease by mid-morning and give way to clearing skies. The area will go back under the wrap of northwest flow. This means strong wind on the upper mountain. Precipitation is done for the time being. Daytime high temperatures will gradually warm a few degrees over the next couple days. The next best chance of snow appears to be next week, Thursday(ish). 

 
24 Hour Weather Station Data @ 4:00 AM
Two Day Mountain Weather Forecast
Produced in partnership with the Medford NWS
For 7000 ft to 9000 ft
Saturday
(4 a.m. to 10 p.m.)
Saturday Night
(10 p.m. to 4 a.m.)
Sunday
(4 a.m. to 10 p.m.)
Weather
Partly cloudy this morning, then clearing, lingering snow showers, snow level near town.
Partly cloudy to mostly clear.
Mostly sunny.
Temperature (°F)
28
21
35
Wind (mi/hr)
Northwest 5-10
Northwest 5-10
North 5-10
Precipitation SWE / Snowfall (in)
0.00 / 0-0.50
0.00 / 0
0.00 / 0
For 9000 ft to 11000 ft
Saturday
Saturday Night
Sunday
Weather
Snow showers, mainly before 10am, mostly cloudy becoming sunny, windy.
Partly cloudy to mostly clear, windy.
Mostly sunny, windy.
Temperature (°F)
18
18
26
Wind (mi/hr)
Northwest 25-35
Northwest 20-30
North 10-20
Precipitation SWE / Snowfall (in)
0.00 / 0-1
0.00 / 1-3
0.00 / 0-0.50
Season Precipitation for Mount Shasta City
Period
Measured (in)
Normal (in)
Percent of Normal (%)
From Oct 1, 2022 (the wet season)
13.57
27.05
50
Month to Date (since Jun 1, 2023)
2.13
4.78
45
Year to Date (since Jan 1, 2023)
9.99
11.84
84
Disclaimer
This forecast does not apply to Ski Areas or Highways and is for the Mt. Shasta, Castle Lake and Mt. Eddy backcountry. Use this information for guidance only. You may find different conditions in the backcountry and should travel accordingly. This forecast expires 24 hours after the posted time unless otherwise noted.