You are here
Avalanche Forecast for 2021-02-27 06:00
EXPIRED ON February 28, 2021 @ 6:00 am

Published on February 27, 2021 @ 6:00 am
Issued by Ryan Sorenson - Mount Shasta Avalanche Center
Avalanche danger is low. Expect dangerously strong northerly winds above treeline. Colder temperatures and winds will keep snow surfaces firm. Slide-for-life conditions exist. Isolated wind slabs may still be found on leeward aspects.
Avalanche Problem 1: Normal Caution
Certain

Very Likely

Likely

Possible

Unlikely

Historic

Very Large

Large

Small
Expect gale-force winds with gust strong enough to sweep you off your feet if you plan to travel to upper elevations today. Be prepared for cold temperatures and firm snow surfaces. An ice axe and crampons are mandatory if climbing onto steep slopes. Keep your guylines tight, and be prepared for a wild night if camping above treeline. Snow is still being transported around, so pay attention to steep southerly and easterly slopes. Blocking, cracking, and hollow-sounding snow are signs that wind slabs are lurking nearby. 
Recent Observations
Impressively strong northwest winds have pummeled the mountain and there are no signs that it will stop anytime soon. Any exposed snow has blown away or turned to wind-pressed chalk and scoured icy patches. It is possible to find skiable snow in protected areas at lower elevations. The wind has kept surfaces firm. Below is a look at the temps and wind speeds on Gray Butte over the past 24 hours.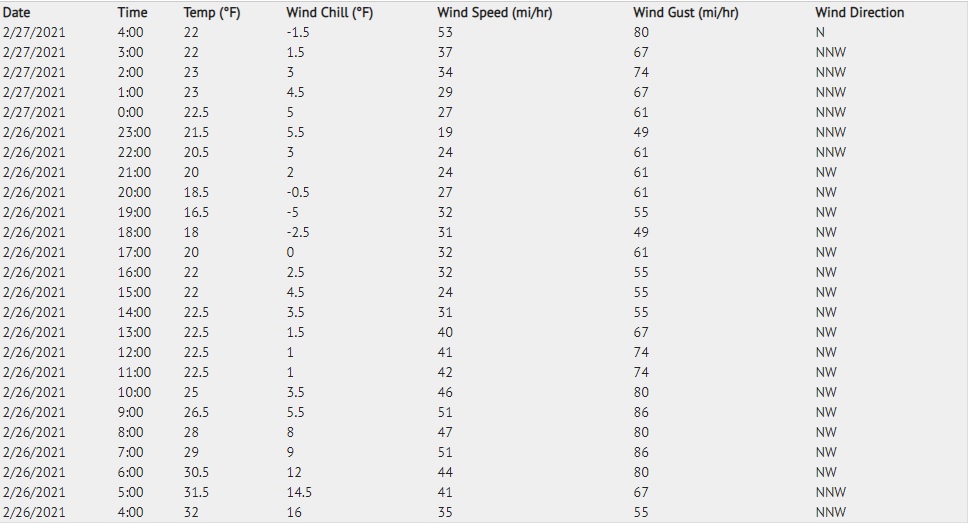 Weather and Current Conditions
Weather Summary
Strong northerly winds will continue to blast away. There is a small storm skipping through Oregon. Some clouds may have spilled into our area last night. These should blow away early this morning. Temperatures are cooler with highs in the lower to mid 30s ℉. Next best chance at precipitation is next weekend. 
24 Hour Weather Station Data @ 4:00 AM
Two Day Mountain Weather Forecast
Produced in partnership with the Medford NWS
For 7000 ft to 9000 ft
Saturday
(4 a.m. to 10 p.m.)
Saturday Night
(10 p.m. to 4 a.m.)
Sunday
(4 a.m. to 10 p.m.)
Weather
Sunny. Breezy.
Mostly clear.
Sunny
Temperature (°F)
33
21
43
Wind (mi/hr)
Northwest 15-20
Northwest 15-20
Northwest 10-15
Precipitation SWE / Snowfall (in)
0.00 / 0
0.00 / 0
0.00 / 0
For 9000 ft to 11000 ft
Saturday
Saturday Night
Sunday
Weather
Sunny. Very windy. Low wind chills.
Clear. Very windy. Low wind chills.
Sunny.
Temperature (°F)
20
20
33
Wind (mi/hr)
North 55-65
North 55-60
North 45-50
Precipitation SWE / Snowfall (in)
0.00 / 0
0.00 / 0
0.00 / 0
Season Precipitation for Mount Shasta City
Period
Measured (in)
Normal (in)
Percent of Normal (%)
From Oct 1, 2022 (the wet season)
13.58
28.96
47
Month to Date (since Jun 1, 2023)
2.14
6.69
32
Year to Date (since Jan 1, 2023)
10.00
13.75
73
Disclaimer
This forecast does not apply to Ski Areas or Highways and is for the Mt. Shasta, Castle Lake and Mt. Eddy backcountry. Use this information for guidance only. You may find different conditions in the backcountry and should travel accordingly. This forecast expires 24 hours after the posted time unless otherwise noted.