You are here
Avalanche Forecast for 2021-03-12 06:30
EXPIRED ON March 13, 2021 @ 6:30 am

Published on March 12, 2021 @ 6:30 am
Issued by Nick Meyers - Shasta-Trinity National Forest
The avalanche danger is CONSIDERABLE above treeline due to ample amounts of recent, new snow and strong northeast wind. A human-triggered avalanche is likely due to slabs of wind drifted snow. Additional wind loading is certain. Temperatures will be much warmer today and remember, a blue sky is not your ticket to ride. When the snowpack is in question, terrain is the answer!
Avalanche Problem 1: Wind Slab
Certain

Very Likely

Likely

Possible

Unlikely

Historic

Very Large

Large

Small
Wind slabs will be the top concern for your adventure today. Strong to gale force northeasterly wind will continue to move large amounts of snow onto leeward slopes. Avalanches have the potential to be large. That strong March sunshine could provide enough warming to make triggering a wind slab easier. Here is a look at what the wind has been doing at 8,000 feet on Gray Butte over the past 24 hours: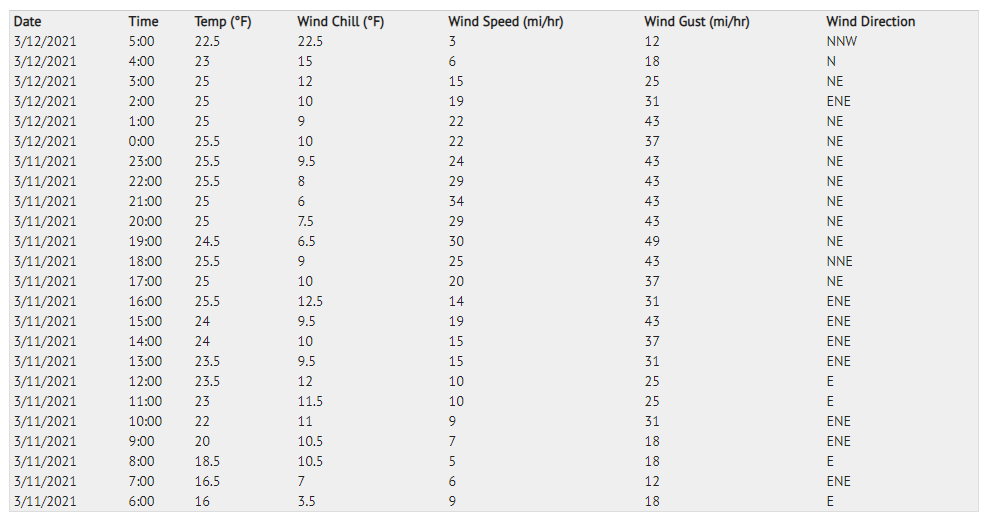 Areas near ridgelines, gullies and open slopes near and above treeline are places where slabs exist. Recreating on wind-loaded slopes could still trigger avalanches and could be big enough to bury you. Large cornices lurk as well out there. Areas sheltered from the wind and out of the sun will hold the best snow conditions and less potential for instability. The video below is from yesterday on the mountain.
Avalanche Problem 2: Loose Wet
Certain

Very Likely

Likely

Possible

Unlikely

Historic

Very Large

Large

Small
Today will be significantly warmer than yesterday. That strong March sunshine might affect the snow surfaces on steep E-SE-S-SW-W aspects in the form of loose-wet roller balls and pinwheels. A crust has already formed on some sun exposed slopes and may limit roller ball activity. Loose-dry sluffs could still be possible on steep, sheltered, shady aspects. 
Recent Observations
Yesterday hosted mostly clear skies with a couple freak snow flurries in the afternoon resulting in little to no new snow accumulation. The wind was hard at work all day, and it was obvious to recognize this red flag. Wind slabs formed (and some released) with strong to gale force NE/E wind.
Two natural avalanches were observed off Sargents Ridge above treeline
A skier-triggered wind slab was reported in the Castle Lake Basin near treeline.
Dry loose avalanches (sluffs) were observed on steep, sheltered slopes below and near treeline
Periods of sunshine have created a crust on some sunny aspects
Observations have not noted any signs of instability on the old snow crusts and the new snow.
There is 91 inches of snow at 7,600 ft on Mount Shasta. Storm totals reached close to 30 inches of new snow with 5 to 6 inches of settlement. Over the last 24 hours, the mean temperature is 22 ºF. Winds have averaged 17 mi/hr with gusts to 49, predominantly out of the northeast.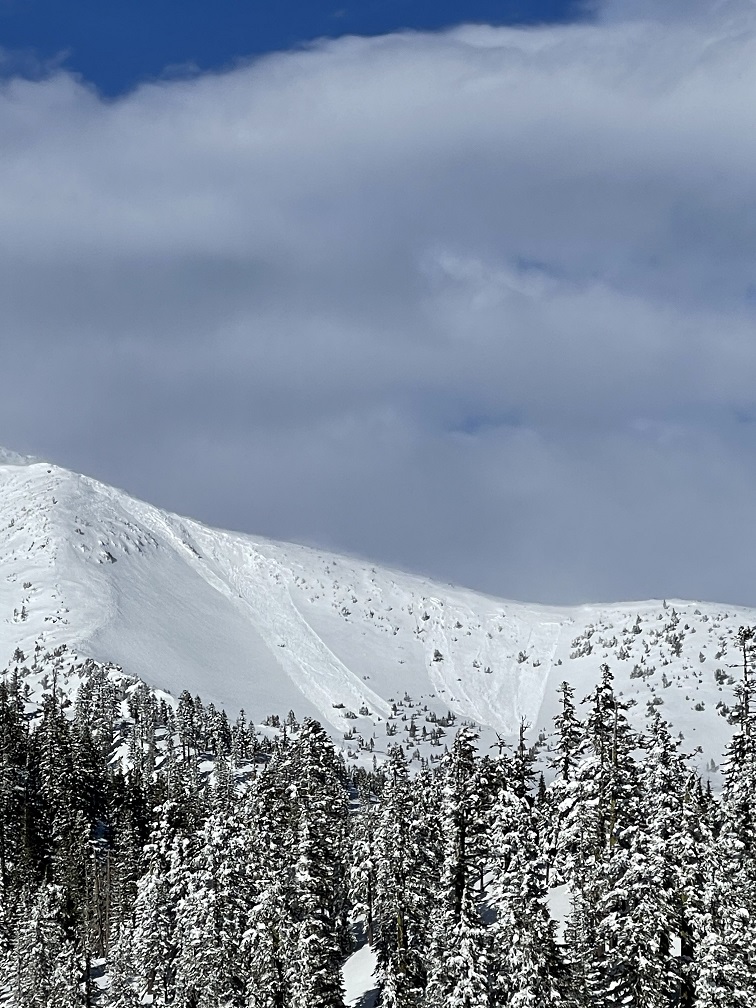 A couple large wind slabs off Sargents Ridge - 3.11.21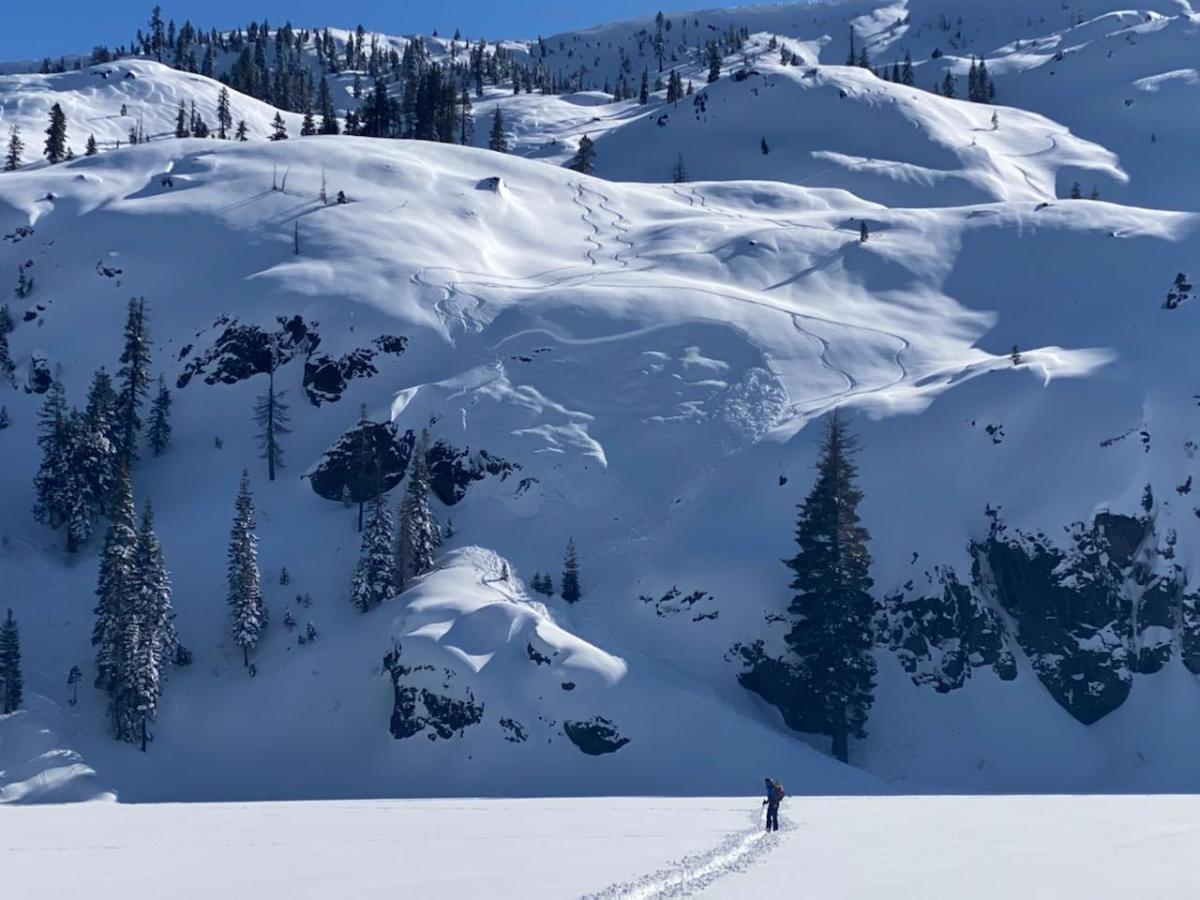 Skier triggered wind slab at Castle Lake - 3.11.21
Weather and Current Conditions
Weather Summary
An upper level ridge strengthens over the area today and will remain in place until Saturday. This pattern will bring dry weather and cool nighttime conditions and mild daytime temperatures across the region. Some low fog is possible. Over higher terrain, moderate to strong wind out of the N-NE-E will continue. Saturday, increasing clouds will signal a front approaching Saturday night, moving inland Sunday. This low should bring light to moderate precipitation and gusty winds. Showers will diminish by Monday night. Models favor an active pattern for next week with additional fronts moving into the Pacific Northwest Thursday and Friday.
24 Hour Weather Station Data @ 4:00 AM
Two Day Mountain Weather Forecast
Produced in partnership with the Medford NWS
For 7000 ft to 9000 ft
Friday
(4 a.m. to 10 p.m.)
Friday Night
(10 p.m. to 4 a.m.)
Saturday
(4 a.m. to 10 p.m.)
Weather
Sunny
Clear
Sunny.
Temperature (°F)
35
24
43
Wind (mi/hr)
North 5-10
North 5-10
West 5-10
Precipitation SWE / Snowfall (in)
0.00 / 0
0.00 / 0
0.00 / 0
For 9000 ft to 11000 ft
Friday
Friday Night
Saturday
Weather
Sunny and windy
Clear and windy
Sunny and windy
Temperature (°F)
25
23
30
Wind (mi/hr)
Northeast 10-20
Northeast 10-20
Northwest 10-20
Precipitation SWE / Snowfall (in)
0.00 / 0
0.00 / 0
0.00 / 0
Season Precipitation for Mount Shasta City
Period
Measured (in)
Normal (in)
Percent of Normal (%)
From Oct 1, 2022 (the wet season)
15.44
32.15
48
Month to Date (since Jun 1, 2023)
1.86
2.65
70
Year to Date (since Jan 1, 2023)
11.86
16.94
70
Disclaimer
This forecast does not apply to Ski Areas or Highways and is for the Mt. Shasta, Castle Lake and Mt. Eddy backcountry. Use this information for guidance only. You may find different conditions in the backcountry and should travel accordingly. This forecast expires 24 hours after the posted time unless otherwise noted.