You are here
Avalanche Forecast for 2021-03-18 06:48
EXPIRED ON March 19, 2021 @ 6:48 am

Published on March 18, 2021 @ 6:48 am
Issued by Nick Meyers - Shasta-Trinity National Forest
A warm winter storm is expected today, but slow to start. The avalanche danger will rise later in the day as heavy snow and wind create wind and storm slab concerns. Snow, wind and weather conditions can vary drastically between Mt. Shasta, Castle Lake and the Eddy Mountains. Monitor changing conditions throughout the day.
Avalanche Problem 1: Wind Slab
Certain

Very Likely

Likely

Possible

Unlikely

Historic

Very Large

Large

Small
New snow and very strong wind blowing out of the south will distribute new wind slabs across northerly facing slopes, but not limited to. Variations in terrain alignment can form wind slabs on other aspects too. Expect easily triggered slabs along leeward ridgelines. Be cautious in steep, complicated or consequential terrain.
Avalanche Problem 2: Storm Slab
Certain

Very Likely

Likely

Possible

Unlikely

Historic

Very Large

Large

Small
In places where new snowfall is greater than 6 inches, look for signs of a cohesive slab. Storm slabs will rest on a variety of snow surfaces from melt-freeze crusts to powder. Use small test slopes as potential indicators of storm slab instability. Pay attention to this problem immediately during the storm.
Forecast Discussion
Storm day! For the mountains of northern California, lasting avalanche danger and persistent weak layers are uncommon. The period of time when backcountry users need to be most cautious is immediately during or just after a storm. Brief 4-6 hour spikes in avalanche danger are typical. Furthermore, conditions can be drastically different from one side of the interstate to the other. The bottom line is that it's your job to pay attention out there and always look for and heed the 5 red flags of avalanche danger: Recent avalanches (big or small); recent, heavy snow; wind blowing snow; cracking/collapsing; rapid warming. 
Recent Observations
The last couple of days have been pleasant and mild at most elevations (windy on the upper mountain and Mt. Eddy) with no reported or observed avalanches. It's that time of year when you can ride powder on the shady aspects and corn in the sun. It's a variety pack of snow surface conditions leading up to today's storm. A couple of potential weaknesses exist within the snowpack. These include a weak crust and underlying low density snow where easily failures have been observed in pit tests, approximately 20 cm down from the surface, near and above treeline. It's uncertain how much weight would wake up this weak layer. Secondly, in some areas, preserved surface hoar was observed late yesterday afternoon and could be buried by today's storm. 

So far this morning as of 0600, the storm is struggling to get started. Snow accumulation is nil and wind is moderate out of the south/southeast.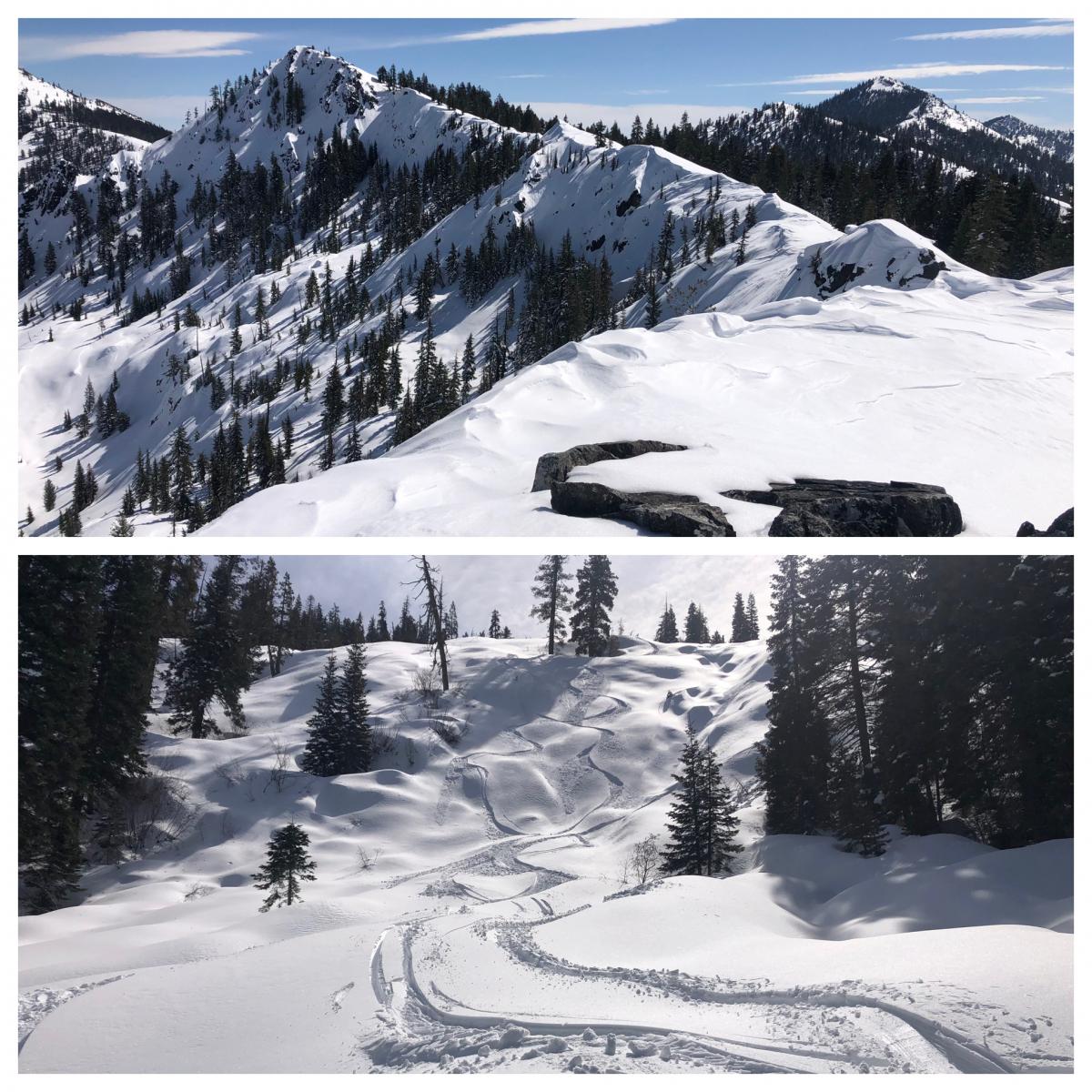 A couple photos from the Etna Summit area yesterday - 3.17.21 [Photo: R Sorenson]
Weather and Current Conditions
Weather Summary
A winter storm warning remains in effect until 11 PM PDT this evening above 4,000 feet. With this warmer storm, expect heavy, wet snow with total accumulations of anywhere from 6 to 12 inches across the forecast area. South wind will gust near 50 to 60 mi/hr over exposed terrain. Snow levels will range from 3,500 to 4,500 feet. A rain and snow mix is possible for Mt. Shasta City during the day. Snow levels will fall after sunset, but precipitation will become showery and less intense. There will be a progressive pattern this weekend into next week with systems arriving via northwest flow. None of these systems are strong, but each will carry with it locally breezy conditions and showers. Spring arrives on March 20th!
24 Hour Weather Station Data @ 4:00 AM
Two Day Mountain Weather Forecast
Produced in partnership with the Medford NWS
For 7000 ft to 9000 ft
Thursday
(4 a.m. to 10 p.m.)
Thursday Night
(10 p.m. to 4 a.m.)
Friday
(4 a.m. to 10 p.m.)
Weather
Snow and windy. Snow level near 4,300 feet.
Snow showers, windy. Snow level near 4,100 feet.
Snow showers, mostly cloudy. Snow level near town level.
Temperature (°F)
30
20
28
Wind (mi/hr)
South 25-35
South 10-15
South 10-15
Precipitation SWE / Snowfall (in)
0.70 / 4-9
0.38 / 2-4
0.06 / 1-2
For 9000 ft to 11000 ft
Thursday
Thursday Night
Friday
Weather
Snow, heavy at times, very windy.
Snow showers, widespread blowing snow, very windy.
Snow showers, mostly cloudy, windy.
Temperature (°F)
19
7
9
Wind (mi/hr)
South 50-60
South 50-60
South 20-30
Precipitation SWE / Snowfall (in)
0.70 / 6-12
0.38 / 3-6
0.06 / 1-2
Season Precipitation for Mount Shasta City
Period
Measured (in)
Normal (in)
Percent of Normal (%)
From Oct 1, 2022 (the wet season)
16.41
33.38
49
Month to Date (since Jun 1, 2023)
2.83
3.88
73
Year to Date (since Jan 1, 2023)
12.83
18.17
71
Disclaimer
This forecast does not apply to Ski Areas or Highways and is for the Mt. Shasta, Castle Lake and Mt. Eddy backcountry. Use this information for guidance only. You may find different conditions in the backcountry and should travel accordingly. This forecast expires 24 hours after the posted time unless otherwise noted.